His praises are still being sung and he may forever be considered the face of the franchise, but the Green Bay Packers now have to move on without Brett Favre. The team has been preparing for this for a while and now the Aaron Rodgers era has begun. Will his career ever rival Favre's? The odds are stacked highly against it. Will he be able to have some of the same successes that other former backups to Favre like Mark Brunell, Matt Hasselbeck and even Kurt Warner? Maybe. Time will answer that question. But what about year one? That we can answer and the end results is not great, yet it is not nearly as bad as some may think.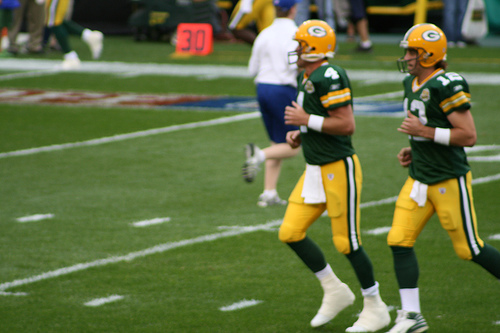 With free agency ongoing and the draft looming, NFL rosters are in flux, making it virtually impossible to look ahead with any certainty. The best way we can go about answering this question then is to use Whatifsports.com's NFL SimMatchup technology to re-play the 2007 NFL season with Rodgers as the starting quarterback in Green Bay for all 16 games instead of Favre. More about the analysis and how we came up with Rodgers' statistical inputs is below.
So what if the teary-eyed send-off on New Year's Eve in 2006 against the Chicago Bears had been the end and Brett Favre's last pass had not been completed to the opposing team? How close to 13-3 is the team without him? In the updated 2007 season, the Green Bay Packers finish 8-8, which does not qualify the team for the playoffs, but may be better than most would expect. The Minnesota Vikings wins the division at 11-5, with Chicago ( 8-8) even with Green Bay and Detroit, which overachieved in real-life, actually dropping to 5-11. The Packers average scoring 22.9 points per game (down from 27.2) while the give up 21.0 points per game (up from 18.2).
Especially considering that the Packers should have defeated the Bears twice in real-life, a five-win swing after replacing just one player is very significant. A relatively weak schedule in a weak division, a great defense and the emergence of a running game by the end of the season help keep the team at .500. The five most likely losses for the Packers in the re-play that were actually wins are (in order by most likely Packers' losses): at New York Giants, vs. San Diego Chargers, at Minnesota, vs. Washington and vs. Philadelphia, meaning the team probably starts 0-6 instead of 5-1. Wins are much more difficult for this team at the beginning of the season as Rodgers gets his feet wet and the team struggles through Brandon Jackson, Vernand Morency and DeShawn Wynn to find a running game. With Ryan Grant in the backfield and a bye-week to get on the same page, the rest of the season plays out the same way it did with the Packers finishing 8-2 down the stretch.
Throwing less in general and far less downfield in Mike McCarthy's zone-blocking, west-coast hybrid scheme, Aaron Rodgers puts together a below-average, yet respectable season. His final numbers include 255 for 452 (56.4%) for 3,049 yards, 21 TDs, 19 INTs. Showing more mobility than Favre, Rodgers also rushes 37 times for 159 yards and 2 TDs. That tallies a QB rating of 75.2 and would have ranked him even with fellow Cal grad Kyle Boller for 24th (one spot ahead of Eli Manning) among qualifying quarterbacks in 2007. For a first time starter, all of those numbers are fairly typical. The major concern from the stats would be the interceptions; but, that's definitely not un-Favre like and will likely decrease over time.
In fact, there is not much from his college, NFL pre-season or NFL regular season performance to suggest a high rate of interceptions. The interception issue seen here stems from a combination of his limited college and pro experience, high-volume of throws for a first-time starter, lack of prototypical height and link to other Jeff Tedford-coached quarterbacks like first round busts Kyle Boller, Akili Smith, David Carr and Joey Harrington.
Those names are not pretty. However, unlike the pressure placed on those players to start almost immediately, Rodgers has had three years to learn under Brett Favre and has been with Mike McCarthy for two seasons. He possesses a strong arm, yet has illustrated an ability to be very accurate on short passes. Rodgers is also fairly mobile in and out of the pocket. So he has some positives. One thing that is not evaluated here though that could prove to be an issue is durability. Rodgers missed a few games this season despite only playing significant time in one game. That is a long way from 253 consecutive starts. Statistically, it is very difficult to project him as a Pro Bowl quarterback at any point in his career, but he could be an NFL starter for several seasons.
The important part for the Packers is that they have the pieces around him. In this re-play, the defense and running game are playing at a high level by the end of the season. If the team can find the level early in 2008 that the analysis suggests it could have by the end of the 2007, it can still compete for a very winnable division. Thus far in the off-season, the team has lost just one (other) notable player in defensive tackle Corey Williams, so the best-case scenario of making the playoffs (even despite Rodgers) looks feasible.
The 2007 Packers without Brett Favre are not a bad team, but they are not a playoff team and they are definitely not 13-3.
About the Analysis:
We re-played the 2007 NFL season with everything else exactly as it was (i.e. injuries and depth charts were accounted for in correct weeks) except that Aaron Rodgers was the starting quarterback for the Packers in all 16 games instead of Brett Favre. All 256 games were simulated 100 times to figure out the most likely outcomes. Stats and records in this article represent averages from these simulations.
Anyone can try this analysis using the free SimMatchup tool on WhatIfSports.com. Also, while he is not available in fantasy leagues any more, Brett Favre is available to be used in the same backfield alongside other greats like Jim Brown and Jerry Rice in SimLeagues.
Rodgers' statistical inputs come from thorough research that we conduct every season for all players that utilizes his college stats and college strength of competition, his actual NFL playing performance to-date in the pre-season and regular season, comparative career paths and a trend for improvement based on years of service and playing time. With a simulation, which accounts for every possible statistical interaction in the game, Rodgers' inputs and performance will explicitly affect the Packers' play-calling, the performance of receivers and running backs and even the offensive line as well as more implicit affects like good field position and higher aggression for the opposition and opposing defenses keying on the running game.
Click here' to read more articles by Whatifsports.com
Community content is available under
CC-BY-SA
unless otherwise noted.