First off, let's clear up some misconceptions... I get a little sick of the twisting and turning of reality into drama. The media wants this to be bigger than it is, which is kinda ok by me, because we're talking about the Rays, baby!!
But.... This situation is very clear and not confusing at all.
Lets' review...
note: items in italics are direct quotes from various pages on MLB.com
Let's examine the participants in the play:
Elliot Johnson is a second baseman cut in the mold of middle infielders that former Angels bench coach and current Rays Manager Joe Maddon loves. He's "scrappy", he's hard nosed and he's plays full throttle. In fact his own self-label is "I've always been a hard nosed player"
On top of that, Elliot Johnson came into Saturday's game thinking he had a small chance to make the Rays roster. So he was playing extra hard.
The collision into Yankees catcher Francisco Cervelli was a bang-bang play at the plate. There was no malicious intent to do anything other than bowl the catcher over and score.

HERE is the part that no one seems to remember - JOHNSON WAS OUT at the plate.
Francisco Cervelli's comments after the game
"It's OK," Cervelli said. "It's part of the game. Maybe [it was] adrenaline or something like that."

Joe Maddon heard Cervelli's quote and commended the young man for his work ethic and attitude and even added "That's the way we do things. It's really unfortunate that that kid got hurt, because I read [Cervelli's] comments and thought, 'I'd love to have him on my team at some time.' ... Nobody wants to hurt anybody under those circumstances. That was not the point. But that was a great comment from their player, and I really respect him for that."
Joe Maddon explains the play and moves on
"They made their point, we made our counterpoint," said the Rays manager. "And I stand by what we said. And now it's time to just play the games. Rhetoric is really not how you play any particular sport."
When asked what Maddon would say to Girardi if they had the chance to speak with each other.
"Honestly, I really haven't even thought about that -- if he would like," Maddon said. "I like the guy. I like Joe. I've always liked Joe. If he'd like to have a conversation, I like to talk about politics. I can talk about global warming. I'm good with a lot of different topics on a daily basis. I like iTunes. I've downloaded some things off iTunes. I like different restaurants. I like red wine. I have a lot of different areas I can go conversationally."
And people wonder why Too Manny Stiles loves Joe Maddon...
"And again, [the Yankees] made their point, we made our point. In the beginning it was more hyped up then it should have been, I thought. At this point, let's move it along. ... It's not really going to impact what we do on a daily basis."
Meanwhile Joe Girardi insisted on making it an issue
"I think it's uncalled for," Girardi said. "It's Spring Training. You get people hurt, and that's what we've got -- we've got Cervelli hurt. I know they had an incident four or five days ago. I'm all for playing hard, but I don't think it's the time when you run over a catcher in Spring Training."
Keep in mind Joe Griardi was a catcher known for this kind of hard nosed play. The incident he was referring to was Carl Crawford's knocking over a catcher that was nothing like this play on Saturday.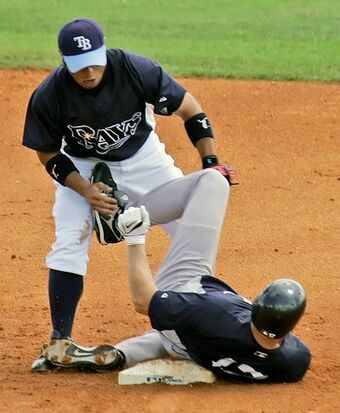 Don Zimmer will explain it to you in clear baseball verbiage
Rays "Special Advisor" Don Zimmer, who has seen every baseball game ever played had his thoughts too:
"It stunk," Zimmer said. "Somebody said on the bench when it happened that Girardi looked like he was angry. Now I took it that he was angry because his man got hurt -- not because anybody did anything wrong. That's the way I took it, knowing Girardi. And somebody on the bench said he thought Girardi was mad because he bowled him over. I said, 'No, I don't think so. That's not Girardi.'
"Then when I pick up the paper this morning, I was dumbfounded. [Cervelli] blocked the plate. What happens if our man slides in with the plate being blocked and breaks his leg? ... I am surprised the way Girardi said what he did. The plate was blocked, and our guy bowled him over. That's the way to play the game. I mean, I'm talking about a guy who is like a son to me. But I can't believe he went after it the way he did, because that's not Joe Girardi -- and being a catcher on top of that."
Shelley Duncan pops off
"They showed what is acceptable to them and how they're going to play the game, so we're going to go out there to match their intensity -- or even exceed it," Duncan said. "There's going to be no malicious evil intent in terms of carryover, but it just adds a different type of fire to your gut when you play that team, because you understand how they're playing the game and what their mind-set is."
Keep in mind he said this Sunday.
The game starts Wednesday
In the first inning, Rays Super Rookie and franchise cornerstone to be, Evan Longoria gets plunked by Yankees pitcher Heath Phillips
Yankees say it was an accident. Umpires see it differently and eject Phillips.
During the second inning, you've probably seen the play (or the crappy youtube video attached), Shelley Duncan hits a ball down the third base line that carroms off Longoria's glove and into foul territory. Longoria retrieves the ball and fires it to Akinori Iwamura at second as Duncan rounds first.
The ball gets there WELL ahead of Duncan who slides feet first with spikes up high. He gets ejected immediately - as he should have.
Duncan later explains he was "trying to knock the ball loose".
Well, Shelley - PLEASE READ SECTION 7.0 of your official rulebook. First off, you slid well beyond the bag with no intention of going to the bag but clear intent to collide with the fielder - for which you would have been called out.
Secondly, How long have you been playing this game? - trying to knock the ball loose from an infielder's glove with your cleats would make you an automatic out by baseball's rules. Ask Alex "Slappy" Rodriguez about with what you are and aren't allowed to hit a fielder's glove...
No matter how you slice it, it was Bush League. Then again the Yankees have done these sorts of things before...
Aki was cut on the play and the minor melee insued. Credit Jonny Gomes for not doing anything more than shove Duncan and demonstrating his displeasure very clearly. Credit Jason Bartlett for doing a good job of holding Gomesy back.
---
---
Jonny Gomes explains why he took offense
"Shelley Duncan went in the paper and said he was going to do this," Gomes said. "So basically, it was premeditated on his part. He said if he has the opportunity to go in hard, I'm going to do it. And to me, that makes it a little bit worse. That was uncalled for on his part. ... He did what he said he was going to do."
and...
"He tried to inflict some pain on Aki, the littlest guy on the field," Gomes said. "[Protecting a teammate] just comes second nature. I was taught in T-ball all the way up, to always protect a teammate's back. I just acted how I act. I wasn't really trying to get a shot in on him. I probably could have done a lot of things worse. But it is a baseball field and there's fans and kids watching. I just had to let him know that's not going to fly."
Joe Maddon takes exception to his Second Baseman getting spikes to the nads
"What you saw today was the definition of a dirty play. There's no room for that in our game. It's contemptible, it's wrong, it's borderline criminal. And I cannot believe they did that." Maddon said.
"That was a blatant attempt to hurt Aki, and it was set up," Maddon said. "It was planned, it was premeditated. I mean, I don't know what's the difference between that and a high stick in hockey. But it was that bad."
Rays reliever Troy Percival explains it best
"There's no room in baseball for that kind of stuff," Rays closer Troy Percival said. "Ty Cobb's been gone a long time."
To be Continued?
So, to sum it up:
1. Hard play at the plate on Saturday - unfortunately guy gets hurt
2. Rays say "sorry guy's hurt, but that's baseball".
3. Yankees say "that's uncalled for in Spring Training".
4. Rays say - Well that's your opinion, we've got games to worry about not you 4b. Don Zimmer weighs in and can't believe Girardi's irrational feelings.
5. Shelley Duncan pops off to media on Sunday about how he might retaliate if in a similar situation.
6. Rays face Yankees again Wednesday and SuperStud Evan Longoria gets plunked in the first inning. Pitcher ejected.
7. In the second inning, Sheeley Duncan is out by a mile at second and proceed to spike Akinori Iwamura. Jonny Gomes comes flying off the turnbuckle, no punches are thrown.
8. The Yankees are Bush League and they know it.
9. Rays inform all that AL East isn't your older brother's AL East anymore and win the game in dramatic comeback fashion; serve Yanks.
10. Yankees will suck this year, the players and management will turn on Girardi, just like they did in Florida.
Sources:

quotes and pics from mlb.com
crappy video stolen from the 4 letter via youtube.com
Community content is available under
CC-BY-SA
unless otherwise noted.