It's finally here.  The NFL season is upon us.
This weekend, six former players/owners will be inducted in to the Pro Football Hall of Fame in Canton, Ohio.  The six includes Ralph Wilson, one of the original founders of the AFL and the owner of the Buffalo Bills.  The induction, 7-10 PM ET on Saturday August 8, will be followed by the first game of the preseason, which will kick off the following night at Fawcett Stadium (next door to the Hall in Canton).  The Buffalo Bills and Tennessee Titans will face-off in the first exhibition game of the season, marking the beginning of 2009.
Being inducted with 90-year old Wilson is former defensive back Rod Woodson, receiver Bob Hayes, guard Randall McDaniel, linebacker Derrick Thomas and defensive end Bruce Smith.  Read on for a closer look at the six's career accomplishments and milestones.
Bob Hayes, WR
The one-time Super Bowl champion played for two teams from 1965 to 1975 (Dallas Cowboys and San Francisco 49ers) and won two gold medals at the '64 olympics in Tokyo.  Hayes, the three-time Pro Bowl selection, was drafted in the seventh round by the Cowboys and notched 371 receptions, 7,000+ yards and 71 TD's throughout his 11-year career.
Hayes will be inducted into the Hall as a Cowboy, of course, and is already a member of Dallas' Ring of Honor.  The man known as "Bullet Bob" ended his rather short career with one season in San Francisco where he played in just four games.
The big man (6-3, 276 pounds) played 222 games, anchoring the Minnesota Vikings (1988-99) and Tampa Bay Buccaneers (2000-01) offensive line, throughout his 13-year NFL career.  McDaniel made 202 consecutive starts and set an NFL record with 12 straight Pro Bowl starts.  Known as one of the most versatile offensive lineman in NFL history, McDaniel sometimes played fullback for the Vikes during goal-line situations.
McDaniel is a HOFer because of his consistency at the guard position.  McDaniel played 12 straight seasons without missing a start (1990-01) and rarely gave up sacks while protecting his team's quarterback.
Bruce Smith, DE
The first-round selection in the 1985 NFL draft, Smith, who grew up just one state away from my home state, spent a majority of his prolonged career in Buffalo.  Smith, drafted by the Bills, recorded 200 career sacks.  His 200 is good enough for the most all-time, two ahead of the great Green Bay Packer and Philadelphia Eagle Reggie White.  That, alone, is enough for me to induct him in to my Hall, so this induction is well-deserved.
Smith's 11 Pro Bowl appearances and 11 All-Pro selections, plus his four straight Super Bowl appearances with the Bills in the early 90's are all just confirmation that he belongs in this select group of men.
Derrick Thomas, LB
Still best-known for his NFL record seven-sack performance in a game in 1990 (against Dave Krieg and the Seattle Seahawks), Thomas is certainly HOF-worthy.  In his cut-short career (ended when he was killed by injuries he suffered from a car accident), Thomas recorded 601 tackles and 126.5 sacks in 11 years with Kansas City.  His 126.5 sacks is good enough for 11th all-time, 1.5 behind former New Orleans Saints' LB Rickey Jackson.
Thomas added nine Pro Bowl appearances, two All-Pro selections and 45 career forced fumbles to his HOF argument, making him a lock.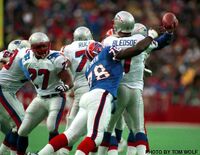 Ralph Wilson, Owner
One of the original founders of the AFL, Wilson has been the owner of the Buffalo Bills since 1960 and is still going strong today at age 90.  His Bills won back-to-back AFL Championships in 1964 and '65 and his Bill's were AFC Champions for four straight years in the early '90's.  Buffalo has yet to win a Super Bowl (lost in '90, '91, '92 and '93) but that doesn't take away from his AFL and NFL accomplishments throughout his long life.
Wilson, who has had the Bills' stadium named after him since 1998, is still very active with his team and is considered one of the most well-known figures in the NFL's modern era.
Rod Woodson, CB/S
In my opinion, Woodson may be one of the most versatile players in his era, right alongside Deion Sanders.  Woodson started his career, with the Pittsburgh Steelers, as a return man, and switched over to defense full-time in his second NFL season.  Woodson jumped around from team to team throughout his 17-year career, but he was best-known as a CB in Pittsburgh, where he spent his first ten seasons.
Woodson was just ten interceptions shy of Paul Krause's NFL record 81, Woodson's 71 (12 returned for TD's, which is an NFL record) was good enough for third on the all-time list.  He recorded over 1,000 tackles while playing CB and safety, and four TD's as a return man.  Like Smith, Woodson was selected to 11 Pro Bowls and was named to the NFL 75th Anniversary all-time team.  His Super Bowl ring he won in 2000 with the Baltimore Ravens is the cherry on the top of his HOF career.
This may be one of the best HOF classes this decade..
Community content is available under
CC-BY-SA
unless otherwise noted.