The American Football Conference has looked much different this year than in previous seasons.  Why is this?  The decline of the starting QB, the incline of backup QB's?  Who knows.  All I know is many of the four seperate divisions in the AFC have looked a bit topsy-turvy through 11 weeks.  Which six teams will reach the playoffs and which teams will be sitting at home watching it on the tube...That's the real question here.  Read on to find out:
AFC North:
Baltimore Ravens 6-4
Cleveland Browns 3-6 (plays @ BUF tonight)
Cincinnati Bengals 1-8-1
The Steelers have come away in some close wins this season, thankfully, and that's what matters most.  It wasn't pretty in last night's 11-10 win over the Chargers, but Ben Roethlisberger was mistakeless (0 INT, 0 fumbles), and he remarkably threw for 308 yards.  If head coach Mike Tomlin can get the offense going, the Steelers will cruise to another division title and possibly a first-round bye.
The Baltimore Ravens and rookie QB Joe Flacco have shown promise at times, but failure to finish games has been killing these Ravens.  At this point, all John Harbaugh should be looking for from Flacco is mistake-free football.  Keep the pressure off Flacco and this team has a shot at a wild card spot.  Will they do it?  No, Baltimore's remaining schedule is just too tough.  Wait 'til next year, Flacco!
At this point, it's quite obvious the Browns and Bengals are out of the playoff picture.  The only hope Cincy has shown was during yesterday's tie with the Philadelphia Eagles, 13-13 (I still can't believe McNabb didn't know there's tie games in the NFL...HAHA!).  And, Browns coach Romeo Crennel has already replaced his starting QB, Derek Anderson, with the inexperienced Brady Quinn.  That's a sign of desperation, and replacing Anderson was certainly not the answer to their struggles.
This division comes down to the Steelers and Ravens, and Pittsburgh is the team that knows what it takes to reach the playoffs.
Division winner: Steelers
AFC East:
New York Jets 7-3
Miami Dolphins 6-4
Buffalo Bills 5-4 (plays CLE tonight)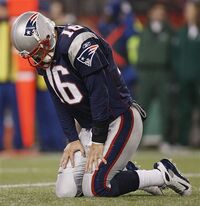 With a win over Cleveland tonight, the Bills could tie Miami and New England for second place in the division.  This division could be the toughest to call at this point.  Even with New York's 7-3 record, there really isn't a "powerhouse" favorite like there was last year.  But I haven't given up on the Patriots just yet.  In fact, Matt Cassel has shown he has what it takes to win games under Bill Belichick, and I personally am still leaning towards New England for the division title.  This could be a real dangerous team if coach Bill can get the running game going, which will ultimately take the pressure off Cassel's shoulders.
I will just go back to that saying, "New England are the favorites until someone knocks them off."  Tom Brady isn't the only reason this team went 16-0 last year.  It's a team effort.
Well, Brett Favre is Brett Favre, of course.  But, the Jets' defense doesn't equal the Pats' D, and the coaching is much better in Foxboro.  Let's face the facts, New England is the better team, despite the 34-31 OT loss on Thursday.  Patriots win division, Jets earn a wild card spot.  Sorry
Buffalo, but your great start was a fluke.  Wait 'til next year!
Division winner: Patriots
AFC South:
Tennessee Titans 10-0
Houston Texans 3-7
I do not expect Jeff Fisher's success to dwindle to nothing at the end of the regular season.  Come playoff time, the Titans will still be the number one team in the AFC, boasting a 14-2 record and an AFC South title.  The duo of Chris Johnson and LenDale White has just been too much for opposing defenses, and the Steelers are the only tough defense remaining on their regular season radar.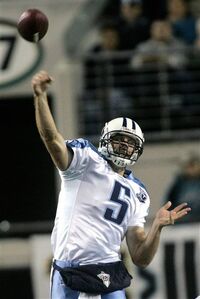 Peyton Manning had another slow/tough start to the season, but he has the tendency to carry his team.  It's not gonna be pretty, but Indy will get the fifth seed in the playoffs.
I am very disappointed in these 4-6 Jaguars.  They were favorites coming into the season and they have disappointed pretty much everyone.  But, I guess they aren't the only team to do that this year.  This seems to be a pretty disappointing season, so far (yes, I'm looking at you Cleveland, New England, Dallas, Minnesota etc, etc, ect).
Houston remains the scum of the AFC South.  Actually, the AFC for that matter.  Wait 'til next year Houston!
Division winner: Titans
AFC West:
Denver Broncos 6-4
Oakland Raiders 2-8
This is what's holding the AFC back.  An entire suckish division.  This is ugly.  What is up out west?  Both west divisions have some of the worst teams in the entire NFL.  What an embarrassment!
First of all, the 6-4 Broncos are extremely inconsistent.  Second of all, Jay Cutler needs a little help in the backfield (and offesnive line, as well).  Injuries have decimated the Broncos on both sides of the ball.  Third of all, the defense is horrific.  The injury to All-Pro CB Champ Bailey hasn't helped that matter too much.  The upside to the season?  Young WR, Eddie Royal, looks promising, and has been a must in fantasy leagues around the Nation.  Other than that, this is an embarrassment.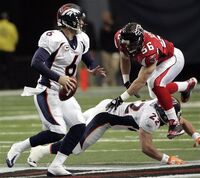 After the Broncos, the rest of the three teams have a combined record of 7-22.  Whatever happened to all those Chargers fans in the begining of the season?  You know, all those AF's commenting on Crack's NFL Preview...They were badmouthing him for picking Denver to win the division and look where LT and the Bolts are now!  I can't believe they are only two games back with a horrifying 4-6 record. No wonder they didn't sign up, they finally realized that they're idiots and didn't want to embarrass themselves anymore.
Don't even get me started on the Raiders and Chiefs!  Wait 'til next year...Uh, can I just say the entire AFC WEST?!?!?
Division winner: Broncos (But, in order for this to happen, the Broncos D must actually play football).
Also check out: NFC Playoff Picture (Week 12 Edition)
Please and thank you!
Community content is available under
CC-BY-SA
unless otherwise noted.