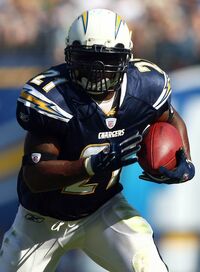 This is just the wrong place and the wrong time for the San Diego Chargers. At kickoff it's going to be around 8 degrees with the windchill which is 50 degrees colder than what they practice in San Diego. Injuries are also a major concern for the Bolts. As of right now, Phillip Rivers is optimistic that he'll play but he is still listed as questionable. If Rivers can't go for very long or even at all, Billy Volek will be lining behind center. Volek has a losing record as a starter which has to scare a lot of Charger fans.
Pro Bowl Antonio Gates is also doubtful with a dislocated toe. Without Gates, the Chargers lack explosive pass catchers, as wide receivers Vincent Jackson and Chris Chambers are fairly average receivers. The league's top running back LaDainian Tomlinson will play against the Pats, but many are questioning how healthy and effective will he be. Even if LT is unable to go, the Chargers still have quality backups Michael Turner and Darren Sproles. However, quality backups are not the recipe for success against New England's top-notch defense.
Can the Patriots really be stopped? Seriously, since mid-2006, the Pats are 13-0 at Gillette Stadium and they haven't lost once this entire season. Over the past two games, Tom Brady has never been better as he has gone 58-70, .829, 618 yards, five touchdowns, no picks, and two sacks. Even the Jaguars, who punted just twice last week, lost to New England by double digits.
Yes, amazing things can happen in football with Chargers winning in Indy without Tomlinson and Rivers and the Jags winning twice at Heinz Field in a month and the Chargers defeating the Colts with Tomlinson and Rivers on the sideline. However, the Pats don't seem like a team that's going to slip up. Patriots 31-14
Community content is available under
CC-BY-SA
unless otherwise noted.