Training camp, just over a month away, marks the beginning of the new season for 32 NFL teams, all of which will be striving for the same goal in the dog days of summer: a Vince Lombardi Trophy.  As a fan, it's easy to recognize the teams to beat, but it's always nice to know which teams to look out for as well.  Here I bring you part one of a two-part mini series as I count down the days until start of training camp and then, of course, opening weekend in the beginning of September.
AFC North
Cincinnati Bengals (4-11-1)
The Pittsburgh Steelers and Baltimore Ravens we all know will be battling for the top spot in the top-heavy AFC North division, but since I have decided to name at least one team per division to look out for, I chose the hungry Bengals from Cincinnati.  Former elite QB Carson Palmer claims he is back to full health, but I guess only time will tell.  If he, in fact, is in full health then the rest of the NFL will have to watch out and not underestimate his ability.  The reason I said he is a "former" elite QB is because he will have to prove to his critics, once again, that he can stay healthy and let everyone know he can still play.  Despite the continuing drama surrounding Chad Ocho Cinco, "will he play or not," the Bengals offense should be at full strength.  The front office brought in New York Jets WR Laveranues Coles to help cushion the absence of T.J. Houshmandzadeh.  Cedric Benson has seemed to find a home in Cincinnati, quickly finding comfort in mini-camps, and the defense has had a makeover, as well.
Keith Rivers is looking to make a full recovery this season, anchoring the LB corps alongside veteran middle linebacker Dhani Jones, who recorded a team-high 116 tackles in 2008.  The secondary is in good hands with young, potential-filled CB's Leon Hall, who led the team in interceptions in 2008, and 25-year old Johnathan Joseph.  Together, Hall and Joseph have a combined five years experience and 12 career interceptions.  Both are good cover men, and are well backed-up by free safety, tackling machine Marvin White (age 25) and strong safety Chinedum Ndukwe (age 24).  So, yes, the secondary is young, but they have shown a lot of potential over the past couple of years.  If the defense can just do their job and improve on last year's 12th-ranked overall defense, this team has the chance to surprise a lot of people in 2009.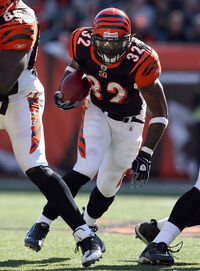 AFC East
Buffalo Bills (7-9)
It wasn't just the move to sign Terrell Owens to a one-year deal this off-season that got my attention, but instead the much improved defense and stealthy offense.  Trent Edwards, the team's franchise QB, improved greatly from 2007 (his rookie year) to 2008, seeing all of his numbers sky-rocket.  Edwards was a play-maker shy of breaking 3,000 passing yards on the year and now that they have T.O. on their side, Edwards' numbers may go up just a little bit more in '09.  Edwards has all the traits to become an elite QB in the NFL: the size (6'4", 231 pounds), arm strength, and accuracy.  If he can protect the ball a little better, he will be great.  The running game may see a bit of a dip in the first few weeks of play thanks to the suspension of running back Marshawn Lynch.  But, back-up RB Fred Jackson could see some spotlight while filling in for Lynch.  Jackson has shown the potential in his first two seasons, running for 500+ yards on 130 attempts last season (4.4 YPC) and coughing up the ball just once in his 24 career games (188 carries).  Jackson can also catch the ball out of the backfield (8.6 yards per catch on 59 career receptions) which will be a big help to the young Edwards.
What has impressed me most about this team, despite the offensive improvement, is the defensive and special teams units.  The defensive line, which combined for 6.5 sacks in '08, has a combined 29 years experience, which averages out to just over seven years experience per defensive lineman.  The linebacking corps isn't quite as experienced.  In fact, all three of the starting LB's are under the age of 30.  But, the 24-year old Paul Posluszny (110 tackles, 1 INT in '08) could be the bright side of the entire defense this year.  He has been under the radar so far in his short career, but this may just be his break-through season as an elite middle linebacker.  Like the team's linebackers, the Bills secondary is very young and inexperienced.  They are not the type to pick a whole lot of passes off, so the front seven will need to thrive and create turnovers on their own.  If they can do that and get to the QB early and often, we could see Buffalo in the top ten in total defense this year.  But the real question will be: can Buffalo keep up with the favorites in the East (New England and New York)?  Time will tell.
AFC South
Houston Texans (8-8)
For me, this is a no-brainer.  The Texans will not be a division-winner in 2009, but they will, without a doubt, be a wild card contender.  This is the year the Texans get over their years of mediocrity and break that 8-8 streak.  Matt Schaub, the team's QB, broke 3,000 passing yards in a season for the first time last year thanks to some help from the much-improved running game, and he could see that category, along with his passing TD's, rise as his INT total drops.  Running back Steve Slaton had a dreamy rookie campaign in '08 (1,282 yards, 4.8 YPC, 9 TD's) and will look to improve on that performance this season.  All-Pro WR Andre Johnson broke 100 receptions for the second time and 1,500 receiving yards for the first in his six-year career.  He even tied his career-high with 8 receiving TD's.  Johnson, accompanied by 6'3", 215 pound wideout Kevin Walter at receiver, is one of the NFL's most underrated WR despite his career-high, All-Pro numbers in '08.  Walter set career-highs in receiving yards (899) and TD's (8) last season, too.  Both Johnson and Walter's size provide valuable size at the wideout position.  Do not be surprised if both of their '08 numbers improve in 2009.  Slaton's 1,200 rushing yards will see a boost this season, as well.  By the end of the season, people will know just how dangerous the Houston Texans offense really is.
Mario Williams, the 24-year old Texan defensive end, has recorded 30.5 sacks in just three NFL seasons in Houston and his side of the Houston defensive line may be one of most dangerous this season.  Third-year defensive tackle Amobi Okoye is still learning the game (he didn't start playing football until his sophomore year of HS and knew nothing about the game before that time) but can already be considered armed and dangerous.  Alongside Mario, Okoye could see himself record 10+ sacks this season (he has 6.5 in his first two NFL seasons), thanks to extra attention paid to Mario.  So, while Williams is being doubled, maybe even triple-teamed, Okoye will be putting several different QB's on their backs, eating grass.  The LB group may not have the big names, but MLB DeMeco Ryans, entering his fourth season in the league, already has a Pro Bowl and All-Pro selection to his name along with the 2006 NFL Defenisve Rookie of the Year award.  Ryans' career numbers look great, too: 396 total tackles, 6.5 sacks, 2 INT's.  Another accomplishment includes three straight seasons with 100+ total tackles, something that a Zach Thomas/Patrick Willis-type player would do.  Underestimate this team and you could pay a huge price.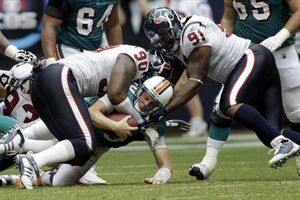 AFC West
Kansas City Chiefs (2-14)
Say what you want about Matt Cassel's 2008 success being the result of Bill Belichick's system, but Cassel has looked good during Kansas City's mini camps so far.  With new management and coaching, the KC Chiefs are looking for a fresh start and so far, have looked great doing it.  It appears as though the whole Larry Johnson mess has finally blown over, and if he gets the ball a little more this season and stays healthy for a good portion of the season Johnson could break a 1,000 for the first time since '06.  Something to keep in mind is that Johnson had the potential to do so last year (he averaged 4.5 YPC), but because of injury only got 193 carries (158 carries for 559 yards in '07).  If Johnson continues to struggle in the backfield, KC will most likely turn to second-year RB Jamaal Charles who managed 5.3 YPC on 67 attempts last season while filling in for Johnson.  Cassel will not have All-Pro, future HOF TE Tony Gonzalez, who left for Atlanta this offseason, but will have the 6'2" Dwayne Bowe, who set career-highs in receptions, yards and TD's last year (86 rec, 1,022 yards, 7 TD's in 16 games).
New Kansas City head coach Todd Haley, a member of the 2008 NFC champion Arizona Cardinals coaching staff last season, is in the rebuilding process with this Kansas City defense, adding DE Tyson Jackson with the third overall pick and DT Alex Magee with the 67th overall pick in the draft this year.  Jackson recorded 18.5 sacks in four seasons with the LSU Tigers, good enough for eighth all-time.  Jackson was named to the All-SEC second team in 2006 and 2008.  Jackson is a welcome addition to the Chiefs defensive line, which is currently anchored by second-year defensive tackle Glenn Dorsey.  Dorsey recorded 46 tackles and one sack with KC last year and was Jackson's teammate at LSU for three seasons.  The LB corps is in good hands after the front office (new GM Scott Pioli, formerly a member of the New England Patriots organization) went out and signed veterans Zach Thomas and Mike Vrabel.  Vrabel was acquired in the deal that also landed them their new QB Matt Cassel.  Pioli is very familiar with both Cassel and Vrabel.  Thomas, signed as an unrestricted FA on April 9th, 2009, is a huge addition.  He brought his leadership and his tackling ability with him to Kansas City.  According to some of their offseason moves, it looks like Kansas City is actually looking to be a contender this year as opposed to two or three years down the road. The 2009 Kansas City Chiefs have no where to go but up!
Part two: NFC's 2009 Wild Card Teams--coming soon (AKA when I get around to it).
Community content is available under
CC-BY-SA
unless otherwise noted.