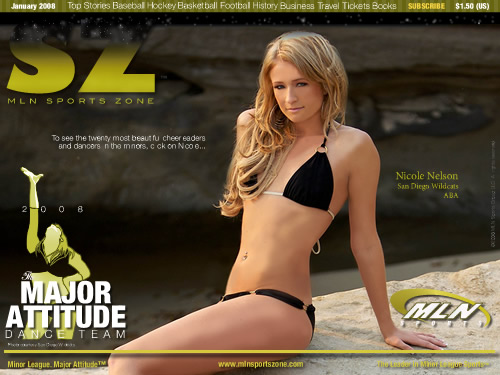 MLN Newswire – BOCA RATON, FLA – 01.21.08 – MLN Sports released its list of the top cheerleaders and dancers in minor league and independent professional sports today. Topping the list is Carrie Greeson of the arenafootball2 Tulsa Talons. The ABA San Diego Wildcats were selected for the 2008 MAJOR ATTITUDE Dance Team, the best team overall.
Featured in a pictorial essay running right now at SZ headlined by the lovely Nicole Nelson of the Wildcats on the cover, are twenty of the most beautiful cheerleaders and dancers to grace a courtside, rink, or field.
"We were especially pleased with the large number of teams competing for the first year of the dance team," said MLN senior editor Brian Ross. "We unfortunately had to reject some truly amazing young women, but we're really pleased with the final result."
Six members of the Idaho Stampede's dance team made the final cut. Four dancers from the San Diego Wildcats, three from the D-League Tulsa 66ers and pairs from the af2 Tulsa Talons, AHL Toronto Marlies, and the D-League Albuquerque Thunder also made the MAJOR ATTITUDE Dance Team roster.
"In Minor League sports, everything that happens off of the court rink or field is a big part of the whole experience," Ross said. "College and major league cheerleaders and dancers are often an afterthought, a little icing on the cake. In the minors these girls work really hard to make sure that the fans are happy, upbeat, and enjoy turning out for home games."
Nicole will grace the cover until the mid-February MLN FAB50 Hockey 2008 issue debuts. The issue will remain on SZ as part of our ever-expanding library of minor league sports features.
To see all of the MAJOR ATTITUDE Dance Team 2008, see the cover at SZ or skip to the first page of the story.
Community content is available under
CC-BY-SA
unless otherwise noted.