Here is my prediction for how the NL East will wind up come October:
Lineup: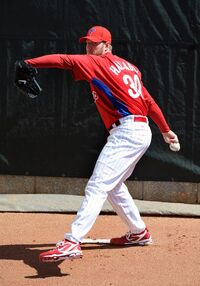 2B Chase Utley
1B Ryan Howard
LF Raul Ibanez
RF Jayson Werth
C

Carlos Ruiz
Pitching:
RHP Roy Halladay
LHP Cole Hamels
RHP Joe Blanton
LHP Jamie Moyer
RHP J.A. Happ
SU: Ryan Madson
CL: Brad Lidge
The Phillies are really the most stocked team in the NL, but they do have a slight weakness, and that is in their bullpen. Brad Lidge is coming off a monumentally horrible season for a closer, going 0-8 with a 7.21 ERA with 31 saves in 67 games in 2009. If he continues to struggle to start 2010, look for Madson to take the 9th inning reigns with Danys Baez getting consideration, too. Other than that, though, their lineup is ridiculously strong from 1-7, as all guys can hit 12+ home runs, and all but Ryan Howard can steal you a base if needed. Their rotation is also a huge strength, especially after they added Roy Halladay this winter. J.A. Happ really stuck out after being moved to the rotation last year as well (6-4 with a 2.96 ERA in 13 starts after the break). Defensively, they are about as good as it gets with reigning gold glovers, or potential gold glovers scattered all over the diamond.
Lineup:
CF Nate McLouth
1B Troy Glaus
RF

Jason Heyward

SS

Yunel Escobar

2B Martin Prado
Pitching:
RHP Derek Lowe
RHP Jair Jurrjens
RHP Tim Hudson
RHP Tommy Hanson
RHP Kenshin Kawakami
SU: Takashi Saito
CL: Billy Wagner
The Braves have quietly constructed a very good ball club (health impending, of course). I like the mix of vets and youngsters they have in their rotation, with Lowe and Hudson matched with Hanson and Jurrjens. Their bullpen is veteran heavy, but should be very effective if everyone still has another year in their arms, which is likely the case. Their lineup will rely on the health of Jones and Glaus, but both have looked healthy this spring. They also have a few youngsters in there to help pick up the slack, with Jason Heyward (ROY candidate), Escobar and McCann. McLouth needs to hit more like he did in '08, otherwise I'd try Cabrera or Escobar at the top.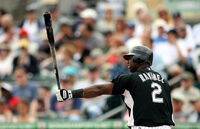 Lineup:
LF

Chris Coghlan

CF

Cameron Maybin

3B Jorge Cantu
2B Dan Uggla
RF Cody Ross
1B

Gaby Sanchez

C

John Baker
Pitching:
RHP Josh Johnson
RHP Ricky Nolasco
RHP Anibal Sanchez
RHP Chris Volstad
LHP Nate Robertson
SU: Brian Sanches
CL: Leo Nunez
The Marlins have one of youngest teams in baseball, but they should be very competitive. They have the reigning NL Rookie of the Year at the top of the lineup, followed by another guy with tremendous upside in Cameron Maybin. Hanley Ramirez is a top-5 player in all of baseball right now, and he's a guy who can single handily carry a lineup when he's on. Their young rotation is another bright spot, led by 26 year-old all-star Josh Johnson. I also really like Sanchez, Nolasco, and Volstad. The bullpen is the one area where they have some question marks, but Leo Nunez looks like a bright young closer, and there are a couple other nice young arms who will be getting him the ball. The Fish also have a decent defense, where only Cantu and Uggla are below league average; however, they more than make up for that with their offensive output.
Lineup:
SS Jose Reyes
CF Carlos Beltran~
LF Jason Bay
3B David Wright
1B

Daniel Murphy
Pitching:
LHP Johan Santana
RHP John Maine
RHP Mike Pelfrey
LHP Oliver Perez
RHP Jonathon Niese
SU: Jerry Mejia
CL: Francisco Rodriguez
~Beltran will miss at least first month of season; Angel Pagan will be in his place.
The Mets were recently a powerhouse in the NL East, but they have fallen off mightily in the last few seasons. Most of that is due to injury and inconsistency in their starting rotation. Carlos Beltran will be out until sometime in May, so they're already having to overcome the loss of their best all-around player. The rotation is not only thin, but they have had health issues themselves. Mike Pelfrey led the team in innings last year at 184, and the next closest was Santana at 166. If that happens again, the Mets will once again finish below .500. However, if they get full years out of their starters, and Beltran returns strong and early, they could at least find themselves in the hunt for the wild card.
Lineup: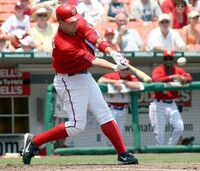 CF

Nyjer Morgan

1B Adam Dunn
2B Adam Kennedy
SS

Ian Desmond
Pitching:
LHP John Lannan
RHP Jason Marquis
RHP Livan Hernandez
LHP Scott Olsen
RHP Craig Stammen
SU: Brian Bruney
CL: Matt Capps
The Nats are at least on the right path now. They have a couple of youngsters, including phenom right-handed starter Stephen Strasburg, knocking on the door. They also will get former Yankee ace Chien-Ming Wang back around June, so John Lannan and Jason Marquis will get some help in the rotation. Their bullpen is still a major work in progress though, but I think Matt Capps will rebound and have a nice year. The lineup relies a lot on power with Dunn, Zimmerman and Willingham, but the addition of Nyjer Morgan for the whole year will help the top of their order. Still at least a year away from being relevant in the NL East again though.
By Trevor Cole Article Published @ The Giants Baseball Blog