As we do towards the end of every March, with the regular season quickly approaching, we're going to start the division-by-division preview and standing predictions for the upcoming 2010 season. Starting as always in the AL East, and finishing up in the NL West, so here we go:
Lineup: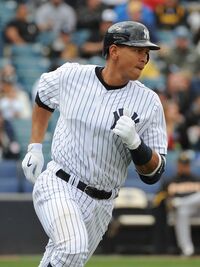 Pitching:
LHP CC Sabathia
RHP AJ Burnett
RHP Javier Vazquez
LHP Andy Pettitte
RHP Philip Hughes
SU: Joba Chamberlain
CL: Mariano Rivera
The reigning world champs have, again, improved themselves over the offseason, bringing Nick Johnson back to the Bronx and trading for the versatile Curtis Granderson. Those two offset the loss of Johnny Damon and Hideki Matsui, so the offense should once again be one of the league's best. With Damon out and Brett Gardner in, their outfield defense improves greatly, too. I really liked the addition of Javier Vazquez (2.87 ERA, 15 W, 238 K's in '09) to an already strong starting rotation. Vazquez teamed with Burnett and Sabathia make the Yanks very tough to beat in a playoff series, and that bullpen should once again be solid, led by the ageless wonder, Mariano Rivera.
(*AL Wild Card Winner*)
Lineup:
DH David Ortiz
RF J.D. Drew
CF Mike Cameron
Pitching:
RHP Josh Beckett
LHP Jon Lester
RHP John Lackey
RHP Daisuke Matsuzaka
RHP Clay Buchholz
SU: Daniel Bard
CL: Jonathan Papelbon
The Red Sox should, again, be right there on the Yankees' heels, but I just don't think they have quite the offensive firepower to overtake the "Bronx Bombers". The two key players on that roster, in my opinion, are David Ortiz and Adrian Beltre. If both rebound after rough '09 seasons, and play closer to their potential, then the Sox will force themselves into the playoffs one way or another. Another strong point for Boston is their defense, as they have one of the top-5 team defenses in the game right now. That rotation is lining up to be one of the best in the game, if healthy, and their bullpen has notoriously been one of the AL's best in recent years.
Lineup: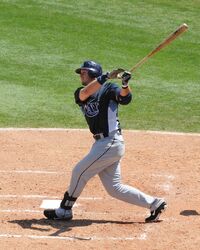 1B Carlos Pena
2B Ben Zobrist
CF B.J. Upton
RF Matt Joyce
Pitching:
RHP James Shields
RHP Matt Garza
RHP Jeff Niemann
LHP David Price
RHP Wade Davis
SU: J.P. Howell
CL: Rafael Soriano
In just about any other division in baseball, the Rays would be serious contenders, as they have a nice lineup, a decent starting rotation, and an up-and-coming bullpen. B.J. Upton has the talent to be one of the top 20 players in baseball, but he had a bad season in 2009, and needs to revert back to his 2008 playoff form, when he hit 7 homers, drove in 16 runs and stole 6 bags in 16 ballgames. I also believe Carl Crawford could be the most underrated player in baseball as he has the potential to hit 25 home runs and steal 60 bases. Their young rotation and bullpen should be solid, though they'll likely encounter some growing pains throughout the year. I'm just not quite sure about Soriano as a full-time closer, as he has too much trouble staying on the field.
Lineup:
Pitching:
RHP Kevin Millwood
RHP Jeremy Guthrie
RHP Brad Bergesen
LHP Brian Matusz
RHP Chris Tillman
SU: Jim Johnson
CL: Mike Gonzalez
The Orioles are a year or two away from really starting to make a push in the AL East. They have their young positional core going with Nick Markakis, Adam Jones, Matt Wieters and Nolan Reimold who are all 26 years of age or younger. They also have a few young arms that are ready to work at the big league level in Brad Bergesen, Brian Matusz and quite possibly their future ace, Jake Arrieta, knocking on the door. They remind me of what the Rays looked like one year before they made their push to the world series. They don't have quite the quality pitching that the Rays have accumulated, but they're on the right track. They can also catch and throw the ball very well, right up there with Boston. Keep an eye on Baltimore, as they should show glimpses this year of what they can be a few years down the road.
Lineup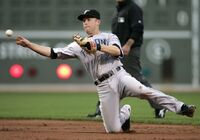 Pitching:
RHP Shawn Marcum
LHP Ricky Romero
RHP Brandon Morrow
LHP Marc Rzepczynski
LHP Brett Cecil
SU: Jason Frasor
CL: Kevin Gregg
The Blue Jays are significantly weaker team than they were at the start of last year. They've lost Alex Rios, Roy Halladay, Marco Scutaro and Rod Barajas. They're counting on in-experienced arms to carry their rotation, as Ricky Romero is the only returning starter to start at least 20 games in 2009. Shawn Marcum and Brandon Morrow should be solid, but are both question marks. Their lineup needs a lot of work too. They have a decent middle order, but the top and bottom of their lineup really needs some work. Jose Bautista (career .238/.329/.729) is hardly your ideal leadoff man and they're really going to miss Scutaro at the top of the lineup. Their bullpen is also a question mark as they still don't have a clear cut closer, although they do have a few legit set-up guys.
By: Trevor Cole The Giants Baseball Blog- A San Francisco Giants Blog and Fan Website
Community content is available under
CC-BY-SA
unless otherwise noted.