Here is our projection for how the AL Central will look in 2010. Also, we have some Giants news at the bottom of the post with the recent trading of Kevin Frandsen:
Lineup
LF Juan Pierre
SS

Alexei Ramirez

2B

Gordon Beckham

RF

Carlos Quentin

1B Paul Konerko
CF Alex Rios
DH Andruw Jones
3B Mark Teahen
Pitching
RHP Jake Peavy
LHP Mark Buerhle
RHP Gavin Floyd
LHP John Danks
RHP Freddy Garcia
SU: J.J. Putz
CL: Bobby Jenks
The veteran-heavy White Sox should win the Central, especially with the Twins missing Joe Nathan for the year. They have a strong offensive lineup with Juan Pierre and Alex Rios bringing in some much needed speed. All hitters in that lineup after their leadoff guy are capable of hitting 15+ home runs per year as well, so they have the proper mix of speed and power. They also have a nice mix of effective vets and productive youngsters in their rotation and bullpen. If they can keep Peavy and Buerhle healthy, and their lineup performs as it should, they'll cruise to an easy division championship. I'm curious to see as to how Jake Peavy takes to the American League. He was one of the top arms in the NL for much of the last decade but he's really been hit hard by the injury bug over the last couple of seasons.
Lineup:
LF Johnny Damon
CF

Austin Jackson

3B Brandon Inge
2B

Scott Sizemore

SS Adam Everett
Pitching:
RHP Justin Verlander
RHP Rick Porcello
RHP Max Scherzer
LHP Dontrelle Willis
LHP Nate Robertson
SU: Joel Zumaya
CL: Jose Valverde
The Tigers don't quite match-up with Chicago, but they have a decent squad heading into the 2010 season. Johnny Damon kind of fell on their lap at the tail end of the offseason, which really strengthens the top part of their lineup. Their rotation is rock solid 1-3, but then 4 and 5 pose some questions. It looks like Dontrelle Willis will get another shot, as he's put together a very good spring so far, and Nate Robertson has looked much better than Jeremy Bonderman. Justin Verlander is a Cy Young candidate and Porcello and Scherzer are two of the brightest young arms in the league. If Robertson and Willis pitch like they did a few years back, then the Tigers will be a force. I really like their bullpen as well with the add of Valverde, one of the more underrated closers in the game.
Lineup: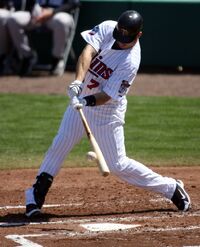 CF

Denard Span

DH Jason Kubel
LF Delmon Young
SS J.J. Hardy
Pitching:
RHP Scott Baker
RHP Nick Blackburn
RHP Kevin Slowey
RHP Carl Pavano
LHP Francisco Liriano
SU: Matt Guerrier
CL: Pat Neshek
The Twins suffered a huge loss with Joe Nathan going down for the year. The only other guys who were as important to this team as Nathan are Morneau and Mauer. The Twins also have some question marks in their rotation, as nobody in it is coming off of a real solid year. Their lineup, however, looks about as good as it's been in recent years, especially if J.J. Hardy returns to pre-2009 form, which I believe will happen. I'm envisioning a breakout year for Delmon Young, who's under-achieved so far in his young career. Without Nathan though, it looks like it's going to be Pat Neshek, Matt Guerrier and Jon Rauch all getting save opportunities as Ron Gardenhire tries to find the best fit. If he's healthy, Neshek (2.91 era, 0.96 WHIP, .188 BAA in career) would be my first choice as Nathan's replacement.
Lineup:
1B

Billy Butler

DH Jose Guillen
CF Rick Ankiel
3B

Alex Gordon
Pitching:
RHP Zack Greinke
RHP Gil Meche
RHP Brian Bannister
RHP Luke Hochevar
RHP Kyle Davies
SU: Juan Cruz
CL: Joakim Soria
The Royals will continue their playoff drought in 2010. They don't have themselves a bad top of the lineup, but the bottom half is huge question mark. They're hoping this is the year Alex Gordon and Luke Hochevar, both huge disappointments after being taken as number 1 picks. Those two need to start paying off for the Royals, otherwise they'll stay stuck in 4th-5th place mode. Zack Greinke is one of the best pitchers in the AL, but after that, the rotation is filled with guys who posted double-digit loss numbers a year ago. In the bullpen, I really like their closer, Joakim Soria, who reminds me a ton of a young Mariano Rivera. It's just too bad the rest of the bullpen is below average and he'll be lucky to get 40 save chances in '10. Defensively, the Royals have are actually above average though, so at least they have that going for them.
Lineup:
SS

Asdrubal Cabrera

1B

Matt LaPorta

2B

Luis Valbuena

LF

Michael Brantley

C

Lou Marson
Pitching:
RHP Jake Westbrook
LHP Aaron Laffey
RHP Fausto Carmona
LHP Jeremy Sowers
RHP Justin Masterson
SU: Chris Perez
CL: Kerry Wood
The Indians are in pretty rough shape entering the year. Their closer, Kerry Wood, is probably out for the first month of the year, and although Chris Perez should be a fine fill-in, that bullpen is very shallow and will miss Wood dearly. Their rotation is even weaker than KC's, as the Royals at least have themselves and ace and some guys with potential. Cleveland's offense is average to below average. I like Sizemore a lot, and Cabrera, Choo and LaPorta are nice talents, but they have one guy who hit 20 homers last year, and only had 2 hitters hit above .258. They were also lead in wins by a reliever (David Huff with 11) in 2009 as well. Just goes to show exactly how poor of a roster the Indians will be trotting out in 2010.
By: Trevor Cole  - The Giants Baseball Blog- A San Francisco Giants Blog and Fan Website