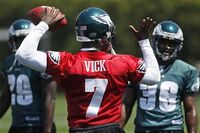 Can Michael Vick be a secret weapon that finally brings the coveted Vince Lombardi Trophy to Philadelphia, or will the baggage he brings with him ground an Eagles team with high hopes?
On the eve of the 2009 NFL season, let's take a look at what to expect in the year ahead.
AFC East
1. New England Patriots (12-4) - Tom Brady's return can only mean good things for the Patriots, but with losses of veterans Rodney Harrison and Tedy Bruschi (retirement) and Richard Seymour (recent trade) on defense, the Pats D could hold this team back from its previous greatness.
2. Miami Dolphins (7-9) - The Dolphins were a great story last year (for everyone except us Patriots fan, of course), but give me one good reason why Chad Pennington will lead them to the playoffs again and I'll be shocked!
3. New York Jets (6-10) - Mark Sanchez is the answer for the Jets, but it's hard to expect the rookie to carry his team to the playoffs! Still, with an improved defense, the Jets will at least get off the ground this year.
3. Buffalo Bills (4-12) - Terrell Owens is not the answer, not in a stadium in which the wind swirled so much in a game last year, that two field goal attempts on opposite sides of the field were carried miserably wide right (think about it, the wind carried them in opposite directions!).
AFC North
1. Pittsburgh Steelers (13-3) - The Steelers have won two of the last four Super Bowls and are a force year-in and year-out.
2. Baltimore Ravens (9-7) - The defense will lead this team as always. The Ravens were a tough team last year and made big improvements, but Ray Rice will have to be a running force for this team to make a playoff run again.
3. Cincinnati Bengals (6-10) - The Bengals season will depend significantly on the arm (and health) of Carson Palmer. A healthy Palmer could result in a surprise season, but an injury will mean another long season for the Orange and Black.
4. Cleveland Browns (3-13) - People speculate that Eric Mangini was just playing mind games with his opponent in not openly naming his starting QB, and as a Bill Belichick disciple, that's a perfectly reasonable explanation, but when the competition is between Brady Quinn and Derek Anderson, wouldn't you be apprehensive to give one of them the title "starting," as well!?
AFC South
1. Indianapolis Colts (12-4) - Don't sleep on Peyton Manning! He'll get this team back to its elite status of 2007 and before.
2. Houston Texans (10-6) - Don't sleep on this team either! The Texans are probably the most overlooked team in the NFL, but with a top WR (Andre Johnson), a good young RB (Steve Slaton), and a QB (Matt Schaub) that, if he stays healthy, knows how to manage a game, the Texans are nothing to mess with! Remember how down everyone was on this franchise when they took Mario Williams over Reggie Bush!? Now they have Super Mario and Slaton is a much more prominent running back than Bush (they definitely get the last laugh).
3. Tennessee Titans (10-6) - The Titans were this division's winner last year, and there's no reason to believe they can't still do it again. They have a great veteran Head Coach, and a superb defense. The one-two punch of RBs Chris Johnson and LenDale White is deadly, but the QB position and passing game leave a lot to be desired.
4. Jacksonville Jaguars (6-10) - It's not that this team isn't competitive, it's just that with six games against teams projected to win 10+ games, it's hard to expect them to be that great in the win-loss columns.
AFC West
1. San Diego Chargers (14-2) - Playing in one of the weakest divisions in all of football (San Diego won this division last year with an 8-8 mark), the Chargers could post big stats. This team lost a lot of close games last season and was much better than its 8-8 record. A few better bounces this year and a healthier Shawne Merriman and LaDainian Tomlinson will make this team a force to reckon with.
2. Kansas City Chiefs (6-10) - Former Patriots, QB Matt Cassel and LB Mike Vrabel, could give this team a boost on both sides of the ball. Look for young offensive players like WR Dwayne Bowe and RB Jamaal Charles to gain prominent roles as the season progresses.
3. Denver Broncos (5-11) - Nothing's going right for Denver. Their disgruntled star QB (Jay Cutler) finally got the trade he demanded, their disgruntled star WR (Brandon Marshall) is still demanding one, the defense is one of the worst in the league, their top two QBs (Kyle Orton and Chris Simms) are both questionable with injuries, and a team that has relied heavily on the run in the past is looking to a bunch of never-were's (Correll Buckhalter, LaMont Jordan and Michael Pittman) and a rookie (Knowshon Moreno) to carry the load. Still, it's the Broncos, and they always find ways to win some games.
4. Oakland Raiders (3-13) - This has become an easy prediction over the better half of the past decade. The biggest debate is always: three wins or four?
NFC East
1. Philadelphia Eagles (13-3) - It's yet to be seen where Michael Vick truly fits in, but he'll definitely serve a purpose on this offense. Donovan McNabb established good chemistry with 2008 rookie WR DeSean Jackson, who should blossom into a solid option this year, and even if Brian Westbrook is a little dinged up, the draft choice of LeSean McCoy gives the team solid options at running back. On other side of the ball, the Eagles are traditionally one of the best in the league, and that won't change this year.
2. Dallas Cowboys (11-5) - Getting rid of Terrell Owens will be like getting a monkey off their back. The Cowboys have been a good team for quite sometime, but, due to, what I believe is in large part, players like Owens (and Adam Jones), this team underachieved last year. Expect to see them back near the top of the league.
3. New York Giants (8-8) - I'm still not sure what makes the Giants such a good team. Eli Manning is a subpar quarterback with few wide receivers, and Brandon Jacobs isn't exactly God's gift to the running game. The defense is top notch, and it'll need to continue to be that way if this team is going to make the playoffs this season. However, at some point, the Law of Averages states this team should have a mediocre season.
4. Washington Redskins (6-10) - Like Jacksonville, the Redskins are an easy team to put at the bottom of the division. Not because they're all that lousy, just because the other three teams are better.
NFC North
1. Green Bay Packers (10-6) - I believe in Aaron Rodgers, and you should too!
2. Chicago Bears (9-7) - Jay Cutler won't be the player he was in Denver, Chicago is like a black hole for quarterbacks, but if he can transform the way he plays into a more conservative style, the Bears should be on the verge of a playoff appearance.
3. Minnesota Vikings (8-8) - This team won the division last year, but just ask the New York Jets, Brett Favre sinks franchises! Bring back Tavaris Jackson and we'll talk about the Division Title (and, yes, I'm serious!)
4. Detroit Lions (4-12) - I'll give you 99:1 odds that this team wins more games than it won last year. Then again, when you go 0-16, that's almost a guarantee! Matthew Stafford might have a long season, but at least he'll be able to throw to one of the best receivers in the league, Calvin "Megatron" Johnson. If those two can develop good chemistry, Detroit should be back on the map sooner than later, especially with emerging second-year RB Kevin Smith.
NFC South
1. Atlanta Falcons (11-5) - After losing Michael Vick two seasons ago and suffering through a difficult 2007, this team bounced back big time in 2008. Of all the 2008 turnarounds, this one is the one I buy the most. Matt Ryan is a superb young quarterback, and Michael Turner has become a marquee running back in the NFL.
2. Carolina Panthers (10-6) - In a softer division, the duo of RBs DeAngelo Williams and Jonathan Stewart could be deadly. An offense that can control the ball is perfect for a borderline top tier defense, like Carolina's.
3. New Orleans Saints (8-8) - Drew Brees is one of the league's best quarterbacks, and this offense follows suit, but the defense continually holds this team back from greatness.
4. Tampa Bay Bucaneers (5-11) - No surprise, here. There's not much exciting about the Bucs. Then again, they won a Super Bowl with "not much exciting," but there's seriously just nothing exciting about QB Byron Leftwich, a committee of back up RBs, and WR Antonio Bryant, and without an offense that can control the clock, the defense will struggle in an otherwise offensively dominated division.
NFC West
1. Seattle Seahawks (9-7) - I like a healthy Matt Hasselbeck throwing to T.J. Houshmanzadeh. This team has been forgotten, but they did make the Super Bowl not too long ago.
2. Arizona Cardinals (8-8) - Ok, before you ask why I'm down on the Cardinals, let me point out this team only went 9-7 last year, so I'm only down on them by one game. A hot playoff run last winter disguised that this is still a mediocre team that despite a top passing attack lacks a running game or a competent defense.
3. San Francisco 49ers (7-9) - This team isn't as bad as you think. In fact, did you know they went 7-9 last year!? A couple unexpected wins and this teams could seriously vie for this weak division.
4. St. Louis Rams (3-13) - A healthier Steven Jackson will benefit ateam that only won two games last year, but there's still no passing attack and no defense, so let's be reasonable with our expectations.
Note: Records should add up to an even 256-256*
PLAYOFF PREDICTIONS
AFC Ranks 1. San Diego 2. Pittsburgh 3. New England 4. Indianapolis 5. Houston 6. Tennessee
NFC Ranks 1. Philadelphia 2. Atlanta 3. Green Bay 4. Seattle 5. Dallas 6. Carolina
Wild Card 6. Tennessee 24, 3. New England 21 4. Indianapolis 34, 5. Houston 24
6. Carolina 17, 3. Green Bay 14 5. Dallas 31, 4. Seattle 21
Divisional 1. San Diego 30, 6. Tennessee 27 2. Pittsburgh 20, 4. Indianapolis 13
1. Philadelphia 38, 6. Carolina 23 5. Dallas 30, 2. Atlanta 26
Conference 1. San Diego 23, 2. Pittsburgh 17 1. Philadelphia 23, 5. Dallas 20
Super Bowl Philadelphia 27, San Diego 20
For better or for worse, Michael Vick gets a ring; and definitely for worse, Philadelphia gets a Super Bowl Championship.
--Originally posted at http://jtstally.blogspot.com --
Community content is available under
CC-BY-SA
unless otherwise noted.