The AL West seems like one of the easier divisions in baseball to predict this year. There's the class of the division, the LA Angels, then the rest of the bunch could basically finish in any order behind them. Here's how I think it will go: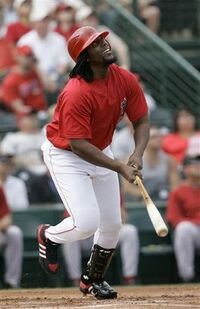 Lineup:

Pitching:
RHP John Lackey
RHP Ervin Santana
LHP Joe Saunders
RHP Jered Weaver
RHP Dustin Moseley
SU: Scott Shields
CL: Brian Fuentes
*DL: RHP Kelvim Escobar (late-April)

The Angels' move to obtain Bobby Abreu went way under the radar, but that move really completed their offense if you ask me. Their lineup has everything; speed, power, average and clutch hitters all the way down the order. Their starting rotation has some question marks entering the season, as both Escobar and Santana may not open the year on the 25-man roster, although Santana should be back within the first couple of weeks of the season and Escobar before the first month. In other words, their starting pitching should be at full strength come May. They also have a good defense and despite the loss of one of the game's premiere closers, Francisco Rodriguez, their bullpen is again amongst the AL's best. If their boppers stay healthy, and Escobar and Santana come back strong, they really should run away with the AL West, once again.
Lineup:
CF

Ryan Sweeney

DH Jason Giambi
RF

Jack Cust

C

Kurt Suzuki

2B Mark Ellis
1B

Daric Barton

/Nomar Garciaparra
Pitching:
RHP Justin Duchscherer
LHP Dallas Braden
LHP Dana Eveland
RHP Sean Gallagher
RHP Trevor Cahill
SU: Joey Devine
CL: Brad Ziegler
The A's could end up being a very good ball club, or they could end up tanking. They have some age/injury concerns which hold the key to the teams offensive success (Giambi, Nomar, Chavez, Cabrera). We know Holliday's going to give them 25+ home runs 100+ RBI with a .300 average while giving Oakland their best hitter since Miguel Tejada was around. I also think that Giambi can still be a successful DH if he can share some of the duties with Nomar. If they can get anything out of Eric Chavez this season, that would be huge as Jack Hannahan wasn't the answer there last year. I like the makings of their young starting rotation, and they need Duchsherer healthy all year to lead them. Trevor Cahill is a bright young arm and should have a nice rookie year and Dallas Braden reminds me a lot of Noah Lowry, unfortunately he can't seem to stay healthy though either. Mr. Steady, Dana Eveland should continue to progress, albeit marginally. They have the bullpen to succeed as well with Zieglar and Devine (although his shoulder is an issue) both shutting the door on teams. If the vets are healthy and the pitching keeps progressing, the A's could win 80-85 ballgames in this division, easy, but I just don't see all of it clicking.
3rd Place, Seattle Mariners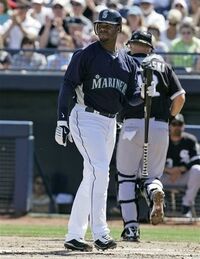 Lineup:
2B Jose Lopez
1B

Russell Branyan

C

Jeff Clement

/Kenji Johjima
Pitching:
RHP Felix Hernandez
LHP Erik Bedard
LHP Jarrod Washburn
RHP Carlos Silva
LHP Ryan Rowland-Smith
SU: Tyler Walker
CL: Mark Lowe
*DL: RHP 

Brandon Morrow

 (mid-April)

The Mariners are in full on rebuilding mode. Take away Ken Griffey Jr. and Adrian Beltre from the lineup and everyone's 25 or under, and the youngsters, although some have high ceilings (Balentien and Clement), have proved little to nothing at this level. I really do like that starting rotation though, and I think Eric Bedard is in line for a nice comeback year. 2007 #1 pick, Phillipe Aumont, is in the wings and could help this season after pitching for team Canada in the WBC. I'm also still waiting for the year that Hernandez realizes his potential and puts it all together: sub-3 era, 200+ strikeouts and 15+ victories. They also will play pretty good D. It's the bullpen that's the team's major weakness, as they will be hard pressed to hold any leads that they do get, led by Tyler Walker, Migeul Batista and Mark Lowe.
Lineup:
2B Ian Kinsler
3B

Michael Young

DH Hank Blalock
CF

Josh Hamilton

RF

Nelson Cruz

LF Marlon Byrd
1B

Chris Davis

C

Jarrod Saltalamacchia

SS

Elvis Andrus

/Omar Vizquel
Pitching:
RHP Kevin Millwood
RHP Vicente Padilla
LHP Matt Harrison
RHP Brandon McCarthy
RHP Scott Feldman
SU: C.J. Wilson
SL: Frank Francisco
Once again, the Rangers have the offense to keep up with practically anybody on the universe. Hamilton and Kinsler are all-stars and MVP candidates and Chris Davis looks like one of the next members of the new age sluggers (Ryan Braun, Josh Hamilton, Prince Fielder etc.). However, their pitching just seems to get worse and worse each year. I like Brandon McCarthy, and I think he can still turn it around if he gets healthy, but they just don't have much in their rotation. Millwood and Padilla are on the downside while Feldman and some of the other are what they call 4A pitchers (advanced for AAA, but not quite good enough for the show). The bullpen is a little better than last years, but they won't often get leads to hold onto with that rotation getting them the ball. Maybe if they could somehow add a starting pitcher...or two... or three, then they could jump right up there with the Angels and they may have a few in their system. Youngsters Neftali Perez (19) and Derek Holland (22) could arrive in the second half of 2009 and provide a huge shot in the arm for the rotation.
Trevor Cole The San Francisco Giants Blog