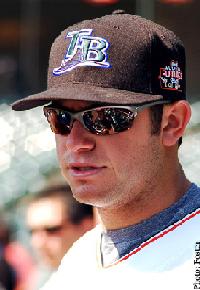 1. Evan Longoria, TB—3B
— Let's get the funny stuff out of the way quick. Ha, ha, his name is really close to Eva Longoria. Ok, now that is over, Longoria is going to be a real stud. Even though publicly they state different, the Rays have paved the way for him to take over the starting third base job this season. Barring a complete collapse during the spring, Evan will be manning the hot corner in Tampa this year. He had an impressive two-year run through the Rays minor league system, finishing with a 26 HR, 95 RBI season between AA and AAA in 2007. Longoria also hits for a pretty good average, however, doesn't really steal bases. He is one prospect that can definitely help your fantasy team this season, worth a pick in the middle to late rounds.
2. Clay Buchholz, BOS—SP —One of the next really special pitchers to come to the majors, Buchholz showed the world what he was capable of when he no hit the Orioles in just his second minor league start. Buchholz has a tremendous fastball to go with a knee-buckling change and a nasty curve. With Curt Schilling's future in question due to injury, Clay should be a part of the Red Sox five-man rotation for at least the first half of the year, and if he performs like he's capable of, he will be a staple at the top of the rotation for years to come. Buchholz definitely projects as a number one type starter, and if you are in a keeper league and he is still available, do yourself a favor and grab him quickly.
3. Joba Chamberlain, NYY—SP/RP —The Yankees think this kid's future is so bright they instituted the "Joba Rules" last season, and now into this season to keep his young arm healthy. A starter throughout his stellar minor league career, Chamberlain has been a dominating relief pitcher for the big club, setting up Mariano Rivera. In 19 appearances last season for the Yanks, Joba posted a ridiculous 0.38 ERA and only allowed one earned run in 24 innings, while striking out 34! He certainly appears to be ready for the big time when New York finally cuts the umbilical cord and lets him show what he is capable of. His fantasy value this year is clouded since the Yankees have announced that Joba will spend much of the season in his middle relief role to keep his innings down. They say he will finish the year in a starting role, but when that happens is anyone's guess. Keeper league players, you gotta pick him now and ride out the thin times. When he finally starts, he should be a pitcher that anchors your rotation for years.
4. Adam Jones, BAL—CF —After weeks of rumors, Jones was finally shipped from Seattle to Baltimore in the Erik Bedard trade. Jones has been one of the more highly touted prospects in recent years, and he will finally get his chance to prove what he is capable now that he will almost definitely be named a starter for the Orioles. Even though he has struggled pretty badly the two times he has been called up to the majors, it is safe to expect a great deal out of Jones. In just 101 games last season, Jones hit .314 with 25 HRs and 84 RBI and stole eight bases. You can expect similar numbers from Adam in his first full season in Baltimore, a rising star in an otherwise sinking ship at Camden Yards.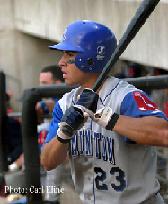 5. Jacoby Ellsbury, BOS—CF
--Looking at the minor league numbers for Ellsbury, nothing screamed "future fantasy star", but after his display in September and August, it looks like
Coco Crisp
will be out of a job this coming year. Jacoby drove in 18 runs and stole 9 bases, while hitting .353 in just 33 games after being called up to Boston late last season. He electrified the fans with his gritty play, hustling, and dazzling defense. Even though the Red Sox haven't typically run a lot in the past, you can expect Ellsbury (assuming he does win the CF job) will steal 40-50 bases with a solid average and 10-15 HRs.
6. Carlos Gonzalez, OAK—OF —One of the major pieces in the Dan Haren trade, Gonzalez figures to walk right into the centerfield job in Oakland. The deal worked out great for Gonzalez who was blocked in the stocked outfield in Arizona. Gonzalez hits for a pretty decent average, and you can expect 20-25 HRs this year from him even with the youth movement and almost no protection in the lineup in Oakland.
7. Daric Barton, OAK—1B —Barton was a catcher when he was traded to Oakland from St. Louis in the Mark Mulder deal, but Athletics quickly moved him out from behind the plate and gave him a first baseman's glove. Barton has been an impressive hitter throughout his career, however, he doesn't project to have the power numbers that are expected from someone who plays first base. Barton hit just nine jacks last season in AAA, while playing in 136 games. He was very impressive in his short stint in Oakland to end 2007, with a .347 average, 4 homers, and 8 RBI in just 18 games. Expect a .310 average, 20 HRs, and 75 RBIs in his first full season, and you won't be disappointed with him.
8. Brandon Wood, LAA—SS/3B —Wood has been on most fantasy players' radar ever since he hit 43 HRs in 2005. Since then he put up much more modest numbers in AA and AAA, and downright struggled when called up to the majors, failing to even hit .200. Wood really needs to work on his plate discipline, as he has struck out over 120 times each of the last three seasons, while never topping 130 games. The Angels have been working him out at both third and at shortstop, getting him ready for a chance at either position. With Chone Figgins in the lineup at third base, it seems more likely that he will get a chance at shortstop, but this news at least means that the Angels still have Wood in their long term plans. The thought of fantasy owners being able to own a young guy who is capable of 40+ homers in the middle infield has them drooling. This is a big year for Wood, he's been in the minors for a while now, and if he can't prove himself as a legitimate player this season, the shine off of his future star will certainly be seriously tarnished.
9. Adam Miller, CLE—SP —Miller was oh so close to being called up last season, when an sore elbow stopped the Indians from calling on him. Miller is a guy that everyone in keeper leagues should be targeting this season, even though he might not be pitching in Cleveland for most of the season. Miller is capable of hitting 100 MPH on the radar gun and has averaged nearly a strikeout an inning for his minor league career. Given Cleveland's deep team, it is most likely that he starts the season in the minors, but if given the chance he would be a strong candidate for American League Rookie of the Year.
10. Nick Adenhart, LAA—SP —It is nearly a given that Adenhart will be starting the year in AAA Salt Lake, but the future is definitely bright for this pitcher. On top of the fact that he will pitch for one of the best teams in baseball, Adenhart has shown a great deal of talent. He is 28-15 to this point of his minor league career, and is in the ballpark of a strikeout an inning. If Ervin Santana continues to struggle, Adenhart could get the call this season, and the race to secure his services in keeper leagues should be heated.
Others to watch this Spring:
Jeff Clement, C, SEA; Luke Hochevar, SP, KC; Reid Brignac, SS, TB; Gio Gonzalez, SP, OAK; Shelley Duncan, 1B, NYY
As always, your questions (adds, drops, trades, draft questions, etc) and comments are welcome at fightingchancefantasy@gmail.com. I guarantee a response within 18 hours.
Community content is available under
CC-BY-SA
unless otherwise noted.