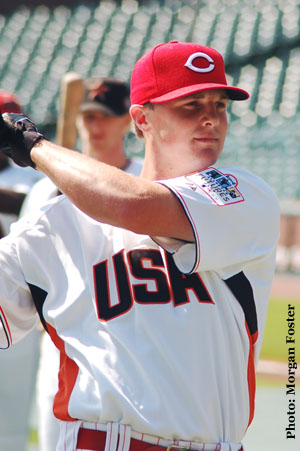 1. Jay Bruce—CIN— The crown jewel of the Reds' minor league system, Bruce has a real shot to open the season in CF for Cincinnati. Bruce made a stop at all three levels of the minors last year, and excelled at each one. For the season he hit roughly .319, 26 HRs and 89 RBI on his way to Minor League Player of the Year. The Reds traded last year's feel good story Josh Hamilton away for some pitching help seemingly to open up the spot for Bruce in 2008. There have been some rumors floating around that Cincinnati has been in contact with some veterans to take the center field spot, but if they are smart they will allow the future of their franchise to begin now. Keep a watchful eye on this situation.
2. Justin Upton—ARI— Upton has some serious talent. A former number one overall pick, he hit the major leagues at just 19. And although he struggled badly, the Diamondbacks saw enough to trade Carlos Quentin away and hand the RF job to Upton. He hits for average, he hits home runs, he steals bases, he slices, he dices, he does it all. If you are in a keeper league, grab him early because he is a special talent. In year to year leagues, don't stretch too quickly for him, chances are he won't reach his enormous potential this year. Expect .300, 20 bombs, 85 RBI, and 35 steals.
3. Colby Rasmus—STL —When the Jim Edmonds era ended in St. Louis this winter, it has been assumed that the move not only cleared some cash for the Cardinals, but also opened up the center field job for Rasmus. The 21-year old phenom made quite a statement at AA Springfield last season as he clubbed 29 homers, drove in 78 and even stole 18 bases. He is the best prospect the Cardinals have produced since, well, you know who down at first base. Some wonder if he will be able to make the transition from double-A to the major leagues, but you've got the talent that Rasmus has, transitions are easy.
4. Cameron Maybin—FLA —The centerpiece of the Miguel Cabrera-Dontrelle Willis trade, Maybin has both of the fans in Florida excited about their future (trying to keep a straight face after writing that one!). Ok, so the team has more holes than swiss cheese, but the future for Maybin is definitely bright. He won't turn 21 until after the season starts, and it looks like he will be batting leadoff for the Marlins. Even though he struggled when called to the majors last year, don't let that deter you from Maybin if you are in a keeper league. He needs to cut down on the strike outs, but it is very possible for him to hit 20 homers and steal 40-50 bases this year, given the fact that the Marlins will probably give him the green light on most occasions.
5. Andy LaRoche—LAD— Consider this take two for LaRoche as the Dodgers' third baseman of the future. Although he goes into spring "in competition" for the starting job with Nomar Garciaparra, LaRoche will have to completely fall on his face to lose this one. Given the chance for 35 games last year for the big club, LaRoche hit just .226 with just one home run and 10 RBI. He had a better than respectable year at AAA Las Vegas after the demotion, and after excelling while playing for USA Baseball, it appears that LaRoche has it all together for this coming season. Andy has the tools to be one of the top 10 third basemen, possibly as soon as this year.
6. Geovany Soto—CHC— An older prospect (turned 25 last month), Soto had his coming out party in 2007. After years of toiling in the minors putting up modest numbers, he went absolutely crazy. In just 110 games, Soto hit .353, 26 bombs, and drove in 109, before his call up to the big club in which he held his own. He is the clear starter behind the plate for the Cubs, and with the potent middle of their lineup Soto should have some chances to put up some impressive fantasy numbers.
7. Joey Votto—CIN— The Reds have another stud on their hands with their sweet swinging first baseman. Votto was impressive at Triple-A in 2007 hitting .294 with 22 homers, 94 RBI, and even stole 17 bases. He got a cup of coffee in Cincinnati last September driving in 17 runs in just 24 games. There are two things that will probably cause Votto to fall in fantasy drafts. The first is the Reds retained veteran Scott Hatteberg on their roster for the upcoming season. By no means does this mean that Votto will be sent back to the minors, but Hatteberg is sure to get some playing time, taking some games away from the kid. Secondly, with the likes of Pujols, Fielder, and Howard playing first base, Votto doesn't put up the gaudy stats that many have come to associate with 1B. Don't count on him to carry your team, but he can help you in a few different categories, if he is given the chance to play regularly
8. Ian Stewart—COL— A 3B prospect for the Rockies blocked by Garrett Atkins, Stewart has nothing left to prove in the minor leagues. Recognizing this fact, Colorado has plans to move Stewart away from his natural position over to second base. Called up at the end of the year, Ian struggled pretty badly down the stretch. In 35 games, he flirted with the Mendoza line, while driving in just nine runs. Given his potential, Stewart has the tools to hit .300, 25 HRs, and 80 RBI. He doesn't have any competition for the job with anyone who has the offensive tools, but the Rockies have no shortage of offense. Stewart doesn't have a job wrapped up, but he does have the inside track
9. Homer Bailey—CIN— Am I the only one who thinks it is a bad omen for a pitcher to have "Homer" as a first name? It is EXACTLY what he is trying to avoid. Another "take two" as Bailey again tries to prove that he is the Reds' ace for the foreseeable future. Starting the season in AAA, Bailey got off to a good start, going 6-3 with a 3.07 ERA. Bailey won his major league debut, but struggled with his control in his first season, walking the same number of batters he struck out. He also lost a good chunk of the season to a groin injury, so he is anxious for a new start in 2008. He won't turn 22 until the second month of the season, and the Reds have a core of good young players, so the future could still be very bright for Bailey. There's a chance he will go undrafted and you will be able to give him a couple of starts to see if he is going to put it together this year.
10. Franklin Morales—COL— Morales has the chance to be a special pitcher, however, it most likely won't be in 2008. Most rookie pitchers struggle with control, and Morales proved to be no different. However, he put together a nice stretch at the end of the season, and was even rewarded with a start in the NLCS. Morales has an electric fastball, and a couple of impressive breaking pitches. He has a chance to win the 5 th starter job for the Rockies this year, but there has also been talk of him starting out in the bullpen. He will get you a good number of strikeouts where ever he is slotted, and he has the potential to be a number one or two starter. The playoff experience can do nothing but help as Morales tries to win a job in the Rockies rotation.
Others to watch this Spring:
J.R. Towles, C, HOU; Steven Pearce, OF, PIT; Jair Jurrjens, SP, ATL
As always, your questions (adds, drops, trades, draft questions, etc) and comments are welcome at fightingchancefantasy@gmail.com. I guarantee a response within 18 hours.
Community content is available under
CC-BY-SA
unless otherwise noted.