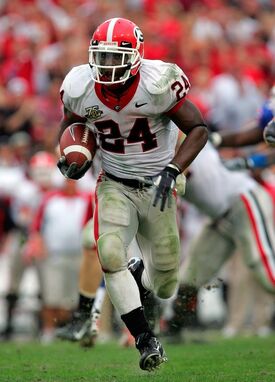 Breaking Down Georgia Prior to an October 13th matchup against highly touted Florida, Georgia was struggling after two early season blowout losses. Then in the victory over Florida, they discovered redshirt freshman Knowshown Moreno who carried the Dawgs to a big victory. Over the second half of the season, Moreno has been the heart and soul of the Bulldogs' offensive attack.
In a game against Auburn, Moreno, had 101 yards on 22 caries. Hawaii has not faced a running back as good as Moreno so expect the Dawgs to try and control the line of scrimmage by pounding the ball with Moreno.
Riding Moreno and the much improved quarterback Matt Stafford, Georgia ended up finishing 10-2 but they were unable to face LSU in the SEC championship as they lost the tiebreaker to Tennessee, who had beaten 35-7 on October 6th. Since the Dawgs were denied a chance for a SEC championship bid, most voters did not give Georgia a shot for the national title and they ended up in New Orleans a week earlier for the Sugar Bowl. Look for the Dawgs to try and make a statement.
Breaking Down Hawaii Much like the 2006 Fiesta Bowl was for Boise State, this Sugar Bowl will be the biggest game in Hawaii's history. A win over the "hottest team in college football" will signal the arrival of the Warriors as a national power. They certainly have the offensive playmakers to knock off the highly touted Georgia Bulldogs. At quarterback the Warriors feature one of College football's greatest players of all-time in Colt Brennan. Brennan, who finished third in the Heisman voting, holds the Division I-A record for touchdowns with 131. Currently, he is also the nation's active leader in career completion percentage (70.7), pass efficiency (169.8) and total offense (394.8 yards per game).
What separates Brennan from the typical quarterback is his ability to get the ball to multiple receivers. Receivers Ryan Grice-Mullen (100 catches, 1,335 yards), Davone Bess (101 catches, 1,213 yards) and Jason Rivers (82 catches, 1,069 yards) all finished with very similar statistics.
X-Factor: Knowshown Moreno's Ankle Against Georgia Tech, Moreno sprained an ankle that leaves him questionable for tonight's game. Because of the injury, Mark Richt anointed senior Thomas Brown as the team;s starting running back. While Brown is certainly a serviceable running back, Moreno was the key piece in Georgia's midseason rival. If he can't play effectively, Hawaii's chances will improve dramatically.
[1] Final Analysis Expect Hawaii to jacked up and get off to a really fast start, just like underdogs like Boise State last season and West Virginia the year before. Brennan will certainly get his yards, especially with his talented receiving core. Hawaii's defense is a lot better than people give them credit for. They have a lot of big guys up front and they won't let Moreno and the Dawgs just overpower them. I am not saying that they shut down the Dawgs but they hold them to enough points that will eventually allows Brennan and company to score as much as necessary. Hawaii 45-41
Community content is available under
CC-BY-SA
unless otherwise noted.