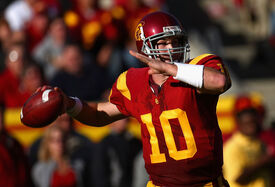 Breaking Down USC USC struggled at times this season due to numerous injuries, most notably to left tackle Sam Baker, running back Stafon Johnson, and quarterback John David Booty. Even with Booty and many other starters out, the Trojans were still able to beat Arizona and hapless Notre Dame, but they were upset at home by Stanford and edged out on the road against Oregon. These two October losses cost the Trojans a shot at the national championship.
After appearing destined for the Sun Bowl after the loss to Oregon, USC reeled off four straight victories, including wins over highly ranked Arizona State and cross-town rival UCLA. With a rejuvenated Booty, USC's offense was spectacular down the stretch, outscoring opponents 116-51. Against Arizona State on Thanksgiving night, the Trojan offense racked up 508 yards of offense with Booty scoring five total touchdowns. A week earlier against California, running back Chauncey Washington displayed USC's strength in the running game by rushing for over 200 yards. With a month to prepare all of USC's offensive stars are finally healthy, except for wide receiver Patrick Turner.
While the offense has had a roller coaster season, the Trojans' defense never lost its way. Led by first-team All-America defensive linemen Sedrick Ellis and Lawrence Jackson, the Trojans defense finished the season ranked second in the nation while giving up just 258.8 yards per game. USC also finished fourth nationally in points per game (15.9) and run defense (79.1 yards per game).
Breaking Down Illinois Back in August, many predicted that Illinois would finish in the bottom tier of the Big Ten. However, to the surprise of many, the Illini wound up with a 9-3 and a birth in the Grandaddy of them All, the Rose Bowl. Sophomore quarterback Juice Williams was the biggest surprise for Illinois, throwing for 1,498 yards, 13 touchdowns and rushing for 774 yards and seven scores. His maturation was the main reason why the Illini were able to win their final four games, including an upset against number one ranked Ohio State in Columbus.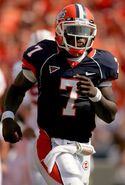 Williams is the same dual threat quarterback that has historically given the Trojans' defense fits. Earlier this season Oregon's Dennis Dixon beat the Trojans by running for 76 yards and a touchdown and throwing for 157 yards. Back in September, Washington's Jake Locker ran for 50 yards and two scores in a three-point USC win. Do we even need to remind you what Vince Young did to the Trojans a couple years ago? Williams may not be as good as Dixon or Young but he is running the spread option well behind an offensive line that allows just eleven sacks all season.
However, Williams isn't the only big-time player on the Illini offense. He has a dangerous backfield mate in Big Ten Offensive Player of the Year Rashard Mendenhall (1,526 yards and 16 TDs). If the Illini are going to have any chance at upsetting the Trojans, they must be able to move the ball on the ground with Mendenhall.
X Factor: Experience v. Inexperience This is Illinois first Rose Bowl since 1984 and the first bowl game for all of Illinois' current group of players. Just last season, the Illini were 2-10 so they clearly lack the big game experience, On the other hand, this is USc's third consecutive Rose Bowl and their sixth consecutive BCS Bowl. It will be hard for Illinois' young players to travel over 2,000 miles, play in their first big-time bow game, and beat USC in their own house.

Only one team, Maryland, has had a longer bowl drought than Illinois' end. Back in 2001, the Terps made their first postseason appearance in 11 years by playing Florida in the 2001 Orange Bowl. However, the inexperience caught up to them, as they suffered a 56-23 loss to Florida.
Final Thoughts While Zook certainly has the Illini headed in the right direction, USC is far too talented of a team to lose to the inexperienced Illini. Over the final month of the season with all of the injuries behind them, the Trojans finally began playing like the team they were suppose to. Pete Carroll and the Trojans sincerely value the experience of playing in the Rose Bowl so expect USC to come out firing on all cylinders. USC 38-13
Community content is available under
CC-BY-SA
unless otherwise noted.