I will be covering the Pittsburgh Pirates this year (...HEY! Someone's gotta do it), and why not kick off the coverage during the long winter days after Football season, while waiting for the NCAA March Madness, and Spring Training to start??? So, since the entire County had off school today, due to Maryland's Primary Elections, I had enough time to write the inaugural article.
First off, the Pirates agreed on a Minor League deal with 1B Doug Mientkiewicz, who will provide experience, and a nice glove from the bench, that is, if he gets out of the Minors.
The Pirates are looking for a fresh start, especially after yet another disastrous season last year (68-94; last place in NL Central). Of course, like always, no one will expect much from them, but then again, I don't think anyone has since the Roberto Clemente era. Pittsburgh's lineup consists of just two 30+ year olds (Freddy Sanchez, and Jack Wilson who are both 30-years old), and there isn't much power either. In fact, Jason Bay was last year's leader in HR's (along with Adam LaRoche) with 21, and a BA of .247.
Pirates Lineup (2007 Stats):
1. Nyjer Morgan CF (28 games, 107 AB, .299 BA, 1 HR, 7RBI, .359 OBP)
2. Jack Wilson SS (135 games, 477 AB, .296 BA, 12 HR, 56 RBI, .350 OBP)
3. Freddy Sanchez 2B (147 games, 602 AB, .304 BA, 11 HR, 81 RBI, .343 OBP)
4. Adam LaRoche 1B (152 games, 563 AB, .272 BA, 21 HR, 88 RBI, .345 OBP)
5. Jason Bay LF (145 games, 538 AB, .247 BA, 21 HR, 84 RBI, .327 OBP)
6. Xavier Nady RF (125 games, 431 AB, .278 BA, 20 HR, 72 RBI, .330 OBP)
7. Jose Bautista 3B (142 games, 532 AB, .254 BA, 15 HR, 63 RBI, .339)
8. Ronny Paulino C (133 games, 457 AB, .263 BA, 11 HR, 55 RBI, .314 OBP)
9. Tom Gorzelanny SP (29 games, 63 AB, .063 BA, 0 HR, 3 RBI, .106 OBP))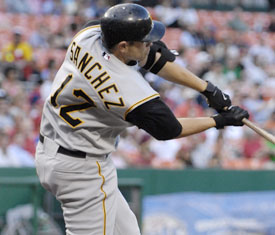 This year's "Projected" lineup looks alot like last year's (Nate McLouth, Bautista, Sanchez, LaRoche, Nady, Bay, Paulino, Wilson, Ian Snell). There is only two new players in this year's lineup. Nyjer Morgan played just 28 games last year as the backup CFer, but will most likely be the Opening day starter at CF, in front of Nate McLouth. Morgan hit .299 in those 28 games, and 1 HR. Obviously, the Pirates will need the veterans to produce, or at least get on base. I think the Pirates had a terrible offseason, maybe if they had made a big move, that would have motivated the younger guys a little more. But, instead, the Pirates front office did absolutely nothing (other than signing veteran first baseman, Mientkiewicz). Hopefully the Pirates rotation will have a good season.
Starting Rotation (2007 Stats):
1. Tom Gorzelanny- Lefty (32 games, 201.2 IP, 14-10, 3.88 ERA, 135 K's)
2. Ian Snell- Righty (32 games, 208 IP, 9-12, 3.76 ERA, 177 K's)
3. Paul Maholm- Lefty (29 games, 177.2 IP, 10-15, 5.02 ERA, 105 K's)
4. Matt Morris- Righty (32 games, 198.2 IP, 10-11, 4.89 ERA, 102 K's)
5. Zach Duke- Lefty (20 games, 107.1 IP, 3-8, 5.53 ERA, 41 K's)
The Pirates number 1, and 2 pitchers put up some solid numbers last year, but past Snell, the Pirates rotation looks pretty shaky, and I don't even see the rest of the three starters going the entire 162 game schedule this year. Maholm gives up too many runs, and rarely makes it through 5 innings, while Morris is aging, and has declined since pitching for STL, he turns 34 this August. Zach Duke, on the other hand, has yet to prove he is a top 5 pitcher for any Major League team. Duke gives up 5+ runs each start, and rarely makes it past the 5th inning, like Maholm. The Pirates pitching is really going to struggle this year, especially against the power hitters in the NL Central like Albert Pujols, Alfonso Soriano, and Prince Fielder.
The Bullpen looks even worse than the Pirates starting five. So bad, that I don't even want to go over it. The Bullpen's best pitcher would have to be the left-handed Damaso Marte, who went 2-0 with a 2.38 ERA, and 51 K's in 45.1 IP with Pitt last year. The rest goes downhill from there. Pittsburgh's closer for '08 will be 24-year old Matt Capps, who recorded 18 saves in 79.0 IP with a 2.28 ERA. Not too shaby for a youg guy, I like this guy's future.
This is just the first article of many to come this year (hopefully I'll get to write one weekly). Is that exciting or what?! Well, I can't wait 'til opening day, like many of you guys out there. Hopefully you found this helpful, if not, than tell me what I can do better for next time. Thanks.
Community content is available under
CC-BY-SA
unless otherwise noted.