See also: 2008 American League Preview
The tradition continues as the longest-running series on the 'Chair is back for another round... Shockingly, it's been two years since I first came to ArmchairGM, and while plenty has changed, the spirit of this great site has stayed the same -- to give talented aspiring sportswriters an outlet for their opinions, so that everyone's voice can be heard. In keeping with that philosophy, and just like each of the last 2 years, I have projected numbers for each of the 2008 MLB season's regulars, running them through the statistical blender to project standings. What follows will likely be wrong as much as it's right, but you never know, sometimes these things can surprise you -- like the Phillies winning 82 games? -- and besides, it's all in good fun. Remember that when your team ends up with a sh*tty projection (or when I stupidly compare Carlos Beltran to Cristian Guzman).
Anyway, without further ado, I present my 2K8 NL picks. Enjoy the preview, and here's to many more years of success here at ArmchairGM!
National League
Projected Standings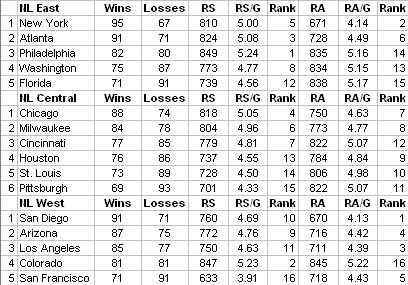 NL East
Projected Record: 95-67
810 Runs Scored (5.00 per game, 5th)
671 Runs Allowed (4.14 per game, 2nd)
Team MVP: Johan Santana


Analysis: Historic choke job? What historic choke job? Let's just be real here for a second: no matter what Philly may think, with Johan Santana in the fold the Mets are once again the team to beat in the East (if not the entire NL), and when the smoke clears on '08, their epic late-season swoon a year ago will be all but forgotten. But it wasn't always this way... Flashback to 2007. When last we left the poor Mets, they were little more than a smoking pile of debris, having suffered the second-worst collapse in the history of baseball. And as the winter meetings came and went, New York remained an old team with plenty of question marks -- in other words, they certainly didn't look like the division frontrunners for 2008. But on January 29, everything changed... Santana immediately gives the Mets the Ace of Aces, the clear favorite for the 2008 NL Cy Young; his presence alone separates New York from the Phillies and Braves, one of whom would likely have won this division had the Mets not pulled the trigger on the trade with Minnesota. Plus, beyond Santana there are plenty of other reasons to erase "The Collapse" from memory: David Wright is easily the league's best all-around 3B, SS Jose Reyes is pure electricity, Carlos Beltran still has as much talent as any NL OF, and they've still got plenty of solid pitching and defense. In other words, don't count on a repeat of their embarrassing '07 flop -- these guys are still the clear favorites to win this division.
Upside: 98 wins
Downside: 90 wins
Projected Record: 91-71
824 Runs Scored (5.08 per game, 3rd)
728 Runs Allowed (4.49 per game, 6th)
Team MVP: Mark Teixeira


Analysis: The Braves' window to win (as currently constructed, at least) centers around just one man: Mark Teixeira. If Tex sticks with the club long-term, he gives Atlanta one of the game's best hitters, as well as a great draw at Turner Field to offset the loss of Andruw Jones and the impending retirements of Bobby Cox, John Smoltz, Chipper Jones, Tom Glavine, etc. However, he will be expensive after the 2008 season -- he's going to be the best FA hitter on the market, and he's represented by You Know Who. So if it doesn't appear as though Teixeira will stay with the Braves, new GM Frank Wren will face a tough decision... On the one hand, you could say that he had better get some serious compensation for Teixeria at the deadline, especially if Atlanta is not in the playoff mix. But what if they are in the mix? Think about it: although NY became the clear-cut best team in the NL when they added Johan Santana, the battle for 2nd-best in the league is wide open, and there's no reason that the Braves can't be the ones to capture that distinction, given their offense and an improved pitching staff. Make no mistake, though: if Atlanta is in contention for the wild card (or even sneaks past the Mets for the division, however unlikely that may be), it will be to a large degree because of Teixeira. In other words, I don't envy Wren's position over the next 5 months -- in all likelihood he's going to have to make the very difficult choice between short-term rewards and the long-term future of his organization. The old Ted Turner-era Braves would have thrown money at Tex and made this problem go away, but those days are long gone; now Wren has to deal with Atlanta's "new" economic reality, a delicate balancing act which even John Schuerholz struggled to maintain in recent years. The odds are good that even if Atlanta succeeds in returning to the postseason in 2008, it will be a net loss for the franchise when Teixeira walks away after the season for nothing but a few compensatory draft picks.
Upside: 93 wins
Downside: 85 wins
See Also: The Tomahawk Times - 2008 Braves Preview
Projected Record: 82-80
849 Runs Scored (5.24 per game, 1st)
835 Runs Allowed (5.16 per game, 14th)
Team MVP: Ryan Howard


Analysis: The Phils had been a really good team over the six seasons prior to 2007, never dropping below 80 wins and finishing with 85 or more five times, but it wasn't ever quite enough to make the playoffs in a division that either the Braves or Mets had owned for 12 straight years. In 2007, though, the Phillies broke that streak with style, following through on Jimmy Rollins' "team to beat" assertion by saving their best for last (they were 48-33 in the final 3 months of the season) and erasing what was at one time an 8½-game New York lead in the division race. Given that heroic 2nd-half performance, you have to consider Philly the favorites in the East for 2008, right? Well... not exactly. Think about all of the things that had to go right down the stretch for them to win the division: First, they played over their heads in August & September -- they won 3 more games than their run differential would predict, which doesn't sound like much until you consider that their final margin over NY was a single game. Also, they were the beneficiaries of one of the most improbable early Christmas presents any baseball team ever received -- I'm talking, of course, about the Mets' unprecedented collapse. On September 13, the Mets had a 99.5% probability of winning the division; on that same day, the Phils had about a 12% chance of making the playoffs. Now, I'm not saying that Philly didn't earn their division crown by reversing those numbers over the last 3 weeks of the season, but I am saying that the Mets lost the 2007 NL East more than the Phillies won it. Meanwhile, looking ahead to 2008, the Mets and Braves have gotten significantly better since this time last year (adding Johan Santana and a full season of Mark Teixeira, respectively) while Philly has done little to improve a suspect pitching staff (other than adding inconsistent closer Brad Lidge and moving Brett Myers back to the rotation). So while it wouldn't exactly be inconceivable to see Philadelphia make another run at the East title or the wild card, the good money is on 2007 being the apex of their recent run, "team to beat" talk or not.
Upside: 88 wins
Downside: 80 wins
Projected Record: 75-87
773 Runs Scored (4.77 per game, 8th)
834 Runs Allowed (5.15 per game, 13th)
Team MVP: Ryan Zimmerman


Analysis: Talk about overachievement. Under new manager Manny Acta a year ago, the hopelessly undermanned Nationals (seriously, Matt Chico was their top starter) still found a way to win 73 games and avoid the East basement for the first time since 2003. How did they do it? Well, for one thing, they made clever use of cheap pickups like Dmitri Young, Ryan Church, and Ron Belliard on offense, and they also fashioned together the 4th-best bullpen in the NL out of Chad Cordero and a bunch of afterthoughts (Jon Rauch, Saul Rivera, Jesus Colome, Ray King). All told, Acta's managerial acumen and a series of surprisingly shrewd moves by GM Jim Bowden added up to keep a Nationals team that was pretty awful on paper out of last place. Looking to 2008, there are a few new faces here (Lastings Milledge, Paul Lo Duca) to replace the departed (Church, Brian Schneider), but for the most part it's the same cast of characters that Washington trotted out a year ago... With one exception: righty starter John Patterson hopes to finally be healthy after 2 injury-riddled campaigns. You may not think Patterson's return is a big deal, but for Washington's rotation (which ranked 15th out of 16 teams in ERA a year ago) he could be a major shot in the arm, having posted a 3.13 ERA in 198⅓ innings during his last full season. Overall, the Nats still have plenty of room for improvement, but the offense should be better in '08 (thanks to Ryan Zimmerman's continued development, the Milledge pickup, and a full season of Wily Mo Pena), and the pitching could see big gains if Patterson returns to form and just one of their inconsistent starters steps up. Don't expect Washington to contend anytime soon, but don't expect them to be an easy 'W' for New York/Atlanta/Philadelphia anymore, either.
Upside: 79 wins
Downside: 67 wins
Projected Record: 71-91
739 Runs Scored (4.56 per game, 12th)
838 Runs Allowed (5.17 per game, 15th)
Team MVP: Hanley Ramirez


Analysis: "Like the cleaning of a house ... It Never Ends." I could, of course, be talking about Jeffrey Loria's continual quest to get Miami-area taxpayers to pay for his new stadium... Or I could just as easily be referring to Florida's nasty habit of trading their talent away for prospects right when it gets a little too expensive for their owner's miserly tastes. Either way, the endless cycle is never broken for the Marlins, who just this offseason repeated a scene that's happened all too often in their short history, dealing their best hitter (Miguel Cabrera) and their best pitcher (Dontrelle Willis) to Detroit for a handful of promising -- but more importantly, cheap -- youngsters. As a result, the Fins are long on potential but will likely be very short on immediate returns, especially in 2008. Thanks in large part to super-stud SS Hanley Ramirez, their lineup is not all that bad, with Dan Uggla, Jeremy Hermida (third time's the charm!), Josh Willingham, Mike Jacobs, and Cody Ross also checking in as above-average hitters. Beyond that group, though, there's literally no one else on the roster who can hit, meaning that their bench is going to be a major weakness -- unless Gonzo decides it's 2001 again or something. On the pitching side, youth will certainly be served (hello, Andrew Miller!), but that's been the case for the past two seasons, with mixed (at best) results. The bottom line is this: While there's an outside chance that Florida copies the '06 Marlins and turns in an unexpectedly good performance in '08, Loria is paying for a $15 million ballclub, and odds are that's exactly what he'll get -- at least until Miller, Cameron Maybin, & Co. reach their full potential... At which point they'll probably be traded for cheaper, younger talent. The cycle never ends in South Florida, does it?
Upside: 74 wins
Downside: 66 wins
NL Central
Projected Record: 88-74
818 Runs Scored (5.05 per game, 4th)
750 Runs Allowed (4.63 per game, 7th)
Team MVP: Alfonso Soriano


Analysis: Well, two years later, that pick finally worked out... (BTW, since they finished first, does this mean you have to eat two hats, Manny?) Not that it was of much consolation to the Cubs' long-suffering fans when the team was unceremoniously dispatched by the Diamondbacks in the NLDS, but Chicago's 2007 season represented a breakthrough of sorts, in that they didn't pin their hopes on the health of Kerry Wood & Mark Prior for the first time in ages. As a result, they allowed themselves to rework their pitching staff without those two in mind, and ended up ranking 2nd in the NL in fewest runs allowed, their best showing since 2004. Looking forward, all of the principal characters are back, the defense is still very strong, and although this staff might regress in general (anybody think Ted Lilly is a legit 3.83 ERA guy?), the Cubs should still be above-average on the run-prevention front in '08. Offensively, they're also going to be pretty solid -- the somewhat-maligned Alfonso Soriano deal worked out about as well as you could have expected a year ago, and Chicago made another big splash for an OF this offseason when they inked Japanese star Kosuke Fukudome to a 4-year, $50 million contract. Along with Derrek Lee, Aramis Ramirez, and unheralded 2nd-year C Geovany Soto, Soriano and Fukudome give the Cubbies one of the better lineups in the league, and the bench isn't bad, either. All told, there aren't many glaring holes for Chicago on either side of the ball... Milwaukee may be something of a vogue pick to surpass them in the Central, but the Cubs are (narrowly) the better team right now -- so unless Milwaukee fixes their problems, I think Chicago will be good for 85-90 wins and another division crown.
Upside: 90 wins
Downside: 83 wins
Projected Record: 84-78
804 Runs Scored (4.96 per game, 6th)
773 Runs Allowed (4.77 per game, 8th)
Team MVP: Prince Fielder


Analysis: It's fair to say that the Brew Crew exceeded expectations a year ago -- their young offensive stars blossomed and they were able to take advantage of a relatively weak division to stick around in the playoff race until late September. But what will this team do as an encore? Even after adding Kosuke Fukudome, Chicago doesn't look much better than an 85-90 win team, so the Central is certainly ripe for the picking again. The question is whether or not Milwaukee has the pitching and defense to outpace the Cubs, especially in the late innings of close games. Last year's closer Francisco Cordero took Cincy's free-agent $$, and Doug Melvin was eventually forced to replace him with Eric Gagne... Gulp. And the rest of the bullpen is mediocre at best, unless Derrick Turnbow can overcome his career-long battle with inconsistency. At least the rotation -- led by Ben Sheets and Yovani Gallardo -- is reasonably solid, especially if Carlos Villanueva can complete his transition from relief duty to starting. But much of the Brewers' success or failure rides on their defense, which was sixth-worst in baseball last year. There are reasons to believe they'll be better in '08: Ryan Braun, last year's chief offender, will start the year in LF, and his replacement at third, Bill Hall, has a much better record at the hot corner than at his old position (CF). 2B Rickie Weeks and 1B Prince Fielder will still be undermining their pitchers on balls hit to the right side of the infield, of course, and new C Jason Kendall is a human green light behind the plate, but the juggling of Hall/Braun and the addition of Mike Cameron should at least marginally improve the Brewers' D. And that may be all this team needs, since their offense will once again rank near the league's top 5 (thanks in no small part to Fielder and Braun). Run differential-wise, Milwaukee was about 4 games worse than Chicago last year, and they had a few very glaring flaws (defense and relief pitching), the first of which was at least partially addressed over the offseason. Will that make up the difference? Well... probably not. But Milwaukee will definitely be in the mix again as the season comes to a close, and if Chicago slips up at all, the Brewers could very well capture the Central title in '08.
Upside: 87 wins
Downside: 81 wins
Projected Record: 77-85
779 Runs Scored (4.81 per game, 7th)
822 Runs Allowed (5.07 per game, 12th)
Team MVP: Aaron Harang


Analysis: Going into 2008, the Reds could go either way. They were morally a 75-76 win team in 2007, and in the NL (especially the Central), that means they're just a break here or there away from being in the thick of the playoff race. They've got two rotation anchors in Aaron Harang and Bronson Arroyo, and potential future stars in RHPs Homer Bailey and Johnny Cueto. Over the winter they plucked solid closer Francisco Cordero from their division rivals in Milwaukee. They've got quality hitters like Adam Dunn, Edwin Encarnacion, and Ken Griffey, Jr., with more on the way (Jay Bruce, Joey Votto). 1B Scott Hatteberg hit .310 last year, 1B Brandon Phillips hit .288 with 30 HR, and as a team they ranked 3rd in HR, 5th in slugging %, and 6th in walks in 2007. And finally, over the offseason, they added proven manager Dusty Baker. The pieces are there to make a run in this division... right? Um, not exactly. In reality, Harang is their only good starter; Arroyo is merely a LAIM now, Bailey might not be ready yet after a groin injury derailed his age-21 season, Cueto's ETA is probably midseason '08 or even 2009, and Dusty's going to ruin all of their careers anyway. Cordero improves what was a brutal bullpen last year (frankly, it'd be hard for them to get any worse), but the rest of the relief corps is still lacking, and their defense still sucks (it was actually worse than Milwaukee's last year). Meanwhile, the offense seems more imposing than it actually is (they only ranked 7th in runs), Hatteberg and Phillips are primed for regressions, there's no way Griffey plays 144 games again, and Dusty's been promising that he'll cut down on those awful "base-clogging" activities like walks. Depressed yet, Cincy fans? The sad part is that Cincinnati has talent (now and especially on the way), and they're really not that far from competing in the Central. But for every positive step they take forward, there's something like the Kearns-for-Majewski trade or the Baker hiring waiting in the wings, ready to set them back. Add it all up, and there's just not enough here for the Reds to be a factor in the division race; worse yet, much of the blame for that fact falls at the feet of their own management.
Upside: 80 wins
Downside: 73 wins
Projected Record: 76-86
737 Runs Scored (4.55 per game, 13th)
784 Runs Allowed (4.84 per game, 9th)
Team MVP: Roy Oswalt


Analysis: Welcome to limbo, that awful place between rebuilding and contending. Like the Chicago White Sox, their opponents in the 2005 World Series, the Astros have fixated on that brief moment of glory ever since, abstaining from making any wholesale changes even as the club's foundation aged and ultimately crumbled. All along the way they deluded themselves into the vain notion that they were still contenders, until one day they woke up and found themselves staring at a 72-73 win team with no prospects for the future. Tragic? Sure. Preventable? Absolutely. But it would take self-honesty, something owner Drayton McLane hasn't employed with regard to his ballclub in decades. And the cycle of self-deception continued this offseason, when Houston made Ed Wade their GM (seems fitting), retained the inexperienced Cecil Cooper as manager, signed Coors Field product Kaz Matsui, and traded away what few pitching prospects they had left in exchange for Miguel Tejada, Jose Valverde, and Michael Bourn, as though somehow these moves would turn back the clock and make them contenders again. But in reality, they'll only serve to stave off the total, inevitable collapse for just a few more seasons. Beyond Roy Oswalt and Valverde, there's still no pitching. Other than the 4-headed monster of Tejada, Lance Berkman, Carlos Lee, and Hunter Pence (three of whom are 32 and signed to awful contracts), there's still nobody who can hit. And there's still zero plan for the future. You know, eventually they're going to have to rebuild in earnest... But until then, count on plenty of mediocrity in Houston -- and plenty of denial.
Upside: 79 wins
Downside: 71 wins
Projected Record: 73-89
728 Runs Scored (4.50 per game, 14th)
806 Runs Allowed (4.98 per game, 10th)
Team MVP: Albert Pujols


Analysis: Well, that was quick. One year after a surprise World Series victory, and two years removed from back-to-back 100-win seasons (the culmination of a run of 6 straight 85+ win campaigns), the Cardinals' roster now bears little resemblance to the perennial contender that former GM Walt Jocketty built in the first half of the decade. The problem with declining teams like this is usually aging, but that's not really the case here -- St. Louis was generally a veteran-laden outfit throughout Jocketty's tenure, while the 2008 opening day lineup features only 2 players (Troy Glaus, Adam Kennedy) over age 30. No, the Cards' problem isn't that they're getting older, it's just that their stars are injury-prone, plus the younger players they've brought in over the past few seasons aren't very good and they're already in their primes (meaning they're not going to get any better). Aside from the incomparable (but injured) Albert Pujols, St. Louis' only above-average hitters are Glaus, Chris Duncan, and maybe Ryan Ludwick, Josh Phelps, & rookie Brian Barton -- maybe. Otherwise, this offense is littered with a lot of Cesar Izturis types, which isn't exactly the greatest formula for scoring runs (especially if Pujols' torn elbow ligament hampers his performance or costs him playing time). St. Louis' pitching situation is equally tenuous; erstwhile ace Chris Carpenter is not slated to return from elbow surgery until midseason, and the rest of the rotation is either injury-riddled (Mark Mulder, Matt Clement) or flat-out pedestrian (Braden Looper, Joel Pineiro, Kyle Lohse, Anthony Reyes, et al). The bullpen is not all that bad, having posted a 4.00 ERA a year ago (NL average was 4.06), but there's little reason to hope that the starters and offense can give them meaningful leads to defend. The bottom line: with this team in full decline, look for the 2006 World Series to become more and more of a distant memory for Cards fans as the 2008 season goes on.
Upside: 77 wins
Downside: 71 wins
Projected Record: 69-93
701 Runs Scored (4.33 per game, 15th)
822 Runs Allowed (5.07 per game, 11th)
Team MVP: Jason Bay


Analysis: Yep, another year, another sub-70 win season for Pittsburgh... That's 15 straight losing seasons for the franchise, in case anyone is still keeping track, and there aren't a whole lot of reasons to think they won't make it 16 in 2008. But let's start with the positives: On paper, the Bucs have a quartet of relatively gifted young starting pitchers in Tom Gorzelanny, Ian Snell, Paul Maholm, and Zach Duke, and they've got two solid bullpen arms in closer Matt Capps and situational lefty Damaso Marte. Oh, and Jason Bay & Adam LaRoche are a couple of reasonably good middle-of-the-order hitters. So okay, those were the positives. And the negatives? Well, pretty much everything else. Despite Bay/LaRoche and the high-average Freddy Sanchez, this offense is just weak -- they ranked 11th in OBP and 12th in SLG a year ago, and their three best hitters will be entering the decline phases of their careers any season now (all are 28 or older). Meanwhile, on the run-prevention front, Maholm and Duke each took steps backward in 2007, 4th starter Matt Morris' skills are in freefall (as evidenced by his brutal 2nd half a year ago), the non-Capps/Marte portion of the bullpen is not really cut out for pro baseball, and their defense is just bad. Pittsburgh may have finally dumped GM Dave Littlefield (in favor of former MLB chief labor counsel Frank Coonelly), but Littlefield's fingerprints are still all over the Pirates' 2008 roster, and that can only mean one thing: another embarrassingly bad season of baseball in the Steel City.
Upside: 74 wins
Downside: 66 wins
NL West
Projected Record: 91-71
760 Runs Scored (4.69 per game, 10th)
670 Runs Allowed (4.13 per game, 1st)
Team MVP: Jake Peavy


Analysis: Unless you're the Mets, it'd be pretty hard to miss the playoffs in a more heartbreaking fashion than the Padres did in 2007, blowing three straight win-and-you're-in chances: September 29th (they were one strike away from clinching) & 30th vs. Milwaukee, and October 1st's one-game playoff against Colorado (in which they were just 3 outs from the win). Coming off of that debacle, San Diego now must try to pick up the pieces and move forward against a division that could be the most hotly-contested in baseball. Luckily, they boast the best pitching staff in the bigs, thanks to the strong starting 1-2-3 of Jake Peavy (your 2007 NL Cy Young Award winner), Chris Young, and Greg Maddux, as well as a lights-out bullpen that has a number of good options (cough, Heath Bell) even if declining closer Trevor Hoffman's inevitable collapse comes sooner rather than later. But, then again, the problem has never been pitching for the Padres -- the question is always whether or not their lineup can supply enough runs to make a difference, especially in offense-killing Petco Park. And as is usually the case with this team, there's nothing about the hitting that particularly jumps out at you (their best offensive player is zero-time All-Star Adrian Gonzalez)... but the good news is that they shouldn't be any worse than they were a year ago, which at least ought to be enough to keep them in the mix out West. Every year, you look at San Diego and wonder how this team remains competitive, but every year they're right there at the end. Despite their collapse last fall, 2008 should be no different -- on either count.
Upside: 92 wins
Downside: 83 wins
Projected Record: 87-75
772 Runs Scored (4.76 per game, 9th)
716 Runs Allowed (4.42 per game, 4th)
Team MVP: Brandon Webb


Analysis: To an even greater degree than the Seattle Mariners, the D-Backs managed to stay one step ahead of Pythagoras throughout the 2007 season, finishing with 90 wins and an NL West crown despite having been outscored by 20 runs -- a differential that should have earned them 79 wins and a spectator's view of the playoffs, not an eventual NLCS berth. But unlike the poor Mariners, who are bound to feel the full force of the Johnson Effect in 2008, Arizona will probably not be called to account for their lucky ways a year ago. Why? Chiefly because they have something that Seattle doesn't: young talent, and with it the opportunity to legitimately be much better than they were a year ago. It all starts with the pitching staff, a group that tamed Chase Field to post the 4th-best ERA in the league last season, and one which only got better over the winter when they added ex-Oakland ace Dan Haren in exchange for a handful of prospects. Haren, together with 2006 NL Cy Young Award winner Brandon Webb and 5-time Cy Young recipient Randy Johnson, gives 'Zona one of the better rotations in the sport, and the bullpen should be able to hold its own again despite losing closer Jose Valverde in a trade with Houston. The offense is more problematic, however; despite the run-friendly environs of Chase, the Diamondbacks finished 3rd to last in the NL in scoring (with only 5 regulars posting a better-than-average OPS), and did little over the offseason to bolster their lineup. Fortunately for Arizona, though, the majority of their key players last year were 26 or younger -- meaning there's a very good chance that this offense improves (and perhaps significantly) in '08 simply by virtue of another year of development. If that is the case, then watch out for Arizona as a serious pennant contender... It's very rare for a team which exceeds expectations by so much to play even better the following season, but with their mix of strong pitching and burgeoning offensive talent, the D-Backs may have happened upon the perfect formula to do just that.
Upside: 91 wins
Downside: 84 wins
Projected Record: 85-77
750 Runs Scored (4.63 per game, 11th)
711 Runs Allowed (4.39 per game, 3rd)
Team MVP: Brad Penny


Analysis: When you think about all of the talent that has passed through L.A. over the past two decades, it's absolutely inexcusable that the Dodgers have won just a single solitary playoff game since their World Series championship in 1988. But despite the organization's vast resources and storied history, Los Angeles' chronic front-office incompetence has continually hamstrung their on-field efforts -- a trend which has never been more obvious than under the reign of GM Ned Colletti, whose obsession with veterans and twin penchants for redundancy and wasting money have undermined the strong player development system built by his predecessors, Dan Evans and Paul DePodesta. The infamous Juan Pierre signing pretty much symbolizes Colletti's tenure in L.A. -- the Dodgers would be successful if they would only give their talented prospects a chance, but instead they sign a veteran who is 1) vastly overrated, 2) dramatically overpaid, and 3) totally unnecessary, and then proceed to give undeserved playing time to said veteran in a desperate attempt to justify the signing. This is the "Dodger Way"? Please. Branch Rickey must be spinning in his grave. Let's be clear on one thing: with L.A.'s talent, they ought to easily win the West in 2008. Their pitching staff is right up there with the best the NL has to offer, thanks to a deep rotation featuring Brad Penny & Derek Lowe, as well as a solid bullpen led by Takashi Saito & Jonathan Broxton. They also boast plenty of young hitting talent like Russell Martin, James Loney, Andre Ethier, Matt Kemp, Andy LaRoche, and others... But what good is that young talent if many of them are intentionally being blocked by veterans? While the Dodgers have more than enough tools to succeed, they probably can't hope for anything better than third or fourth place as long as management (aka Colletti) continues to undermine their efforts at every turn.
Upside: 88 wins
Downside: 81 wins
Projected Record: 81-81
847 Runs Scored (5.23 per game, 2nd)
845 Runs Allowed (5.22 per game, 16th)
Team MVP: Matt Holliday


Analysis: After a run like Colorado had last September and October, what can you possibly do as an encore? The Rockies certainly caught fire down the stretch in 2007, winning 21 of 22 games en route to the franchise's first-ever World Series appearance, and their pitching (long Colorado's weak link) was especially impressive during the run, allowing just 4.38 runs per game over the final two months of the regular season. However, that incredible stretch run makes it easy to gloss over that fact that, before the streak, the Rockies were on pace for just 83 wins, which would have left them watching the playoffs on TV instead of playing in October. It also makes it easy to ignore the fact that their staff pitched at a level that they probably can't sustain going forward: almost all of their pitchers' ERAs outperformed what you would expect based on their component skills, and many played much better than their track records would indicate, which suggests that the Rockies' improved pitching performance (the main catalyst for their success in '07) may have merely been an illusion. If that is the case (does anybody really think they can sustain a 4.32 team ERA, 8th-ranked defense or not?), then Colorado is a lock to backslide in '08, especially given the competitive division in which they play. As always, this offense should be among the best in the league (courtesy of Matt Holliday, Todd Helton, & Co.), but the fact of the matter is that the Rockies' entire season hinges on whether or not their pitching staff can hold on to the gains they made last season. If they can, Colorado will make another strong bid to win the West; if not, expect them to regress to the .500 form they showed before starting their remarkable late-season streak.
Upside: 91 wins
Downside: 80 wins
Projected Record: 71-91
633 Runs Scored (3.91 per game, 16th)
718 Runs Allowed (4.43 per game, 5th)
Team MVP: Matt Cain


Analysis: 2008 marks the end of an era for the Giants, that much is perfectly clear. And with regard to He Who Must Not Be Named, I fear that I have no choice but to invoke the old Branch Rickey quote about Ralph Kiner: "We finished last with you, and we can finish last without you." Finishing last is exactly what the San Francisco Giants are going to do in 2008 (aka "1 A.B."), because although GM Brian Sabean has been able to assemble one of the NL's best pitching staffs, his insistence on surrounding the now-departed Bonds with veteran hitters who can't, you know, hit has left this lineup in complete shambles. Among SF starters, only 1B Dan Ortmeier is under the age of 30; three are 36 (Rich Aurilia, Ray Durham, Dave Roberts), and SS Omar Vizquel will be 41 when he returns from his knee injury in late April. The Giants' advanced age would be okay if any of them could swing the bat, but San Fran turned in the NL's worst offensive performance (adjusted for park) a year ago in spite of Bonds' fantastic 1.045 OPS. Now they move forward sans Bonds, and with no viable prospects (other than Nate Schierholtz) on the way, so there's basically no chance that SF isn't going to be one of the worst offensive teams in recent memory. Their pitching staff isn't half bad, almost entirely thanks to the solid rotation 1-4 of Barry Zito, Matt Cain, Noah Lowry, and Tim Lincecum, but no rotation on earth could make up for the Giants' offensive impotence. It's sad, really; they spent so many years and so much money ostensibly trying to put together one last run with Barry Bonds, and now that he's gone they have no direction, no offense, and no hope for anything but one of the worst records in the NL. They say that all good things must come to end (say what you will about Bonds, he was a very good hitter), and San Francisco is about find out firsthand what happens after the end comes. One thing's for sure: it's not going to be pretty.
Upside: 74 wins
Downside: 64 wins
Playoffs

World Series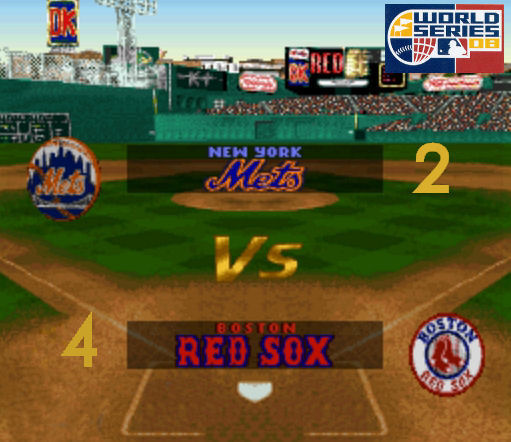 Community content is available under
CC-BY-SA
unless otherwise noted.