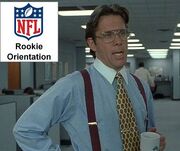 Make "Space" For The NFL
Hmm, how best to introduce the NFL for the 2008 season? Between the 16-0 Patriots, the underdog Giants, Brett Favre's record-breaking final season, "SpyGate," and Michael Vick's incarceration, the 2007 campaign was a season unlike any other. So how could 2008 possibly top those storylines? Well, it won't be easy, but there are definitely more than a few juicy stories to work with going into the '08 season. And what better way to bring them to you than, in true Bill Simmons style, to hand out quotes from one of my favorite movies of all time to each significant story of the upcoming season. Because, even if you're an NFL player, work... well, work still sucks.
11. "That's the worst idea I've ever heard in my life, Tom."
"Yes, this is horrible, this idea."
To the Bears, for staging an "open competition" for their starting quarterback job... between Rex Grossman and Kyle Orton. Because, hey, it's not like they could do any better, and it's not like they're a real QB away from being a legit title contender, and it's not like the window for their dominant D is rapidly closing or anything... But nah, between Grossman and Orton they're pretty much set behind center, huh?
10. "Why don't you just call me when you grow up! Oh, wait, you know what, that's probably never gonna happen, so just don't call me, OK?"
To Matt Leinart, who made more offseason headlines for photographs of some sophomoric antics at a party than for the status of his collarbone, or his ongoing position battle against Kurt Warner. Leinart received massive amounts of criticism for the photos, but pundits really ought to be worried about his play, and that of fellow Class of 2006 QB Vince Young... Touted as the two best quarterback prospects in the draft, both have been outplayed fairly handily by Jay Cutler, the 3rd QB taken that season. Now it's safe to say that both Young and Leinart face make-or-break seasons in 2008 -- unless they "grow up" on the field, they may never reach the lofty potential that seemed so apparent when they faced off in the 2006 Rose Bowl.
9. "Good luck with your layoffs, all right? I hope your firings go really well."
To all of the coaches starting to feel the heat this season:
8. "Eight bosses, Bob. So that means that when I make a mistake, I have eight different people coming by to tell me about it."
To Alex Smith, who's gone through almost that many offensive coordinators during his largely disappointing three-year NFL career. Now he'll have to deal with Mike Martz, the 49ers' sixth OC in six seasons and a coach infamous for his arcane offensive schemes. There's no doubt that Smith showed promise while working with then-OC Norv Turner during his second year, but there's also no question that he regressed badly last season under the "guidance" of Jim Hostler. On the plus side, Martz will be running a spread offense that at least bears some resemblance to the one Smith ran when he starred at the University of Utah, but one has to wonder if he can handle the intricacies of the Martz system -- and if the constant coaching turnover has permanently ruined Smith as a prospect. One thing's for sure: if he can't succeed under Martz, he probably won't be given another crack at starting in the NFL anytime soon.
7. "So that means that every single day that you see me, that's on the worst day of my life."
"What about today? Is today the worst day of your life?"
"Yeah."
"Wow, that's messed up."
To Lane Kiffin, who quickly found out last season that Al Davis can and will make your life a living hell. Kiffin was apparently so enthusiastic about being hired as HC last year that he failed to get Davis to outline his responsibilities in writing. Big mistake. Davis soon soured on Kiffin as a coach, and the aging owner has taken on most of the key personnel decisions (including stocking the coaching staff) himself. After Kiffin tried to fire DC Rob Ryan, Davis reportedly cut Kiffin completely out of the loop, even banning him from offseason planning meetings in an effort to break his spirit and force him to sign a letter of resignation. Naturally, Kiffin refused, knowing that Davis would rather keep an unhappy coach on than fire him and pay the remainder of his contract. So now, going into his second year as the Raiders' coach, Kiffin's "truce" with Davis is sure to be short-lived. Davis desperately wants to win again before he dies, and as a result he can't help but meddle with the Raiders in every conceivable way. And as far as Kiffin goes, that means the young coach will eventually be out of Oakland, one way or another.
6. "I have people skills! I am good at dealing with people! Can't you understand that? What the hell is wrong with you people?"
To Bill Belichick, master of the charismatic post-game press conference. It will be interesting to see how Belichick and the Patriots perform following the epic 2007 season -- whether the highs of the 18-0 start and the crushing disappointment of the Super Bowl have taken their toll on the team. The similarities between the 2007 Patriots and the 2001 Rams (the team New England knocked off to start their dynasty in the first place) have been duly noted; that Rams team, as you may remember, completely collapsed in the wake of being upset in the Super Bowl. However, one gets the feeling that no team led by Belichick would ever succumb to that same fate. The Patriots' D suffered big personnel losses, but the club retained Randy Moss, which all but guarantees them the best offense in the NFL for a second straight year. No, New England isn't going 16-0 again, but it's hard to see them slipping much, especially given that they will have the league's easiest schedule in 2008.
5. "Um, the 7-Eleven, right? You take a penny from the tray..."
"From the crippled children?"
"No, that's the jar. I'm talking about the tray, the pennies for everybody. Well, those are whole pennies. I am just talking about fractions of a penny here, okay? But we do it from a much bigger tray and we do it a couple of million times. So what's wrong with that?"
To Roger Goodell and Gene Upshaw, who have spent the past few seasons taking proverbial pennies from each other, sniping back and forth about various labor issues. Well, from now on things are going to get a lot more serious on that front, because in May the owners unanimously opted out of the league's CBA for the 2011 season. Technically, this means that unless an agreement can be hammered out in the meantime, 2009 will be the final year with a salary cap, and 2010 could be the last year we see NFL football before the owners initiate a lockout. In practical terms, things will probably never go that far, but then again, we never thought they'd go that far in hockey, basketball, or baseball. The fact that Goodell and Upshaw continue to take subtle (and not-so-subtle) shots at each other in the media regarding matters like the rookie salary structure isn't helping, either. In the end, we just have to hope they reach an agreement before a labor stoppage, but we also have to realize that there's always the possibility of a strike or lockout when this much money is involved.
4. "This isn't so bad, huh? Makin' bucks, gettin' exercise, workin' outside..."
"Fackin' A, man."
To Brett Favre, who managed to exude a childlike love for playing the game up until the very end of his storied career. In fact, it's almost like he was enjoying the game too much... So much so that rumors of another Favre return continue to circulate well into July. Will Brett come back, even after his big retirement party last winter (where you just know that the ratio of people to cake was too big)? Will the franchise still welcome him with open arms if he decides to go another year? And what will this news do to Aaron Rodgers' psyche? Maybe Favre should just stay retired, but who could say no to makin' bucks, gettin' excercise, and workin' outside for one more season?
3. "Yeah, I just stare at my desk, but it looks like I'm working. I do that for probably another hour after lunch, too. I'd say in a given week I probably only do about fifteen minutes of real, actual, work."
To Chad Johnson, who showed up for Bengals camp... in body if not in spirit. Johnson's feud with Cincinnati (and specifically coach Marvin Lewis) is sure to be one of the key storylines of the '08 season, if not simply for the fact that this is one of the 3 or so most talented WRs in the NFL, in his prime, and he made himself very available to other teams over the offseason -- teams like Washington, who reportedly offered their 2008 No. 1 and a 2009 conditional 3rd-rounder for Ocho Cinco. Yet Cincinnati simply wouldn't deal him, and Johnson has come to realize that he essentially has no choice but to play for the Bengals in 2008 (if he wants to get paid, that is). Make no mistake, though -- this isn't over. Johnson is playing out the string on his contract, but the factors that made him so unhappy in the first place still exist, so don't expect Johnson to suddenly be content with his situation just because he realizes how much coin he stood to lose by sitting out. One way or another, this issue will resurface multiple times during the season.
2. "Yeah, well at least your name isn't Michael Bolton."
"You know, there's nothing wrong with that name."
"There was nothing wrong with it... until I was about 12 years old and that no-talent assclown became famous and started winning Grammys."
"Hmm... well why don't you just go by Mike instead of Michael?"
"No way. Why should I change? He's the one who sucks."
To Pacman -- er, Adam Jones, who decided to change back to his given name upon joining the Dallas Cowboys, presumably to sever all ties with the rather impressive criminal image he built over the first 3 years of his pro career. But what are the chances that the new, improved Adam Jones stays out of trouble and helps Dallas win? The early returns have been good, and he certainly seems eager to shed the "Pacman" persona. But in the history of professional sports, has a team ever been laden with more potential chemistry problems than the 2008 Dallas Cowboys? We thought the addition of Terrell Owens two years ago was going to be a chemistry-killer... Now you've got Jones, T.O., Tony Romo (a nice guy by all accounts, but no stranger to paparazzi-related distractions), Tank Johnson (rap sheet here), plus an ongoing feud between SS Roy Williams and CB Terence Newman? And the fact that meddlesome Jerry Jones could replace Wade Phillips with Jason Garrett as coach at any moment? This can't be a real football team. This is a team I assemble in Madden. And in that game, players don't get involved in nightclub shootings. In other words, either the '08 Cowboys win the Super Bowl, or they're the most dysfunctional team ever assembled. I don't see a whole lot of space in between.
1. "What am I gonna do with 40 subscriptions to Vibe?"
To Eli Manning and the New York Giants, who this offseason also found themselves with a bunch of things they were completely unprepared for. Once the New York press' personal whipping boy (and by "once", we mean "up until Week 17 of the 2007 season"), Manning played better than ever in the playoffs, and the Giants rode a wave of unprecedented road success to a Super Bowl victory over the 18-0 New England Patriots. Following the big win (considered to be one of the biggest upsets in the history of sports), Manning was suddenly a media darling, one of the biggest sports stars in a town that takes its athletic icons very seriously. His team found itself the toast of New York as well, and now the G-Men (10-6 during the regular season) are the Champs, the team everyone guns for. All of which begs the question: what are the Giants going to do now that they're the favorites, the defending Super Bowl champions? Few times in NFL history has a team turned things around for so crucial a 5-game stretch as the Giants did at the end of 2007, but now they have the unenviable task of proving that it wasn't a fluke. And make no mistake, there are questions surrounding this team... Is Manning the guy who led the Super Bowl-winning drive, or the guy who tied for the NFL lead in interceptions? Is Tom Coughlin the coach who led the greatest underdog team in recent NFL memory to a ring, or the coach who was about to be fired after a 35-13 shellacking by Green Bay in Week 2? Can the secondary, considered a liability during the regular season, continue to play like they did during the playoffs? If the "Playoff Giants" are for real, then this team could repeat. But what do they do if that magical 5-game stretch wasn't repeatable?
Previews and Predictions
2008 NFL Capsules: NFC East
2008 NFL Capsules: NFC North
2008 NFL Capsules: NFC South
2008 NFL Capsules: NFC West
2008 NFL Capsules: AFC East
2008 NFL Capsules: AFC North
2008 NFL Capsules: AFC South
2008 NFL Capsules: AFC West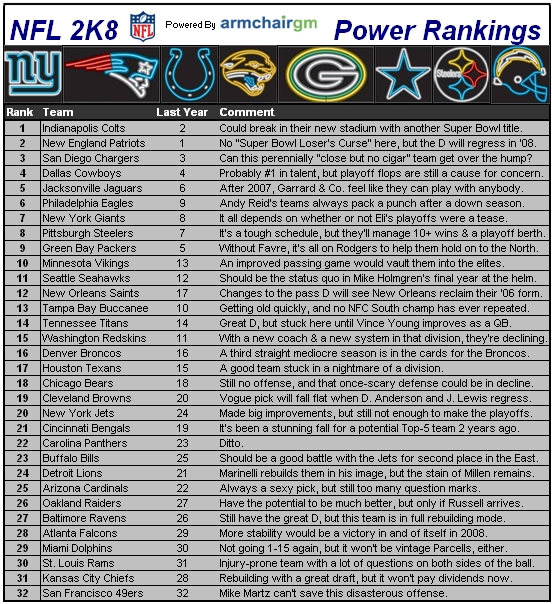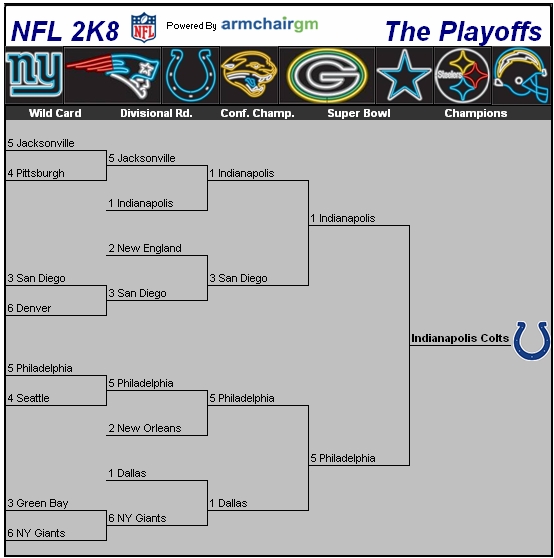 Community content is available under
CC-BY-SA
unless otherwise noted.