Today is Day TWO, of the 2008 NBA All-Star weekend in New Orleans, Louisiana. Last night was the All-Star celebrity game, in which Dallas Cowboys wideout, Terrell Owens, showed his B-ball skills, and took home trhe MVP award. After the celebrity game was the T-Mobile Rookie Challenge, which is a game between the NBA's top rookies play against the NBA's top second-year players (Sophmores).
All-Star Celebrity Game Recap:
In the celebrity game, Team New Orleans defeated Team Hornets 51-50, and the game was won on the very last possession. Master P made the go-ahead free throws with 19 seconds remaining, and then stopped the Hornets on their last possession to preserve their 1-point lead. T.O. didn't show up until halfway through the first half, but still managed to score 18, and capture the MVP. Owens' teammate, Master P, added 17 points.
The Hornets led 28-23 at the half despite very little contribution from last year's MVP, Tony Potts, who co-hosts "Access Hollywood". Former NFL star, Deion Sanders, scored 14 points, and added 13 rebounds. Sanders' teammate, Floyd Mayweather, scored 14 as well, and Chris Tucker ("Rush Hour 3" actor) made the only three 3-pointers of the game (11 points). But, all this wasn't enough to knock off the red-hot T.O., who even slammed one in. Owens wasn't actually on the team's roster, so I'm kinda surprised that he was allowed to play, but, hey, it's just for fun, I don't think they really cared.
Rosters:
Hornets
Chris Tucker (Rush Hour 3)
Common (2008 Grammy for Best Rap Perf. By a Duo or Group)
James Kyson Lee (Heroes)
Josh Peck (Drake and Josh)
Terry Crews (Everybody Hates Chris)
Deion Sanders (Two-Time Super Bowl Champion)
Swin Cash (WNBA All-Star, Detroit Shock)
Tony Potts (Access Hollywood)
Coach: Alyssa Milano, (Wisegal, Touch clothing)
General Manager: Bill Walton (NBA Legend and ESPN Analyst)
New Orleans
Ne-Yo (2008 Grammy for Best Contemp. Album)
Zach Gilford (Friday Night Lights)
Taylor Hicks (2006 American Idol Winner)
Seth Gilliam (The Wire)
James Lafferty (One Tree Hill)
Master P (Hip-hop Artist)
Ruth Riley (WNBA All-Star, San Antonio Silver Stars)
AJ Calloway (Extra)
Coach: Gabrielle Union, (Starship Dave)
General Manager: Stephen A. Smith (ESPN)
T-Mobile Rookie Challenge Recap:
I was only able to watch the last 10 minutes or so, at a friend's house, but I did see enough to say that it was an amazing game, and Daniel Gibson dominated the entire game. The Rookies kept up with the Sophmores in the first half, but Gibson's Rookie Challenge record 11 3-pointers (for 33 points, just 3 points shy of Amare Stoudemire's record for most points in the Rookie Challenge, set in 2004). The previous record for most three pointers was 7, set by Philadelphia 76er, Kyle Korver, in 2005. Gibson attempted 20 shots, and made 11, which were all 3-pointers. The sophmores went into the half with a 66-52 lead, and continued to pour it on the Rooks, with a BIG 136-109 win. The win gave the Sophmores their 6th straight win over the Rookies.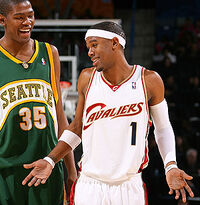 Seattle Supersonics forward, Kevin Durant, the front-runner in the Rookie of the Year award this year, scored 23 points for the Rookies, while fellow Rookie Al Horford(Atlanta Hawks), put up 19 points.
Despite the lop-sided score, this was a very good game, I thought. There was alot of showboating dunks, and alley-oops, which made it an interesting, and exciting game to watch.
Tonight:
Ah, in my opinion, Saturday night is always the most fun to watch during the NBA All-Star weekend. First, we start off the night with the Playstation Skills Challenge, Haier Shooting Stars, and Foot Locker Three-Point Shootout (not sure on the order). All three of those competitions are entertaining to watch (...not that it takes much to entertain me), and THEN, to cap the night off, you get to watch 4 high-flying NBA superstars under the age of 30, compete in the NBA Sprite Slam Dunk Contest. This year, Minnesota Timberwolves SF Gerald Green looks to defend his title (he won last year's while playing with the Boston Celtics). Green will be going up against 6 foot 11, 265 pound Orlando Magic center, Dwight Howard, along with a second-year forward (Rudy Gay, Memphis Grizzlies), and a Rookie (Jamario Moon, Toronto Raptors). Two Slam Dunk vets, against two newbies, MAN this is gonna be good.
Tomorrow:
Tomorrow is the main event, the actual All-Star game, which, in my opinion, is the most boring. I am hoping that it will be as exciting as the T-Mobile Rookie Challenge, or Celebrity game.
Community content is available under
CC-BY-SA
unless otherwise noted.