There are many baseball prospects that are major league ready right now.  Whether or not the big league club is ready to give them the opportunity to play is the only issue. Many prospects who are ready do not get the call to the majors right away for various reasons.  Lets take a look at the prospects most ready for the bigs in 2008.  Position by position, as ranked by... well... myself.
CA
-
Geovany Soto
,
Chicago Cubs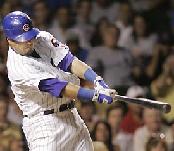 So what if Soto only had 54 major league at-bats last season, he can still walk around saying he had a .389 batting average.  Despite having only 80 major league at-bats, Soto has already been handed the starting catchers job on the north-side of Chicago.  Soto has the ability to hit for both average and power, while providing solid defense behind the plate.  Hitting on the back side of an already stacked line-up, Soto will not be asked to be much more than consistent this season, a season in which he could push for a rookie of the year award.
Awards/Accolades: Pacific Coast League MVP ('07), Futures Game Participant ('07)
Also deserving of consideration: J.R. Towles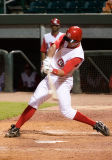 1B
-
Joey Votto
,
Cincinnati Reds
Just one of the Reds numerous prospects that have major talent and major potential.  Joey Votto, has the ability and has shown that he is ready to start opening day on the major league roster.  Whether manager Dusty Baker will choose to start Votto or Hatteberg is the issue.  There is no denying his abilities to flat out rake though.  Between Triple A and a brief stint in the majors last season (580 at bats), he posted a .298 batting average, 26 home runs, 109 RBI, and 18 stolen bases.  Votto has good pop, and uses the outfield gaps well in order to leg out a good share of doubles to go along with his home run numbers.  Playing half his games in the Great American Ballpark will help to ensure that Votto has a big 2008 rookie campaign.
Awards/Accolades: Southern League MVP ('06), International League Rookie of the Year ('07), Futures Game Participant ('06, '07)
Also deserving of consideration: Daric Barton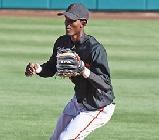 2B
-
Eugenio Velez
,
San Francisco Giants
As far as second basemen go, there are no big time prospects right now.  This would be different if the Ian Stewart experiment worked, but unfortunately for the Rockies Stewart is tailor made for third base.  Velez is a versatile player.  He will most likely play second in 2008 for the Giants because that seems to be their biggest hole.  Velez has speed, that is undeniable.  But he is almost 26 years old and could not reach the majors in an organization with not much to offer as far as competition is concerned.  The switch hitter has a decent batting eye, good speed, and is versatile.  He is the best second base prospect for 2008 mostly by default.
Awards/Accolades: South Atlantic League MVP ('06)
Also deserving of consideration: Jayson Nix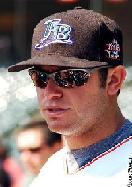 3B
-
Evan Longoria
,
Tampa Bay Rays
Longoria is arguably the most major league ready prospect in this class.  He has great footwork defensively to go along with a quick glove and strong arm.  He is a sound defender at the hot corner.  His offense is where all the Longoria hype comes from.  His power is undeniable, he can power some home runs over 500 feet!  He has the ability to hit to all fields and above average knowledge of the strike-zone.  Longoria has natural given talent, but sets himself apart because of his amazing work ethic.  He knows that if he wants to be great, he must work... hard.  Longoria will anchor third base for the Rays for the next decade plus.  The journey begins in 2008.
Awards/Accolades: Southern League MVP ('07), Futures Game Participant ('07)
Also deserving of consideration: Andy LaRoche, Chase Headley, Ian Stewart
SS
-
Brandon Wood
,
Los Angeles Angels
He is a failure of his own success.  After such a huge breakout 2005 season (in which he became the first minor leaguer to accumulate 100 extra base hits during a single season), Wood was not able in the following two seasons to even put up similar numbers (and how could he be expected to do so?).  He is still one of the greatest prospects in the game, just maybe not as good as initially thought.  After spending the last few seasons getting shuffled between third base and shortstop, Wood will look to have an opportunity to make the major league roster this season after the departure of Orlando Cabrera.  At 22, Wood already has shown the potential to put up gaudy power numbers from the shortstop position.  He is solid defensively, which is the good news for when he does get the call to the majors.  The only question now is can he live up to the mark he set for himself in 2005?
Awards/Accolades: California League MVP ('05), MiLB Offensive Player of the Year ('05), Futures Game Participant ('05)
Also deserving of consideration: n/a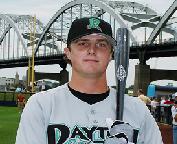 OF
-
Jay Bruce
,
Cincinnati Reds
Best hitter period.  Jay Bruce is proof that just because someone doesn't have all five tools, doesn't mean that they can't be the best prospect in the country.  In a total  of 521 minor league at bats last season, Bruce totaled 26 home runs, 46 doubles, 166 Hits, 306 total bases, .319/.375/.587/.962 stat line.  Jay can hold his own in center field (where he could start out this season), but he will fit best in right field (where he will soon find himself).  He has the cannon necessary to keep runners at bay, and the talent to be a solid defender.  His bat is the single reason he is the top prospect in the country.  There is no reason Bruce should not start on the grass for Cincinnati on opening day.
Awards/Accolades: Baseball America Minor League Player of the Year ('07), Futures Game Participant ('07)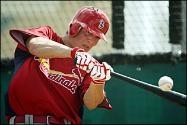 OF
-
Colby Rasmus
,
St. Louis Cardinals
There is a reason that the tenure of Jim Edmonds in St. Louis came to an end.  Top Cardinals prospect Colby Rasmus is ready for the big leagues, or at least will be at some point this season.  Moving Edmonds ensures that when the Cardinals decide to move Rasmus to the majors, he can contribute right away.  Colby has all five tools, and is an aggressive player both at the plate and in the field.  Although his strong play is what gets him noticed, it is also what hurts his game.  He strikes out an average amount, but does not provide much of an average either.  Across the board, Rasmus is a sure thing evident by his 29 home runs, 37 doubles, and 18 stolen bases in Double A last season.
Awards/Accolades: Futures Game Participant ('07)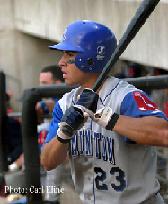 OF
-
Jacoby Ellsbury
,
Boston Red Sox
Tacoby Bellsbury... yes, the guy who gave American a free taco last post-season is one of the top prospects this up-coming season slightly beating out five tool prospect
Cameron Maybin
.  Ellsbury gets the nod in this case because of his experience.  When it comes to having all the tools, Jacoby doesn't offer them.  But, the tools he does show, he shows a lot of it.  Where his game lacks is his throwing strength and hitting power (which could still come around).  What sets him apart from all others is his speed.  The Navajo was clocked at a 4.2 second 40 yard dash (that is Randy Moss fast).  With the Red Sox Nation calling for Ellsbury in '08, the front office has a tough decision to make between he and Coco Crisp; the two will battle it out in Spring Training.
Awards/Accolades: Futures Game Participant ('07)
Also deserving of consideration: Cameron Maybin, Andrew McCutchen, Brandon Jones

P
-
Homer Bailey
,
Cincinnati Reds
Numbers don't lie... except Bailey's 2007 numbers.  His groin was injured most of last season.  Plus, he is only 21 entering the 2008 season; there is plenty of time for him to turn this around.  Homer has very sound mechanics and good control of two above average pitches.  His stuff is filthy, and he has the talent/potential to anchor a rotation for years to come.  Easily the best rookie pitcher this season because he is just that good.  The starting rotation for the Reds will have the name Bailey listed somewhere on it opening up the 2008 baseball season.  Look for his numbers to turn around... drastically.
Awards/Accolades: Futures Game Participant ('07)

P
-
Clay Buchholz
,
Boston Red Sox
There is much more that can be said about Clay that the typical fan doesn't already know.  In just his second major league start, he tossed a no-hitter.  It's only one game, so here are some more numbers to think about. Between the minors (125.1 innings) and majors (22.2 innings) Clay struck out 193 batters, that is 11.7 K/9, 4.2 K/BB, .986 WHIP, 2.31 ERA... Impressed yet?  Due to an injury to Curt Shilling, Buchholz has the opportunity to be the fifth starter in the opening day rotation.
Awards/Accolades: Futures Game Participant ('07)

P
-
Ian Kennedy
,
New York Yankees
There is so much hype around young Yankees pitchers Phillip Hughes and Joba Chamerlain that Kennedy seems to get left behind.  Ian may just be the best of the three.  Kennedy posted a 1.91 ERA last season on four different levels of ball (three major league starts).  He had 9.68 K/9, 3.01 K/BB, .183 average against, and a 13-3 record.  He relies not on his stuff to get batters out, but on the outstanding command he has of his stuff.  This combined with sound mechanics is why Kennedy will have a huge impact on the 2008 New York Yankees outcome.  Although Kennedy is most likely to start the season in Triple A, when he gets the call up, he will prove his worthiness.
Awards/Accolades: MiLB.com Starting Pitcher of the Year ('07)
Also deserving of consideration: Franklin Morales, Gio Gonzalez, Joba Chamberlain, Aaron Laffey, Adam Miller, Luke Hochevar
Community content is available under
CC-BY-SA
unless otherwise noted.