With the Major League Baseball season about a month and a half away, I thought it was time to talk Baseball. I am not exactly what you would call an "expert" on Baseball, but that doesn't take away the fun of covering, watching, and playing Baseball. There are plenty of questions that may not be answered until the season kicks off on March 25th, but I'll try to answer them now. Will Johan, and Pedro help the Mets over the hump, and into the playoffs this year? How about: Can Pujols bounce back, and carry St. Louis to the playoffs? Or, will free agent acquisitions D-Train, and Cabrera live up to their expectations in Detroit?
Top 10 Headlines of the 2008 Season:
1. Will Johan live up to the GIANT expectations in New York???
New York fans' hopes have sky-rocketed for the 2008 season after signing two-time Cy-Young award winner, Johan Santana, on January 29th. Johan is very excited to be a New York Met, and to play with Pedro Martinez, who could find himself in Cooperstown in the years to come. New York has plenty of talent, which includes a spectacular pitching rotation, and young talent on the basepaths, including David Wright, and Jose Reyes. But, I think the biggest question here, is in the Fantasy category. I think just about every MLB fan out there has NY going to the playoffs with AT LEAST the Wild Card. But, is Johan still worth a first round draft pick in Fantasy Baseball. My answer is an obvious 'yes', but I think we'll have to wait until the season kicks off on March 25th to find out the answer, but I think Johan will continue to dominate (but what do I know?).
2. Will Detroit go back to the Playoffs???
Detroit had what is probably the best offseason in years. Detroit added ace starting pitcher, Dontrelle "D-Train" Willis, and power-hitting third baseman Miguel Cabrera (Both from Florida), to their already great team. Detroit's starting rotation now includes Justin Verlander, Jeremy Bonderman, D-Train, Kenny Rogers, and Nate Robertson. And, there lineup includes 3-4 power hitters, Cabrera, Magglio Ordonez, Gary Sheffield, and Edgar Renteria (who also has speed, and a glove). I think Detroit will take home the AL Central Title, and end up losing in the ALCS.
3. Will Boston repeat???
I think the Sox have a good shot at repeating, considering they have almost the same team as last year. Boston's pitching will continue to thrive, and their young players, Jacoby Ellsbury, Dustin Pedroia, and young pitchers Jonathan Papelbon, and Clay Buchholz will match their 2007 seasons. Boston will beat out the Yanks for the AL East, but I don't see this team repeating their World Series Title, or even get to the WS this year. I just think LA, and Detroit will be great, and I think LA will finally get past the great teams in the AL, and represent the American League in the World Series. So, to answer the question, NO, Boston will not repeat, they will go down in the ALDS, sorry Boston.
4. How bad will the Florida Marlins do???
After losing the "Face of the franchise", Dontrelle Willis to the Tigers, the Marlins pitching will really struggle. Florida's number 1 SP is Scott Olsen, which for some teams, may not even be in the rotation, and that's really saying something. But, I really think Florida's hitting will do just fine without Cabrera. Florida's fielding is filled with youth, and it will just take a few years for Florida to catch up to the rest of the NL East. But, for now, I think Florida will have the worst pitching staff in the Majors, and will be about 20 games under .500, like last year.
5. Who will win the NL West this year???
It seems that every year the NL West has a different leader. Last year, it was Arizona by a half a game, this year, it will be the Los Angeles Dodgers. LA was just 8 games behind the leader, with an 82-80 season last year. LA has a solid pitching rotation, and has some speed, and even added a power hitter this year in Andruw Jones, from Atlanta. Not to mention a new manager, Joe Torre, who really knows how to manage a team. LA wins the NL West this year, by a few games, but I don't see this team going far in the playoffs.
6. How about the NL Central???
Last year, the Central was won by the Chicago Cubs by just 2 games over the Milwaukee Brewers, who was led by power-hitter Prince Fielder, and rookie Ryan Braun. So, the question here is, Can the Cubs repeat? I say, yes. The Cubs have a stronger pitching rotation, and have a little more depth in their lineup than Milwaukee. St. Louis finshed 3rd, just 7 games back, and I think they will come in a close second, barely beating out Milwaukee. St. Louis added another power-hitter to accompany Albert Pujols, and has some solid pitching, too, though the bullpen isn't exactly the best it can be.
7. Will the Yankees win the Wild Card???
Since I already said the BoSox will win the AL East, the only way NY can make it to the playoffs is beating out the Tribe, and Mariners for the only AL Wild Card spot. The Yankees, as always, have one of the strongest lineups in Baseball. But, their pitching is struggling, their rotation is injury-prone, and old. Plus, you never know what you're going to get from guys like Kyle Farnsworth, and LaTroy Hawkins in their bullpen. Their Closer, Mariano Rivera, had a terrible year last year, too. The highlight of their bullpen is prospect Joba Chamberlain. I think they have a shot at beating out Cleveland and Seattle if they stay healthy, if their pitching has another off-year, then I think Cleveland will get the WC. But, for right now, I'm gonna go with NY for the fourth and final playoff spot.
8. Who will be the MVP???
AL- After Alex Rodriguez's monster year last year, I don't see why anyone will go against him this year. He's done a great job blocking the distractions, and just hitting HR after HR. A-Rod is my pick for the AL MVP again this year.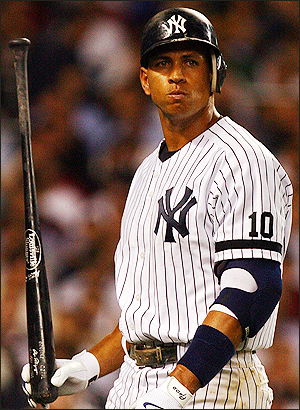 NL- Jose Reyes is going to have another great year this year, I'm calling it right now. Reyes will be the MVP, and lead New York to the World Series in the process. New York has a great lineup, and pitching, there's no reason why this team won't go to the World Series. Reyes for NL MVP.
9. Who will win the Cy Young???
AL- This will be "the year of the Free Agent". Former Baltimore Oriole pitcher, Erik Bedard (now an M), will be the Mariners top pitcher, and win 20 games with them. Bedard is a fantastic pitcher, he has just been on a terrible team. Actually, for a while last year Bedard was in the Cy-Young talk before he went down with an injury. Call me crazy, but Bedard will win the AL Cy-Young.
NL- Johan is going for his 3rd Cy-Young, this time for the NL. And, since I'm going with the Mets to win it all this year, why not Johan for Cy-Young??? I already have a Met for MVP, so why not Cy-Young, too?
10. World Series winner???
Didn't I just answer this? The 2008 World Series will be a matchup between the Los Angeles Angels (of Anaheim), against the New York Mets. And, unfortunately for you Boston fans, another New York team will win a championship. I guess it's just New York's year, isn't it?
So, here are the playoff teams, according to my answers above:
AL
NL
2. Chicago Cubs
Playoffs:
ALDS
Angels over Yankees 3-1
Tigers over Red Sox 3-2
NLDS
Mets over Phillies 3-0
Dodgers over Cubs 3-2
ALCS
Angels over Tigers 4-2
NLCS
Mets over Dodgers 4-3
WORLD SERIES
Mets over Angels 4-3
MVP: David Wright
Community content is available under
CC-BY-SA
unless otherwise noted.