From TheSportsApple
It takes a truly retarded individual not to love baseball. And for those who don't, I apologize and question your existence on earth. But for those who live and die with four seam fastballs, 6-4-3 double plays, backward K's, and the late inning double switch, I offer up some advice: The baseball season has started (3 times) so strap in because this year is probably going to be perhaps more wild and maybe more unexpected than ever before. I think.
Almost certainly some things will go as predicted like the Detroit Tigers' offense scoring close to 1000 runs as well as the San Francisco Giants not being competitive all season. Other things will be a complete surprise like perhaps the Cincinnati Reds contending for the wild card. Wait, Dusty Baker picked Corey Patterson and Scott Hatteberg over Jay Bruce and Joey Votto? Never mind.
But expectations and possible surprises aside, its time to dish out the first annual BABPAPs: Baseball Awards Based on Probably Awful Predictions. As Yogi Berra once said, "It's hard to make predictions, especially about the future. Naturally, I will try to defy Yogi and make some of those predictions about the future.
(Drum roll please)
Mickey Mantle's Liver award for "most overused body part in baseball":
Winner: Takashi Saito's rotator cuff and/or elbow.
Have you seen the way Joe Torre abuses his relief pitchers? In 2006, Scott Proctor led all AL relievers in innings pitched with 102.1 (teammate Ron Villone was 6th), in 2004; Paul Quantrill and Tom Gordon were 3rd and 4th respectively. In 2002, Ramiro Mendoza, Steve Karsay, and Mike Stanton were 2nd, 3rd, and 7th in innings pitched. Saito's arm problems will lead him to the DL by July.
Philly Phanatic award for "best mascot":

Winner:
Al the Almond and Wally the Walnut from the Modesto Nuts.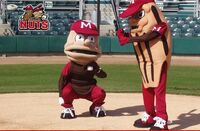 What other team has built in deez nuts jokes? You: Hey, wanna see my nuts? Date: Are you inviting me to look at your testicles? You: No, I'm talking about Al the Almond and Wally the Walnut! That is, unless you want to see my testicles....
Tim McCarver award for "most obvious on air quote during a game":
Winner: Tim McCarver.
McCarver will extend his winning streak to 37 years in a row by capturing this award again in 2008. With quotes like "It's better to have a fast runner on base than a slow one" and "If you lead off and play every game, you're guaranteed to bat with the bases empty 162 times", no one else even comes close to threatening McCarver in this category.
[[Rusty Kuntz award for "best name":
1st Winner: Chien-Ming Wang. Why? Because it's not polite to show your Chien-Ming Wang in public. 2nd Winner: Kosuke Fukudome. Why? Because this guy has special place for when he needs to use his Chien-Ming Wang.
Mike Hampton award for "best hitting pitcher":
Winner: Micah Owings.
Owings hit .333/.349/.683 last season with 4 home runs. Arizona should find a spot in the everyday lineup for Owings. What, you'd rather have Mark Reynolds play every day?
New York Yankees From the Past Couple of Postseasons award for "futility in the playoffs":
Winner: Atlanta Braves.
The Braves will get into the playoffs this year. But the Atlanta Braves should be banned from the playoffs because they never do anything once they're in. (Okay they won the World Series ONCE but that was against the Cleveland Indians, so that barely counts.) There are many teams who, if invited to the playoffs would actually win. The Braves are like the really hot chick that keeps getting dates even though she never puts out.
Armando Benitez award for "Yes, I have an above 90mph fastball and no it doesn't have any movement":
Winner: Eric Gagne
The Milwaukee Brewers are paying Gag-me $10 million dollars. However all he does is throw 91mph letter high fastballs. If he doesn't come up with a dazzling change up or a ridiculous 12-6 curve ball then Bernie Brewer is going to get whip lash watching balls fly out of Miller Park.
Adam Dunn award for "striking out 24% of your at bats":
Winner: Jack Cust
Were you aware that Cust hit a HR, struck out, or coaxed a walk in 295 of his 507 plate appearances? That's right, in 58.2% of all his at-bats last season, Cust produced one of those three outcomes. I'm no math genius but if Cust plays a full season, he is liable for 457 strikeouts. That is awesome.
[[Scott Spezio Soul patch award for "worst use of the soul patch":

Winner:
J.J. Putz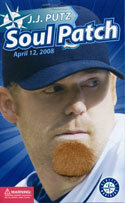 Seattle's flame throwing closer has his own
promotional night
this season. The first 20,000 fans entering
Safeco Field
on April 12 will receive a replica J.J. Putz soul patch. If only the
Houston Astros
would have thought of this back when
Jeff Bagwell
had that
4-inch goatee sticking off his chin
. Then all Astros fans could go home from Minute Maid Park looking like
Jim "The Anvil" Neidhart
.
George W. Bush award for "Worst managed team by someone who has no business being in charge":
Winner: Ozzie Guillen
This award would normally go to Herm Edwards, Norv Turner, and/or Art Shell but since this is a baseball column, the award goes to Guillen. Ozzie just can't help himself: If he sees a fielder dogging it or a pitcher backing away from a challenge, he is incapable of keeping it in the clubhouse; he simply must rip the guy a new orifice or three in the most public manner possible. Since Ozzie got a 4-year extension in the off-season look for Ozzie to let the expletives fly.
Community content is available under
CC-BY-SA
unless otherwise noted.