We are now just over two short weeks away from the Opening of the Arena Football League's 22nd season. On February 29th (this year is a leap year), the New Orleans Voodoo, and Los Angeles Avengers will play the first game of the 2008 AFL season. What's more exciting than 16 men knocking the fack out of each other on a 50-yard field WITH WALLS!!!
This year, there's a new team, the Cleveland Gladiators (the Las Vegas Gladiators from 2003-2007) will join in on the action this year. Cleveland's inaugural game will be on March 3rd against the New York Dragons in Cleveland. And, you guys are lucky, you have Raymond Philyaw, the former KC Brigade, at QB this year. Philyaw had a QB Rating of 124.1, and led KC to a playoff appearance, only to lose in the first round to John Elway's Colorado Crush. Philyaw set career highs in passing yards (4,338), TD's (85), completions/attempts (371/538), and completion % (69.0). Cleveland also has former Philadelphia Soul wideout, Sean Scott, who has tremendous speed, and hands. Scott also plays DB, since, of course, in the AFL most everybody plays both sides of the ball.
I am excited to see Cleveland play this year, and I believe they will reach the playoffs, but I certainly don't expect them to win the Arena Bowl, especially since the Dallas Desperados, and Philadelphia Soul are in their Division. Dallas, last year, had the best record in the AFL (15-1), and was expected to win Arena Bowl XXI. But, Dallas was upset by the sixth seeded Columbus Destroyers, who reached the Arena Bowl, and was a BIG Cinderella story (lost to the San Jose Sabercats in the Arena Bowl).
I have BIG expectations for this year, and would love to see the Columbus Destroyers, led by Matt Nagy, back to the Arena Bowl in New Orleans. Or better yet, the New Orleans Voodoo in the Arena Bowl, who were 5-11 last year, and missed the playoffs. There really is talent in the AFL, and it is very entertaining, especially with those 4 foot walls all the way around the field, and the fact that the fields are just 50 yards long. I am especially excited this year, because they are showing a lot of games on TV (ESPN, and ESPN2), and, now that I have a Sirius Satellite Radio, I can listen to them too.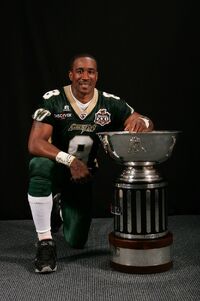 You guys that aren't into the AFL, I am suggesting that you give it a go, it is entertaining, and it's FOOTBALL. Instead of watching NFL Network until August, you can watch the AFL, or better yet, read my articles on AGM:)
I am going to give you my Division winners, and Arena Bowl match-up for this year, and let's see if I get anywhere close.
American Conference:
Western Division
San Jose SaberCats
Los Angeles Avengers
Utah Blaze
Arizona Rattlers
Central Division
Colorado Crush
Chicago Rush
Grand Rapids Rampage
Kansas City Brigade
National Conference:
Eastern Division
Dallas Desperadoes
Columbus Destroyers
Cleveland Gladiators
Philadelphia Soul
New York Dragons
Southern Division
Georgia Force
Orlando Predators
Tampa Bay Storm
New Orleans VooDoo
Arena Bowl XXII (at New Orleans):
Dallas over San Jose
I believe Clint Dolezel, one of the AFL's best QB's, will help the Desperadoes capture their first AFL championship. It will be a close game, but I believe Dallas will knock off the defending champions, SJ SaberCats.
Don't forget!! February 29th, first game of 2008 season. New Orleans Voodoo v.s. Los Angeles Avengers. More analysis of the Arena Football League coming soon.
Community content is available under
CC-BY-SA
unless otherwise noted.