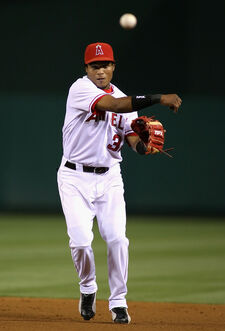 The biggest question facing the 2008 Angels can be found at the shortstop position where experience and durability remain key issues.
Over the offseason GM Tony Reagins dealt Gold Glove shortstop Orlando Cabrera to the Chicago White Sox for starting pitcher Jon Garland, who is known as an innings eater. Replacing Cabrera at short will be the young Erick Aybar and the experienced Maicer Izturis.
With Cabrera playing shortstop every day in 2007, Aybar and Izturis were still able to received valuable playing time at second and third due to injuries to Howie Kendrick and Chone Figgins.
Despite an opportunity for playing time, Aybar struggled in 2007, largely due in part to injuries. While playing left field in Baltimore on July 1, he suffered a right hand contusion in an attempt to make a diving catch. He underwent surgery four days later and did not return to the lineup until August 5. However, Aybar promptly strained his left hamstring and returned to the DL on August 20, effectively ending his season. He only received 18 September at-bats, and ended the season with a dismal .237 average while appearing in only 79 games.
Despite a sub-par 2007 campaign, Angels manager Mike Scioscia still feels confident in the young shortstop due to his lively young arm and great range in the middle of the diamond. Many experts also feel Aybar's speed on the base paths is reminiscent of a young Chone Figgins. Because of his upside, Aybar is considered by many to be the front runner for the starting shortstop position.
However, if the Angels want a more dependable option at shortstop, they would be wise to tab Maicer Izturis as the starter. Last season Izturis impressed the Angels handsomely with his bat, as well as his glove. While spending much of the season at second and third, he led the club in hitting with runners in scoring position at .406 in addition to 51 runs in just 336 at bats (half a season). He also batted .289 with six homers and 17 doubles, and he committed just four errors.
"Izzy had a remarkable season," Scioscia said. "He came up big for us time and time again. He was as good as anybody we had with runners in scoring position. He's a smart, talented player with outstanding versatility."
While Aybar and Izturis are expected to be the starters for 2008, the future appears to be in the hands of Brandon Wood, whose defense, both at shortstop and third base, is already Major League-caliber. However, Scioscia still feels that Wood needs to improve his command at the plate by avoiding pitches way out of the strike zone.
"Brandon needs time," Scioscia said. "He's an exciting player with some unbelievable upside. But, he's got a little ways to go. He just needs to smooth out some things offensively."
Many some scouts feel Wood has the potential to be a player in the mold of 2002 World Series MVP Troy Glaus. However, Wood still has a long way to go before he can prove to fans that he is more like Glaus than Dallas McPherson.
Overall Grade: C+. The Angels are relatively inexperienced at this position and Brandon Wood is still a year away from taking over the reigns.
Community content is available under
CC-BY-SA
unless otherwise noted.