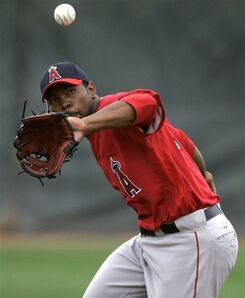 After an injury plagued 2007 campaign, questions regarding experience and durability surround the Angels young second baseman Howie Kendrick.
Kendrick's 2007 season almost ended before it even got started. On April 18th while facing Chad Gaudin of the Oakland A's, Kendrick was drilled by a pitch in the left hand. Hitting .327 at the time, Kendrick did not return to the lineup until May 22, which caused him to miss 32 games with a fractured left middle finger.
After recapturing his form with 21 hits in just 22 games, Kendrick was injured once again on July 9th. While taking a swing, he was hit by a pitch that fractured his left index finger. This latest trip to the disabled list cost him an additional 35 games.
Despite missing significant playing time as a result of these to injuries, Kendrick still managed to finish the season with a solid .322 average, a .435 slugging percentage and a .332 on-base average in 88 games. While these are certainly respectable numbers, Kendrick certainly needs to improve his plate discipline with just nine walks in 338 at-bats.
According to manager Mike Scioscia, "He's never walked a lot, and he's probably not going to walk a lot. His plate discipline is getting better. He has the potential to be an outstanding offensive player. We want to see what Howard can do with 600 plate appearances."
Defensively, Kendrick has been steadily improving since entering the big leagues in 2006. Scioscia has noticed a difference in his defense, remarking that he, "has made big strides, and he's going to continue to get better."
Despite the Angels perceived confidence in the young second baseman, he has still been subject to multiple trade rumors. Over this past offseason, he was prominently mentioned in trade talks with the Marlins involving Miguel Cabrera and with the White Sox regarding Paul Konerko. Despite the persistent rumors, Kendrick is as confident as ever.
"I'm confident I can continue to develop and do some good things," Kendrick said. "I've never had injuries like the ones I had with my hand, so that was all new to me. I'm just looking to be healthy and productive. I really like this team, what we're capable of doing."
If for whatever reason, Kendrick is unable to perform due to injuries the loser of the shortstop battle will likely take his spot in the lineup. Currently, Maicer Izturis and Erik Aybar are competing for the starting shortstop position. Izturis has proven to be a dependable utility player over the past few season while Aybar is still relatively unproven. Both will be more than capable of providing solid relief for a potentially injured Kendrick.
Overall Grade : B. Kendrick has been a highly regarded prospect but he is still relatively unproven as a major leaguer.
Community content is available under
CC-BY-SA
unless otherwise noted.