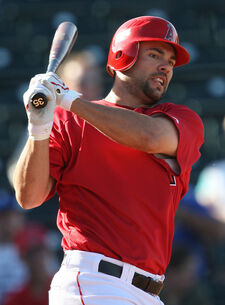 With Casey Kotchman starting at first base, it is clear that the Angels lack the traditional big, brawny basher that could hit for thirty home runs in a single season. While Kotchman won't rack up a bunch of home runs, he will still be more than capable of producing and scoring runs.
Last season the 25 year old Kotchman was on his way to a career year before being derailed by injuries over the second half of the season. Despite the nagging injuries, he still finished with a .296 batting average and a career highs in doubles (37), home runs (11) and RBIs (68). His .372 on-base percentage was third-best on the team after Vladimir Guerrero's .403 and Chone Figgins's .393.
Kotchman had a particularly tough postseason as he was forced to watch the final two games of the Divisional series from a hospital bed after being taken down by an illness in Boston.
While the left handed first baseman certainly had a solid season at the plate, he was even more phenomenal in the field. According to a statistical study of fielders by John Dewan, author of The Fielding Bible, only the Cardinals' Albert Pujols was found to be superior at first to Kotchman, who committed only three errors for a .997 fielding percentage.
Unfortunately for the young first baseman, injuries made it tough to get in any sort of offensive groove over the second half of the season. In mid-June, Kotchman was struck in the helmet by a pickoff throw from Dodgers catcher Russell Martin. Kotchman, among the AL's top 10 in batting average, slugging and on-base percentage at the time, sustained a mild concussion.
When he returned to action, Kotchman wasn't the same, as he struggled to regain his stroke, and subsequently, his numbers dropped. Another injury occurred on August 22nd, Kotchman was hit by a cut fastball from Yankees closer Mariano Rivera, which caused a hand injury that Kotchman battled through for the rest of the season.
As long as Kotchman stays healthy the Angels will have a legitimate player that can bat .300 and get at least 70 RBIs. However, if Kotchman falters for whatever reasons, the Angels will have he the switch-hitter Kendry Morales waiting in the wings. Last season, Morales showed some serious pop from the left side of the plate in 119 at-bats with the club, batting .294 with four home runs and 15 RBIs. He also had a .479 slugging percentage that was only surpassed by Guerrero's .547 and Garrett Anderson's .492.
The Angels are hoping that lefty specialist Robb Quinlan, a .290 career hitter, can bounce back from a disappointing 2007 campaign in which he batted just .247. In 2006, he had a .491 slugging percentage while batting .321. His presence coming off the bench will be very important to the fate of the club.
Overall Grade : B. Kotchman is a top notch defensive player but he has failed to show consistency at the plate to warrant a higher grade.
Community content is available under
CC-BY-SA
unless otherwise noted.