See also: 2008 National League Preview
The tradition continues as the longest-running series on the 'Chair is back for another round... Shockingly, it's been two years since I first came to ArmchairGM, and while plenty has changed, the spirit of this great site has stayed the same -- to give talented aspiring sportswriters an outlet for their opinions, so that everyone's voice can be heard. In keeping with that philosophy, and just like each of the last 2 years, I have projected numbers for each of the 2008 MLB season's regulars, running them through the statistical blender to project standings. What follows will likely be wrong as much as it's right, but you never know, sometimes these things can surprise you -- like the Rays winning 82 games? -- and besides, it's all in good fun. Remember that when your team ends up with a sh*tty projection (or when I stupidly compare Carlos Beltran to Cristian Guzman).
Anyway, without further ado, I present my 2K8 AL picks. Enjoy the preview, and here's to many more years of success here at ArmchairGM!
American League
Projected Standings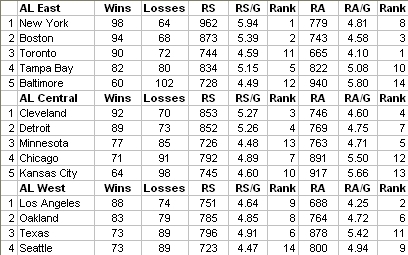 AL East
Projected Record: 98-64
962 Runs Scored (5.94 per game, 1st)
779 Runs Allowed (4.81 per game, 8th)
Team MVP: Alex Rodriguez

Analysis: After a tumultuous 2007, the good news for the New York Yankees is that the team should be better (if not more stable) on the field in 2008. The offense is going to remain the best in baseball, and getting A-Rod back was just huge for them -- without him, they're struggling to hold off Toronto for 2nd in the East, but with him they're right back among the AL powerhouses. As it stands now, the Yankees' only weakness is their young pitching staff... which happens to be loaded with potential. In other words, the triumvirate of Phil Hughes, Joba Chamberlain, and Ian Kennedy should help some combination of veterans Chien-Ming Wang, Andy Pettitte, and Mike Mussina to form a much-improved rotation in 2K8. The bullpen is more troubling, though; after Mariano Rivera, there are precious few viable options, meaning they're probably going to need to acquire help at some point during the season. Still, if the pitchers can muster even an average performance, New York will challenge the World Champs for AL East supremacy. Just don't ask me what to expect from this group once they get to the playoffs...
Upside: 99 wins
Downside: 89 wins
Projected Record: 94-68
873 Runs Scored (5.39 per game, 2nd)
743 Runs Allowed (4.58 per game, 3rd)
Team MVPs: David Ortiz & Josh Beckett

Analysis: Despite these projections, Boston's a much safer bet to put up a great season than their division archrivals to the south. Why? Balance. The Sox not only boast a top-notch offense -- led by standbys David Ortiz & Manny Ramirez, young guns Jacoby Ellsbury & Dustin Pedroia, and bounce-back candidates J.D. Drew & Julio Lugo -- but also a standout pitching staff which allowed the fewest runs in the league a year ago. Now, without Curt Schilling, Clay Buchholz will have to step up for the rotation... so it's a good thing that he's the best pitching prospect in the game and has already thrown an MLB no-hitter. And you gotta think Daisuke Matsuzaka will be better in Year 2 of his Boston career, which means this rotation could potentially be even better in '08. Meanwhile, the bullpen is led by the game's best closer, and boasts plenty of quality arms behind him, many of whom still have their best years ahead of them. So while the Yankees' monster offense gives them the potential to jump in front of the Sox if their pitching improves, the defending Champs are a steadier and more well-rounded team because they can win with pitching or hitting.
Upside: 104 wins
Downside: 92 wins
Projected Record: 90-72
744 Runs Scored (4.59 per game, 11th)
665 Runs Allowed (4.10 per game, 1st)
Team MVP: Roy Halladay


Analysis: Toronto has now officially made themselves over, transforming from an offensive team with marginal pitching to a club which relies heavily on pitching and defense because it struggles to score runs. Will this new formula work for them in one of baseball's most crowded divisions? Well, on the plus side, their pitching + defense combo is probably the best in the game, especially if Boston's staff regresses to the mean. So if they post the best RA/G in the league (which they should definitely be close to), GM J.P. Ricciardi will have reached his goal and the team should be pretty competitive, even in the East. Exactly how competitive, though, will depend on how many runs they can squeeze out of a weak lineup which, aside from Alex Rios, is overflowing with question marks: Frank Thomas is really old, Scott Rolen is washed up, you never know what you'll get out of Vernon Wells, and the rest range from mediocre (Adam Lind, Lyle Overbay) to downright awful (David Eckstein). Their pitching/defense should bring them up over .500 and could take them as high as 90 wins, but this punchless offense will eventually prove Toronto's Achilles' heel in 2008.
Upside: 91 wins
Downside: 84 wins
4.

Tampa Bay Rays
Projected Record: 82-80
834 Runs Scored (5.15 per game, 5th)
822 Runs Allowed (5.08 per game, 10th)
Team MVP: Scott Kazmir

Analysis: Don't look now, but after a decade as the AL East's whipping boy (the franchise has never won more than 70 games in a season), the Tampa Bay "don't call me Devil" Rays are suddenly an up-and-coming collection of young talent. No, seriously. They have a solid lineup that ought to be among the top 5 or so AL teams in runs scored (Carlos Pena, Carl Crawford, B.J. Upton... not bad at all), with plenty of high-ceiling kids like Evan Longoria and Reid Brignac in the mix as well (meaning this offense could be a force for years to come). Of course, scoring hasn't been Tampa's problem recently -- the prevention of runs has been the hard part, whether because of an awful pitching staff or a leaky D that ranked among the worst of all time. The good news is that they'll probably be better on that front in '08, as long as Scott Kazmir, James Shields, and Matt Garza stay injury-free and start living up to their potential. Also, if new closer Troy Percival can stay healthy/not suck after his spotty injury record of late (hey, he did have a 1.80 ERA in 40 innings last year), the Rays might improve on what was a terrible bullpen a year ago. Of course, the fielding isn't likely to improve significantly this year (beyond the standard progression to the mean you'd expect after such an awful showing), but improved pitching and a talent-laden young lineup could be just what the Rays need to break the mythical 70-win barrier -- and maybe even make a run at .500.
Upside: 84 wins
Downside: 71 wins
Projected Record: 60-102
728 Runs Scored (4.49 per game, 12th)
940 Runs Allowed (5.80 per game, 14th)
Team MVP: Nick Markakis


Analysis: What a mess -- in the short run, at least. Just two years after hanging around in the tough AL East until mid-July, the Orioles are going to hit rock bottom record-wise in 2008, as it will take several seasons for their recent rebuilding moves to have a chance to pay off. A brief plot summary of the O's offseason is in order: They just traded away their best pitcher by far, Erik Bedard, and while they pulled in a good haul of prospects (headlined by OF Adam Jones), their effects won't be felt for a few years. Meanwhile, they have very few other pitchers of any worth, and their bullpen is a disaster (newcomer George Sherrill will help a bit, but still). The offense also saw perhaps its best player depart when SS Miguel Tejada was dealt to Houston for OF Luke Scott, homer-prone LHP Troy Patton, and a handful of role players. Considering they were already struggling to score runs and keep them off the board before these moves, you can imagine how difficult things are going to get for Baltimore in the short term; while I think 60 wins is a bit low, it would be very hard to see them putting up more than 65 in '08. Still, it's good news for Baltimore in the long run, because it means the franchise is finally doing the tear-down job it should have done 10 years ago. Sometimes you have to take on short-term losses for long-term gains; the fact that Peter Angelos and Co. might finally be realizing this can only be a good sign for the Orioles and their fans.
Upside: 67 wins
Downside: 60 wins
AL Central
Projected Record: 92-70
853 Runs Scored (5.27 per game, 3rd)
746 Runs Allowed (4.60 per game, 4th)
Team MVPs: Grady Sizemore & Fausto Carmona


Analysis: After a season which ended with disappointment -- no offense to the Colorado Rockies, but a blown 3-1 lead against the Red Sox in the ALCS probably cost Cleveland a World Series championship -- the Indians decided to stay the proverbial course this winter, neither adding nor losing anyone of note over the offseason. On the other hand, the Detroit Tigers (their closest division rivals) were the talk of baseball over the winter, adding Miguel Cabrera, Dontrelle Willis, & Edgar Renteria to their already-talented roster. Since only 8 games separated the two clubs in 2007, it certainly seems like the Tigers have improved to the point where they're at least even with the Indians in the AL Central race... But even considering Detroit's acquisitions, you still gotta call Cleveland the favorite for their balance (they'll be in the AL's top 5 both offensively and defensively this year), and a dominating 1-2 pitching punch that few (if any) teams can match. That combination, of course, consists of reigning Cy Young Award winner C.C. Sabathia and 24-year-old phenom Fausto Carmona, and it alone would give Cleveland one of the game's best rotations (the LAIMs behind them don't hurt, either). The bullpen is not quite as dominant, with incumbent closer Joe "5.07 ERA" Borowski just a handful of blown saves away from assignment with the Buffalo Bisons, but they manage to get the job done nonetheless. The lineup is largely unchanged from last year, but will probably be more effective simply by virtue of Pronk's bounce-back and the continued development of Grady Sizemore into a superstar. All in all, there's still a lot to like here -- enough to give them the tentative nod going into 2008 despite Detroit's splashy offseason moves.
Upside: 94 wins
Downside: 86 wins
Projected Record: 89-73
852 Runs Scored (5.26 per game, 4th)
769 Runs Allowed (4.75 per game, 7th)
Team MVP: Miguel Cabrera


Analysis: It's amazing how far the Tigers have come since their 119-loss disaster in 2003. In just four short seasons they've almost completely erased the memories of that dismal year, replacing them with a World Series berth in 2006, an 88-win 2007 that saw them contend for the Central until late August, and now an eventful 07-08 offseason in which they picked up 2 of the game's biggest trade-bait prizes (in the non-Johan Santana division, that is). Of course, none of Detroit's flashy winter deals will mean a thing if they don't produce results in October -- and as it stands now, Detroit is still a nose behind Cleveland in the AL Central race. With newcomer Miguel Cabrera in the lineup this offense should have no trouble putting runs on the board (barring injuries), but the jury is still out on the Tigers' pitching corps, a group which ranked just 9th in the league a year ago. Prize pickup Dontrelle Willis is a talent, to be sure, but he also posted a 5.17 ERA last year and has been a burnout candidate for years; meanwhile, the rest of the staff is either old (Kenny Rogers) or inconsistent (Jeremy Bonderman, plus the entire bullpen). And then there's the matter of replacing one of baseball's best hot-corner glovemen (Brandon Inge) with one of its worst (Cabrera)... Detroit's offense may have surpassed Cleveland's, but their pitching + defense is still lagging well behind the Tribe's, and it's this disparity that could eventually end up costing the Tigers the AL Central, big-name additions or not.
Upside: 96 wins
Downside: 88 wins
Projected Record: 77-85
726 Runs Scored (4.48 per game, 13th)
763 Runs Allowed (4.71 per game, 5th)
Team MVP: Joe Mauer

Analysis: In many ways, the 2007 season marked the end of an era for the Minnesota Twins. Longtime GM Terry Ryan, who had put together the pieces of the Twins' 2001-2006 run on a shoestring budget by constantly finding cheap ways to win, announced his resignation with 2 weeks left in the team's 79-win season. Ace southpaw Johan Santana and CF defensive wiz Torii Hunter, the two on-field cornerstones of that run, also played their final games in a Twins uniform last September. So now Minnesota is left with a gaping hole in their defense and a decimated rotation -- innings eater Carlos Silva and top prospect Matt Garza also left the twin cities this winter -- that they will try to re-tool with the return of 2006 All-Star Francisco Liriano from a year lost to injury. Luckily he has a decent bullpen to back him up, led by star closer Joe Nathan, but the rest of the rotation is either young & inexperienced (Boof Bonser, Scott Baker, Kevin Slowey, etc.) or, well, Livan Hernandez. Besides, pitching isn't going to be the Twins' problem as much as hitting -- beyond the powerful pair of Joe Mauer and Justin Morneau, there are more question marks than answers in this lineup. Now maybe Delmon Young puts it all together, and maybe Mike Cuddyer repeats his 2006 performance at the plate... What's more likely, though, is that the Twins continue to struggle on offense, this time without the pitching staff to compensate. I don't doubt that Minnesota will eventually rebuild (and probably faster than most teams would), but as far as 2008 is concerned, they will be lucky to stay anywhere near .500.
Upside: 78 wins
Downside: 70 wins
Projected Record: 71-91
792 Runs Scored (4.89 per game, 7th)
891 Runs Allowed (5.50 per game, 12th)
Team MVP: Nick Swisher


Analysis: Another year, and it's the same old story for the Pale Hose, who are apparently still under the impression that they're contenders in the AL Central. But in case Kenny Williams, Ozzie Guillen, & Co. haven't noticed, we should point out that in reality they're an aging team coming off a disastrous 72-win season that most rational analysts saw coming a mile away. Their 2005 title run was certainly magical, but Williams is stubbornly clinging to the delusion that the ChiSox can make one last run with that core, and it just isn't going to happen. Now, Williams is no idiot, that's for sure, and it's only human nature to dwell on your successes and try to recapture past greatness; that's why he "rebuilt" Chicago on the fly this offseason, adding Nick Swisher, Orlando Cabrera, Scott Linebrink, Carlos Quentin, and Octavio Dotel under the belief that they would improve the team enough to contend again. But this team isn't merely a fixer-upper -- it needs a total tear-down. The offense, while legitimately improved over the winter, is still not even average, and there's little reason to think the pitching staff will be any better than their 12th-place showing a year ago. Meanwhile, the rest of this division has not only passed them by, but lapped them several times (LOL of the offseason: Williams' quote that the Cabrera + Willis trade will "help the Tigers compete with us"). So while Chicago's roster has changed a bit from '07 to '08, I expect the results to be no different this time around. The only question that remains is: will another 72-win season finally convince them to rebuild?
Upside: 77 wins
Downside: 70 wins
Projected Record: 64-98
745 Runs Scored (4.60 per game, 10th)
917 Runs Allowed (5.66 per game, 13th)
Team MVP: Billy Butler


Analysis: You might not know it to look at their record, but Royals GM Dayton Moore is slowly but surely changing the culture in Kansas City. No longer is this perennially sad-sack franchise weighed down with nothing but AAAA types and useless veteran stopgaps -- but rather theirs is a roster teeming with (dare I say!) young talents like Alex Gordon, Billy Butler, Zack Greinke, and Joakim Soria. That's not to say that KC should be planning their World Series parade anytime soon (let's face it, the rest of the roster is fairly unremarkable), but what's important is that there are finally signs of life for a moribund franchise that has finished .500 or better just 3 times in the last 18 years. Under Moore, the process of running the Royals has changed dramatically for the better, which means the results will follow suit someday as well. Whether or not the Royals' eventual breakthrough comes under new manager Trey Hillman remains to be seen, but given the current crop of youngsters (and their successors, the players whom the keen-eyed Moore will select in the draft over the next 5 years), it definitely feels like it won't be long before the Royals break out of the doldrums and finally give their long-suffering fans something to cheer about.
Upside: 73 wins
Downside: 64 wins
AL West
1.

Los Angeles Angels de Los Angeles
Projected Record: 88-74
751 Runs Scored (4.64 per game, 9th)
688 Runs Allowed (4.25 per game, 2nd)
Team MVP: Vladimir Guerrero


Analysis: Ladies and gentlemen, your 2008 AL West Division Champions... by default! The Halos added two solid pieces over the offseason in CF Torii Hunter and RHP Jon Garland, but it's not like they needed any extra help to get over the hump in this division -- longtime foil Oakland slipped last year and is entering a rebuilding phase, Seattle is about to feel the full wrath of the Johnson Effect, and the Rangers are years away from their deep farm system paying MLB dividends. So when it comes to the Angels, it's all about whether they can find the answers to their questions by the time they get to the playoffs: Do they have enough offensive firepower to match the likes of Boston, New York, Detroit, and Cleveland? Can top relievers Francisco Rodriguez and Scot Shields bounce back from their 2nd-half declines a year ago, or have they burned out from overuse? Will SS Erick Aybar be able to step up and replace the departed Orlando Cabrera? And how long before the years of wear and tear finally catch up to OFs Vladimir Guerrero and Garret Anderson? Whatever happens, Los Angeles will still cruise to the West crown -- but how far they go once they get there will depend on whether or not the answers are made apparent before October rolls around.
Upside: 91 wins
Downside: 86 wins
Projected Record: 83-79
785 Runs Scored (4.85 per game, 8th)
764 Runs Allowed (4.72 per game, 6th)
Team MVP: Joe Blanton

Analysis: After everything that has transpired since Michael Lewis' infamous book hit the shelves, what if it turns out that the typical Moneyball season gives you results more like 2007 than 1999-06? That's certainly the fear in Oakland, where a year ago there was a distinct lack of either Barry Zito, Mark Mulder, or Tim Hudson for the first time since 1998, and the A's finished under .500 for the first time since... you guessed it, 1998. Now, I'm not saying that the erstwhile Big Three were the only reasons for Oakland's low-budget success story under Billy Beane; the man is still one of the sharpest GMs in the game, and like all the great execs he has an uncanny knack for getting rid of players precisely before their careers go downhill... But even the most ardent Beane-worshipper would have to admit that having 3 of the game's top pitchers made it awfully easy to draft 5 years' worth of low-ceiling college players and still field a competitive team in a weak division. Now facing life without any superstars, at least partially because of poor drafting (although in all fairness, injuries have hit Oakland pretty hard as well), the A's have to hope a half-decent pitching staff and defense can carry another underwhelming offense until Beane's recent rebuilding moves start to pay dividends. There are worse positions to be in, of course, but in the cold light of morning one has to concede that much of what we hailed Beane as a genius for in 2002 was in fact attributable to a once-in-a-lifetime (read: lucky) haul of pitchers in the 1997, 1998, and 1999 drafts.
Upside: 84 wins
Downside: 75 wins
Projected Record: 73-89
723 Runs Scored (4.47 per game, 14th)
800 Runs Allowed (4.94 per game, 9th)
Team MVP: Erik Bedard


Analysis:
Hey, Seattle. 6th-century BC Ionian Greek mathematician/philosopher Pythagoras here. How you doin'? Yeah? That's great. So, uh... well, I'm just going to get to the point here. You remember that whole "you have to score more runs than the other team to win a baseball game" thing? You do? Terrific. That'll make this so much easier. Anyway, it has recently come to my attention that you guys won 88 games last year (and congrats for that, really) while scoring 794 runs and allowing 813. Yeah, I know, that's fantastic and everything, but it means the other team scored 19 more runs than you did. And remember what I said about needing to outscore the opponent to win? Well, it turns out that teams which get outscored by 19 tend to win 79-ish games in a 162-game season, not 88. Mmm-hmm, it's sad. And because of this little glitch in accounting, I'm afraid the best you guys can hope for this year is to play like the 79-win team you really were a year ago. If fact, you're probably going to be a bit worse than that, because you're kinda old, and your offense is going to fall off a cliff, and -- Hey! There's no reason to take that tone, this is difficult for both of us. You think I like being the bearer of bad news? I didn't have to come in to work today; I could be kicking it with my eponymous secret religious society right now instead of -- ahem. I believe I've said too much. Anyway, sorry about the news. I just thought you should hear it from me, a guy Herodotus called "the most able philosopher among the Greeks," and not some hack like Heraclitus. Mmkay? Cool. Welp, I'm gonna go now, this golden thigh isn't going to polish itself. You have a good one, Seattle!
Upside: 79 wins
Downside: 73 wins
Projected Record: 73-89
796 Runs Scored (4.91 per game, 6th)
878 Runs Allowed (5.42 per game, 11th)
Team MVP: Michael Young (pretty much by default)


Analysis: Honestly, I should just copy and paste my Rangers preview from each of the past two years in this space, because nothing has changed for this franchise in ages. In a nutshell, the following describes the Rangers just about every season: They can hit. They have a half-decent bullpen. Their rotation is a catastrophe. And they can't field. What was true of Texas a decade ago is still true today, and you can't even blame the park anymore for their total inability to build a pitching staff (Arlington was actually neutral last year). Having made the playoffs just three times in their 47-year history, the Rangers are simply the model franchise when it comes to terrible front office decision-making and ownership groups with motives other than winning. Since Doug Melvin left town in 2001 (having led the team to their only 3 playoff appearances), it's been business as usual for Texas: As GM from 2002-2005, John Hart showed none of the acumen he had displayed when building the Indians into a contender in the 1990s. His successor, Jon Daniels, has been almost as bad on the trade front -- the rest of MLB is littered with quality players who have passed through Texas at some point over the past 3+ years, often departing with little in the way of compensation. However, there is one bright spot to his tenure: Daniels has taken Texas' farm system, decimated under Hart, and rebuilt it into one of the best in the game. Of course, that's of little help in the short term, so don't expect anything out of the ordinary from the Rangers in '08. Someday this franchise may break the endless cycle of all-hit/no-pitch teams and terrible personnel decisions, but I wouldn't count on that day coming anytime soon.
Upside: 78 wins
Downside: 73 wins
Playoffs