ACC Tournament Recap:
This is a little late, since the field of 65 has already been set, and my bracket is filled out, but here is a recap of the 2008 ACC Men's Basketball Tournament. Which was won by the #1 overall UNC Tar Heels, just like expected.
Round 1 (Thursday March 13th):
9 Florida St. over 8 Wake Forest 70-60
Jason Rich led FSU to a 10-point victory with 21 points (17 in 2nd half), and shooting just under 50% from the floor (9-22). The Demon Deacons of Wake Forest shot just 41% from the free throw line, and 42% from the floor. Wake Forest wasn't able to help themselves, and the Seminoles ran away with this one.
5 Miami (FL.) over 12 North Carolina St. 63-50
The 22-9 Miami Hurricanes just flat-out out-shot, outrebounding, and outscored the NC State Wolfpack. NC State's starting 5 combined for just 13 points!!! Good thing that F/C JJ Hickson scored 27 off the bench, and grabbed 14 boards, or this game could've gotten U-G-L-Y. What really helped Miami is their 86.7 FT% (26-30). Miami moves on, NC State goes home.
11 Boston College over 6 Maryland 71-68
If your a Marylander, like me, you're not surprised by this at all. Maryland has not done anything good since beating #1 UNC on January 19th (82-80). Maryland's top forward, Bambale Osby went for just 5 points, adding 8 boards to that. BC had great support from their bench as well, getting 32 points, 19 rebounds, and 7 assists. MD got just 13 points, 4 rebounds, and 2 assists from their bench. A weak starting 5, AND bench is never gonna win you any games, obviously.
7 Georgia Tech over 10 Virginia 94-76
Georgia Tech had 5 players in double-digits in points (3 starters, 2 players from bench). Georgia Tech attacked the basket, and it seems to have paid off, as they put up 94 points against the 15-15 Cavaliers. Though both these teams missed the Tourney.
Round 2 (Friday March 14th):
1 North Carolina over 9 Florida St. 82-70
Tyler Hansbrough, who's gonna get his #50 retired by UNC, led the way for the Tar Heels, scoring 22 points, with 6 rebounds, and an 80% from the free throw line. Again, FSU's Jason Rich had a big game, but his 23 points were not enough for the red-hot 'Heels. FSU's tournament run ends with a 12-point loss to the top-seeded Tar Heels.
4 Virginia Tech over 5 Miami (FL.) 63-49
VT blewout the 'Canes, winning by 14 points. The Hokies were more well-rounded in this game, with 4 of their 5 starters in double-digits, and racking up 47 rebounds as a team, compared to Miami's 22. I'm pretty surprised they only lost by 14 points. I didn't even mention that two starters for VT had double-doubles. Guard-F Deron Washington had 14 points, and 12 boards, while F Jeff Allen had 10 points, and 10 boards.
3 Clemson over 11 Boston College 82-48
This game was an absolute blowout, as well. Number 3 Clemson won by an astounding 34 points, the bench of the Clemson Tigers were the key thing here, scoring 34 points, which proved to be the big picture in this game. Clemson took a 17-point lead at the half, and never once looked back, as they rolled into the Semifinals.
2 Duke over 7 Georgia Tech 82-70
The number 9 team in the nation, the Duke Blue Devils, was hungry for an ACC Championship, as they showed in their 12-point win over the 15-17 Yellow Jackets on Friday. Five Blue Devils were in double-digits, one of those guys coming off the bench, and G DeMarcus Nelson was just one rebound shy of a double-double. Duke rolls on, and has to face-off with the number 3 Clemson Tigers in the semis.
Semifinals (Saturday March 15th):
1 North Carolina over 4 Virginia Tech 68-66
Virginia Tech was in this game all the way through, but the clutch "Psycho T" hit the game-winner with 0.8 seconds left in the game. The game was knotted up at 38 at the half, and UNC outscored VT by 2 points in the second half (30-28), all because of Hansbrough's GW shot. Hansbrough went for 26, and 9 rebounds, as the 'Heels improved to 31-2, and advanced to the finals.
3 Clemson over 2 Duke 78-74
Duke's Junior Guard, Greg Paulus, led the Blue Devils with 17, but Clemson was on a roll, and upset the number 2 seed. Four of the Tigers' starters went for double-digits, and Clemson held off the hungry Blue Devils for a 3/2 upset, and a chance at their first-ever ACC Championship.
Finals (Sunday March 16th):
1 North Carolina over 3 Clemson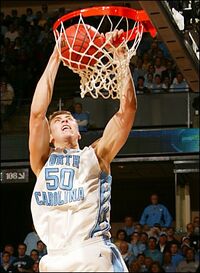 UNC proved they deserve to be a number 1 seed in the tournament bracket, by finishing off their ACC tournament run with a win over the 3 seeded Clemson Tigers. Sophomore Guard, Wayne Ellington, led the way for the 'Heels this time, going for 24 points, and 4 rebounds. Hansbrough helped the cause by going for a double-double, with 18 points, and 11 rebounds. Clemson's Junior G-F, K.C. Rivers' 28 points, and 8 rebounds weren't enough, and UNC once again takes the ACC Championship.
Most outstanding Player: Tyler Hansbrough, UNC, F
NCAA March Madness Seedings:
UNC is the #1 seed in the East Region of the March Madness Tourney.
Duke is the #2 seed in the West Region of the March Madness Tourney.
Clemson is the #5 seed in the Midwest Region of the March Madness Tourney.
Miami (FL.) is the #7 seed in the South Region of the March Madness Tourney.
Virginia Tech narrowly missed the Tourney this year.
Community content is available under
CC-BY-SA
unless otherwise noted.