Intro:
Welcome to Manny Stiles Daily Weekday Column:
"Sportsune Cookie" - Stiles is... busy, please leave your message at the beep...
No Manny? Fear not, Apostrophe is here to save the day!
Warning: If you have a dire hatred for the Tampa Bay Rays or Philadelphia Flyers, shield your eyes while reading...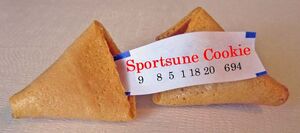 Sportsune Cookie
It's not Stiles, but still one-third of half as good
At the beginning of the 2008 MLB season, I jumped on the Tampa Bay Rays bandwagon. Mostly the reasoning was because I am a fan of how the franchise is attempting to be a "model franchise" by doing everything the "right way" and in good faith. Also, my eyes were opened to their growing talents. So I made a visit to the Grapefruit League and Major League Baseball's Spring Training. Today, here I stand a fan of the Tampa Bay Rays...
I did some research a little while back about why people become fans of certain teams. Many conclusions could be reached using the information and introspect revealed by the questions. Over two-hundred answers later, here is my interpretation of the results to the question "Why are you a fan of the team(s) you root for?"
I learned to love them - Of the three biggest reasons for becoming a fan of a team, this one is the smallest. The explanation to this is simple, people develop a familiarity, a passion, and a connection to a certain team. It may be as a result to the local coverage, the style of play of a certain team, or an inexplicable "love at first sight" feeling. There are many ways a person goes about becoming a fan this way, but in most cases a fan who "learned to love a team" is a former fan of another team...
Family - The second of the BIG THREE reasons people chose to be a fan of a certain team is their family. Growing up, most youngsters have a family member they look up to for guidance. So while they see the people they know and love root for a team, they learn to love that same team. Sports are amazing because they can bring families together. In some families, NOTHING brings everyone together like a major sports story...
Homeland - Location and Location. The home-town team. A rallying point for a city. Representing your home-city. Most people who are raised in a certain region develop a love for the local teams. They flock with others around them, all joining in unison, rooting for the home town bias. With everyone around someone rooting for the same team, it tends to rub off on those around them.
All these three reasons seem to be interchangeable; people learn to love the teams around them, people are raised to love the same teams as their families, and people root for their home-town team because a fan-base becomes a family. What does this all mean? Simple, whatever your reasoning, ROOT FOR THE TEAM YOU LOVE, it doesn't matter why...
Pre-emptive Maneuvers
Bad News Bloggers - This is shameless self-promotion, but it's also a necessary promotion. A few users from Thee Chair are working on a side-project. The Bad News Bloggers kicked off production Thursday, June 26th. There is new material every day, so check us out often...
Junior Clemens - Tripping back in time a tad bit. The whole Clemens vs. McNamee scandal brought some strange things to the table. One of the unusual stories included was that Roger had Brian inject his wife with the stuff. Anybody bother to question his son Koby? That's right, the younger Clemens is a professional baseball player of his own right. Any chance this Minor League slugger is in the loop? The reason no questions have been brought up is because Koby is struggling in High-A ball. If he was on the drugs, they haven't helped. Raised an interesting point and shot it down just as quickly...
HGH - This topic has been visited once before on the chair, but this is everyone's reminder! When we find out that there are players using HGH in basketball, I'll be saying "I told you so!" These guys need to build muscle, the product helps players heal from injuries quicker, and nobody is to say that it doesn't help a player jump higher. Yes, flexibility is more important, but when players are playing year-round ball at such high-levels they need a little something extra to stay healthy. Go ahead and tell me I am wrong because I have no proof or you think I am stupid. Go ahead and do it now because one day the truth will come out. That is the day I get to tell the world, "I TOLD YOU SO!!!"
Post-emptive Maneuvers
Fantasy Baseball - This is a shout-out to all the users who believed at the beginning of this season that they were a "fantasy baseball expert." Good job backing up your talk with a good showing in the standings. I wonder who is in second place...
Desert Ice - It's been twelve years since the Winnipeg Jets relocated to the United States Sun Belt. Thus far... nothing. Five first-round knock-outs in the playoffs, one missed season due to the lockout, and six long years without playoff hockey. The Cyotes may be having problems skating every time their hockey rink turns into a pool. The good news is Winnipeg misses you...
No-No!!! - Andy Hawkins arguably threw the best game of his career when he no-hit the Chicago White Sox back in 1990. Too bad Jesse Barfield, Jim Leyritz, and Steve Sax all forgot how to catch the ball in the eight inning. The Yankees lost the game and Hawkins picked up the loss despite giving keeping the White Sox to having a zero in the hit column. This is relevant because a few days back, this type of occurrence happened for the fifth time in baseball history...
Kids make the BEST sports fans
A few months back, I'm over a friend's house. His girlfriend was hungry, so they ran to pick up something to eat. While they are out, I strut downstairs looking to watch the Flyers on the fifty inch flat screen television. I open the door to the decked out Philadelphia Sports room of pride, low-and-behold, his seven year old brother Zach has beaten me to the television. I sit down on the couch and hope he is watching something entertaining.
As the commercials come to an end, the Flyers game pops onto the screen. Here is little seven-year-old Zachariah, sitting cross-legged less than two feet away from the screen, glued to the hockey game. He sat there for the entire length of the game and I'm not sure if he ever even blinked...
As it turns out, Zach hadn't missed a second of action all season long. Impressive from this youngster. While other kids demand their "Drake and Josh" or "The Suite Life of Zack & Cody," Zach refuses to move his little-big head from the front of the television while the Orange and Black skate around. As it is understood, he saw just about every second of Flyers action this past season, even when nobody else was there to watch it with him. How many GROWN-UP fans can say that?
Fans Are Wrong... Again
What are we wrong about this time? How about the voting for this season's MLB All-Star game:
Ian Kinsler is losing to

Dustin Pedroia

in voting. Kinsler is batting .323 with 13 home runs, 50 RBI, 71 runs, and 20 stolen bases. Pedroia is batting .304, with 8 home runs, 37 RBI, 53 runs, and 9 stolen bases. Guess there are a few more Boston homers than we thought...
Adrian Gonzalez is getting no love. He is tied for third in the Majors with 21 home runs and tie for third in the majors with 67 RBI. Gonzalez isn't even in the top five in National League voting for the first place position. Explanation necessary...
This one is not totally by fault of the fans, but

Carlos Quentin

is not even in the top fifteen in outfield voting. He has 19 home runs, 61 RBI, and a .288 average on a first place Chicago team. Why isn't this totally the fans' fault? Quentin isn't even on the ballot!!! Better get those write-in votes going...
Catcher Joe Mauer is leading the All-Star voting in his category, rightfully so. Having a similar season, Dioner Navarro has less than a quarter of the votes Mauer has received. Joe has 3 home runs, 32 RBI, and a .321 average. Dioner is batting .317, 4 home runs, and 31 RBI...
What's the point? It's about time the fans are stripped of voting privileges...
* Statistics are retroactive to 6/30/08...
Ever Wonder?
You've never wondered? The world is probably better off that way...
WTMF Sports
Channel Manny Presents:
W.T.M.F. Sports with your guest-host, The Falcon...
Brought to you by Irish Potato Chips
"From meat and potatoes to meat and potato chips, we are changing the world"
Reporting on Tuesday, July 1st... The Falcon
02520 - Don't just sit on your butt this Fourth of July eating hot dogs and watching fireworks. Get out there and run your butt off! But first, our Butte Story...
Butte to Butte celebrates thirty-five years of Independence Day tradition...
The Adventures of ManRays
Today's "Ray of the Day" is James Shields...
Shields went 6 1/3 innings against a tough Red Sox team, allowing only two runs on five hits. James picked up his sixth win of the season, one that gave the Rays a game and a half lead in the American League East division...
Honorable Mention: Willy Aybar...
After all the drama between the Red Sox and Rays, including Jonathan Papelbon's words on how this feud is not over, Aybar was plunked by Justin Masterson. Willy stayed composed as he did nothing more than drop the bat and jog on down to first base. He didn't look at the mound and stare down Masterson, he didn't get into a war of words with any of the Boston players, and he didn't get aggravated. He took his base and revealed to the world that the Rays aren't just a young franchise, but a mature one too...
On Deck - Matt Garza is on the hill for game two of the series against the Boston Red Sox. The Rays will look to continue to widen the gap and add to their division lead in Tampa Bay...

Go Rays!
10
1- Drew Henson
2- Joe Mauer
3- Mike Moustakas
4- Josh Hamilton
5- Adrian Cardenas
6- Justin Upton
7- Jeff Allison
8- Scott Kazmir
9- Matt Harrington
10- Homer Bailey

A Picture is worth 1000 Pieces
After shattering his at bat during a Spring Training game this past March, Carlos Pena spent some time on the disabled list this season. He returned to the line-up last Friday. With a healthy Pena back in the line-up, the Rays offense is ready to show the world what it can really accomplish...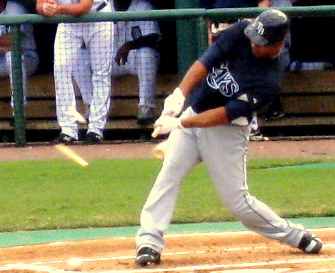 Answering the Questions
ATQ - Yesterday's top ten was... uh, Manny, a little help?
Stiles is quoted as saying "Yup Cheezer... We're officially "old bastards"!!!"
You guys may be getting old, but with age comes wisdom...
Everyone is getting older, every second of every day. Time never stops, so everyone is getting old...
Strike A Prose
A Haiku for you...
"The Rays are in first
Each single team now is worse
Then the Rays in first"
Notes From Apostrophe
Hey Flyers Fans, Trust Paul Holmgren! His moving of center R.J. Umberger is a questionable one to some (myself included) because R.J. is loaded with potential and started to break-out during the playoffs. He could be one of those guys you wish never left because he will be a force in the league for years to come. Meanwhile, Jeff Carter signed a long term contract (contrdicting early reports). Another young center loaded with potential. If he can just get everything to click, he will be unstoppable. One last note, top prospect Claude Giroux is gearing up for his NHL debut. The twenty year old is another offensive force that the Flyers are hoping will add another dimension to their third line. No matter what moves the Flyers make, the point is to trust Holmgren because he knows what he is doing. Plus, he has not given any reason to worry about the future of this young, talented roster...

Template:Sportsune Cookie Template