Intro:
Welcome to Manny Stiles ' Daily Weekday Column:
"Sportsune Cookie" – The violent brainstorm in a heavily polluted environment...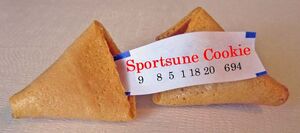 Sportsune Cookie
When life drives you crazy, take the keys away
There comes a time in every man's life when it becomes inevitable to say "Fack it!"
Sure, I'm going crazy. More than I had previously. But while adventure is someone's middle name, it's more of an addiction to me.
My days in Arizona are numbered and soon life's priorities will overshadow the thrill of stringing together contiguous words to explain multifarious visualizations of my voluminous passions - mainly sports.
Soon I will be moving on to a world where I'll be hustling like a schlep, working two jobs and learning new skills and honing my talents at other crafts and pursuits.
I'll never give up words, but I'm going to be forced into cutting WAY the hell back!!! Instead of 3,000 words a day, it might be 3,000 words every other week... we'll see. I only hope to have enough free time to be constantly fishing or eating fish otherwise.
My time in the desert has been a great joy after another and a terrible gutcheck of a hard earned lesson after another.
Ya gotta love life - if only because not loving it is such a waste of time! So I say "Fack it!" - I'm off to Michigan!
Let's have some fun while the getting is good to be gotten!!!
Arizona Fall League 2007- Let's see who likes coffee?
Here's a list of players who were on AFL rosters in 2007 that have seen MLB action in 2008 as of (6-25-2008).
Mesa Solar Sox
C J.R. Towles - Houston Astros - 13 games
OF Joe Mather - St. Louis Cardinals - 13 games
SS Jed Lowrie - Boston Red Sox - 17 games
P Mitchell Boggs - St. Louis Cardinals - 4 games
P Sean Gallagher - Chicago Cubs - 10 games
P Mitch Stetter - Milwaukee Brewers - 15 games
P Tim Dillard - Milwaukee Brewers - 8 games
P Craig Hansen - Boston Red Sox - 21 games
P Kyle McClellan - St. Louis Cardinals - 36 games

Peoria Javelinas
OF Kory Casto - Washington Nationals - 17 games
C Jeff Clement - Seattle Mariners - 21 games
P Garrett Mock - Washington Nationals - 2 games
P Charlie Morton - Atlanta Braves - 3 games
P Ross Ohlendorf - New York Yankees - 23 games

Peoria Saguaros
3B Blake DeWitt - Los Angeles Dodgers - 68 games
SS Chin-Lung Hu - Los Angeles Dodgers - 49 games
1B Jeff Larish - Detroit Tigers - 15 games
2B Mike Hollimon - Detroit Tigers - 4 games
OF Jai Miller - Florida Marlins - 1 game
P Ricky Nolasco - Florida Marlins - 16 games
P Burke Badenhop - Florida Marlins - 13 games
P Corey Wade - Los Angeles Dodgers - 22 games
P Eddie Bonine - Detroit Tigers - 2 games
P Wesley Wright - Houston Astros - 36 games

Phoenix Desert Dogs
OF Ryan Sweeney - Oakland A's - 57 games
OF Nyjer Morgan - Pittsburgh Pirates - 26 games
3B Matt Macri - Minnesota Twins - 14 games
OF Jeff Fiorentino - Baltimore Orioles - 2 games
P Fernando Hernandez Jr. - Chicago White Sox - 3 games
P Adam Russell - Chicago White Sox - 3 games
P Bob McCrory - Baltimore Orioles - 2 games
P Jim Johnson - Baltimore Orioles - 30 games
P Nick Blackburn - Minnesota Twins - 15 games

Scottsdale Scorpions
3B Evan Longoria - Tampa Bay Rays - 67 games
2B Eugenio Velez - San Francisco Giants - 41 games
1B Daniel Ortmeier - San Francisco Giants - 38 games
SS Manny Burriss - San Francisco Giants - 40 games
P David Purcey - Toronto Blue Jays - 2 games
P Greg Smith - Oakland A's - 15 games
P Max Scherzer - Arizona Diamondbacks - 10 games
P Carlos Muniz - New York Mets - 6 games
P Evan Meek - Pittsburgh Pirates - 9 games

Surprise Rafters
2B German Duran - Texas Rangers - 34 games
1B Michael Aubrey - Cleveland Indians - 9 games
2B Sean Rodriguez - Los Angeles Angels - 22 games
P Scott Feldman - Texas Rangers - 13 games
P Darren O'Day - Los Angeles Angels - 18 games
P Daniel Herrera - Cincinnati Reds - 2 games

Pre-emptive Maneuvers
The Newest Future begins Now - 2008 Number One overall draft pick Tim Beckham begins his professional debut as a DH for the Princeton Devil Rays (Yes, they are still "Devil Rays") vs. Burlington Royals in the Appalachian League.

Limp Wrist - David Ortiz says it could be a few more weeks before he's able return. How many more weeks is it until Spring Training?

Call Me Crazy - I can't help but think that Michael Beasley is a mutant cross between Hank Gathers and Derrick Coleman and I mean that in a good way. All three are lefties that could rebound at a high rate and extend the defense in college. All three were high scoring post players. All three had a knack for getting the ball. One never had a chance to reach his potential, another squandered his potential and here's hoping the other gives a whoop-dee-damn-do about reaching his potential.
Or else, my projection changes to "the new Billy Owens".

Miami Thrice - So who's it gonna be? Beasley or the two "secret workout" guys Mayo and Bayliss? Note to media - when you release it publicly, whether it was a secret or not (it most likely was INTENDED to be leaked anyway) - you can't call it "secret" any more...

Speaking of Beasley and Mayo - what about the guy who played in High School with Mayo and college with Beasley - Bill Walker?? Poor dude hurt his knee and got overshadowed by Mayo, goes to college - after getting duped by Bob Huggins then gets overshadowed by Beasley. To top it off, he got hurt working out for the Warriors. I hope SOMEBODY picks him because if anyone has something to prove, it's Bill Freekin' Walker. Good luck Bill... I'm only watching the draft until YOU get picked!!!

The pouty fly in the ointment - Why is anyone - including the Miami Heat surprised that Shawn Marion exercised his $17 million option?

Cough, cough... Look at that! cough, cough... - that Elijah Dukes guy seems to be putting together a little run of 'decent baseball' lately, isn't he? He entered the month batting .148 with no homers. For the month of June he's only batting .322 with all three of his HR and all but 2 of his RBI on the season. He raised his AVG 116 points in less than 25 days!!! Plus he has a HELL of a throw last night to gun down Garret Anderson at the plate AND scored the winning run. Maybe it's a trend?

Don't even try it - I know how Delmon Young is doing in Minnesota; no need to elaborate.

Out of curiosity - Let's say for some crazy reason, Gary Sheffield gets into the Hall of Fame - WHICH hat is HE going to wear in?

O'Neal, the "Rap" - If you don't know much about Bryan Colangelo as a GM, he's not done yet... Jermaine O'Neal for T.J. Ford, a sack of crap and a draft pick? Indiana must REALLY wanted rid of O'Neal. What a steal for the "Raps"... Got ya, didn't I?

Blackballed - Whether or not he gets blackballed from baseball (he will), Shawn Chacon beat up a guy that I'm sure my 103 Grandmom could kick his ass. Knocking down Ed Wade is not something you admit to publicly. I mean, WHAT kind of inadequacies must you be dealing with to beat up a guy that gets picked on by accountants? (If you're a tough accountant that's pissed at me for saying that and want to let me know how "tough" you are, e-mail me at mannystiles@aol.com)

What a Djoke - Dude, win some matches THEN talk smack on Roger Federer... 3rd seeded Novak Djokovic ousted HANDILY at Wimbledon just days after saying Federer was ready to be beaten and that his game was as weak as it has been in a long time. Looks like someone was talking about himself instead. Sure you lost to a guy who used to be good, but you still lost to a guy that USED to be good. Peace out, chump.

Speaking of Jokes - the local power company, SRP has a program where they plant ten trees for every run the Arizona Diamondbacks score. If the D-Backs keep sucking like this (and not help out the Rays), SRP is going to have to start digging trees up!
Man, the D-Backs suck as of late. I knew they were phonies, but I at least figured they could be competitive. They crapped their pants last year when the Red Sox came into town and now they're doing it again in Fenway.
I want to watch them beat the Red Sox, and I'm even a little bit wanting them to win, but they suck and it doesn't help me...
Namedropper
When I was still enrolled at Temple University, my Mom was a Union leader at her job and they had a conference down the road in Center City Philly. This was also during the same week the Atlantic-10 basketball was taking place at the Palestra. Well, UMass was in the tournament and just happened to be staying at the same hotel as my Mom. She got on the elevator and a few tall, young men got on the elevator with her. She recognized one of them right away.
She said "I know you" and pointed at the tallest guy.
He responded "You do?".
My Mom said "You're Marcus Camby and you guys are going to get beat by Temple!" and they all shared a laugh as the doors opened.
Of course, UMass won the A-10 tournament; beating Temple in the final for their second of four straight finals matchups - ALL wins by UMass over Temple.
Thanks, Mom.
Post-Emptive Maneuvers
"We can't wait for tragedy to happen" - words spoken about maple bats.
WHY is everyone in the media so knee jerk reactionary?
This is the same mentality that forces base coaches to wear helmets (despite the fact that the guy who got killed by a line drive died because he was hit in his carotid artery IN HIS NECK, where a batting helmet wouldn't have saved him anyway...

The people that jump on the "DO SOMETHING NOW!" bandwagon need to go back 2-3 days when they didn't even think about bats breaking and probably didn't even realize there was ash AND maple bats being used...
I hate the 'pile on', the 'do too much before the sky falls' scenario of thinking. Just examine the alternatives in depth, find a course of action, remedy the situation and move on ."BAN EVERYTHING" only creates more problems than it solves.
Make the bats have a minimum thickness on the handles.
Learn more, educate yourselves and stop thinking the answer to everything is to make the issue go away with complete ignorance. More can be learned by understanding than learned with avoidance.
The chances are still MUCH greater that someone will be killed by a ball (see: Mike Coolbaugh, Ray Chapman) than a bat (see: N/A), so get your closed-minded heads out of your wide open asses and TALK about the problem...
Ever wonder?
Why people compare getting hit by lightning to winning the lottery?
I think that of you took the total chances and weighed the odds, it's FAR easier to win the lottery than get struck by lightning.
Figure - for every storm, there is how many strikes? Of those how many hit a person?
There are far fewer lottery drawings, but how many times does the lottery take place before someone hits it?
Of course, I say this the day after 3 kids at a local park were struck by lightning and no one won Powerball...

But all I'm saying, there are THOUSANDS of lightning strikes every day around the world. There's no where near as many lottery drawings. Then again, how many people TRY to get hit by lightning?

I think it would be neat to meet a lottery winner that has been struck by lightning and ask them what they think about it...
WTMF Sports
Channel Manny Presents:
W.T.M.F. Sports with your host, Manny Stiles!
Brought to you by "Reeko"
The brand new pro-perspirant reodorant for men who don't sweat or stink enough
"Only Old Spice makes you sweat and stink more!!"
Reporting on Thursday, June 26th... Manny Stiles:
MS - Listen bitch, Maury said I am NOT the father, so back off! But first, our top story..."
Sam Cassell took second place. Thousands of bets were lost.
The Adventures of ManRays
Today's "Ray of the Day" is...
I want to make it "5th Inning" since the Rays exploded for 10 runs in the fith, but it goes to Carl Crawford - 2 HR, 5 RBI - dude is on fire as of late.
During his last 8 games - seven of them since returning from suspension - - he's on an 8 game hitting streak - he's 14-32 (.438 AVG), 1 2B, 1 3B, 3 HR and 10 RBI while raising his season AVG .020 points. But he's also had ZERO SB during that time... clearly the leg is still bothering him, but he's decided to take it out with the stick instead.
James Shields logged 5 K and needed just one more to tie Victor Zambrano for 2nd place on the all-time Franchise K leaderboard - behind the guy Zambrano was traded for, Mr. Met, Scott Kazmir.
Good things happen when your team walks NINE times while you issue ZERO walks.
Better things happen when you score 15 runs!!! Maybe this is a sign of the Rays bats heating up? It was the first time in 15 days that the Rays scored more than seven runs.

On the downside, Akinori Iwamura made his first error of the season - apparently I am to blame somehow.
Next game - vs. The Marlins in the Citrus Series capper. Former Fresno St bulldog Matt Garza takes the bump for the Rays.

Go Rays!
20
Since no one got the first 10 - which BTW, wrongly had John Stockton and I replaced him with a correct "Carlos Boozer" - I don't think that will help you, but here's 10 more from the same ilk as the first 10.
11 – Barry Bonds
12 - Frank Viola
13 - Manute Bol
14 - Michael Strahan
15 - Brett Favre
16 - Gilbert Arenas
17 - Chris Chelios
18 - Barry Larkin
19 - Claude Lemieux
20 – Dennis Rodman

A Picture is worth 1000 things to "Know"
Some people forget that before Michael Jordan REALLY became popular, there was Vincent Edward Jackson. Bo helped propel Nike from a basketball and running shoe company to a commercial tidal wave.
Bo was "the man", if but only for a short time...
Bo was also the guy that shunned the Tampa Bay Buccaneers and said "Screw you. You suck. Heisman or not, I'm playing baseball!" - just not in so many words. Bo has also been on a rampage suing anyone and everyone who has accused him of taking steroids. THAT is something that says to me "Bo doesn't know steroids". If he's actively suing, he might be the only guy in sports who truly was clean.
Bo knew what he was doing not signing with the Bucs... if he would have stuck to only baseball, he might have played a LOT longer. Sadly, we'll only have those lasting images of him running like a three-legged horse in a White Sox and Angels uniform to remember last...
Sadly, Bo was "servicable" but had his career ended by something other than injury - the dreaded strike of '94. Bo had a stolen base in his last game - August 10, 1994.
The kids of the late 70's had Farrah Fawcett posters, the kids of the late 80's had Bo:
http://www.posters57.com/images/categories/Bo-Jackson-The-Ball.jpg
Dr. Commento Answers the Questions
ATQ – Yesterday's 10 was not solved, so we continue with 11-20 of people who fill the same common thread as the first 10. A "second round" should be enough of a hint to give it away, for sure.
From Niteowl - "Longoria might be the Rookie of the Year in 2008.... I think (he) will start separating from the pack in the second half."
Manny's take - I think he started right after you posted that comment!!!
Strike a Prose
It's a battle of suffering
not merely survival
reciting lines from the play of life
without a recital
playing this game of pain
moving to be idle
who am I kidding
when I'm the answer to this riddle?


It's a "go get it" sport
we're all forced into playing
A race to die
we try to win by delaying
the inevitable demise
in the dirt we'll be laying
What's the damned hurry?
that's all that I'm saying.


The bad times, they suck
and the good times erode too fast
timeless moments unfold
but time always keeps passing
Pain slowly dissolves
but the scars? Oh, they last.
The mysterious journey comes clear then eludes
Isn't it fantastic?

Template:Sportsune Cookie Template