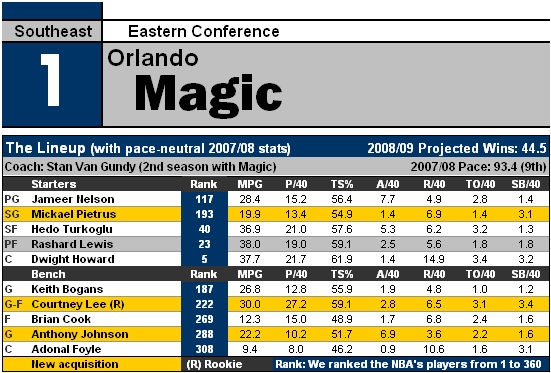 Burning Question: Was last year's 52-win campaign (and 2nd-round exit) the plateau for this group?
Point Guard: Because of his height (or lack thereof), Jameer Nelson has always had his doubters, those who weren't convinced he was good enough to be a starting PG at the NBA level. In fact, he didn't even enter last season as Orlando's clear-cut #1 at the point, with both Carlos Arroyo and Keyon Dooling expected to seriously challenge him for the job. But neither Arroyo and Dooling are on the Magic roster anymore, and that ought to tell you about the way Nelson handled himself last season in leading the team to its 3rd-highest win total in franchise history. No, Nelson isn't a big guard, but he's strong & quick -- making for a surprisingly solid defender -- and when his jumper is falling (as it was last year) he can be tough to stop on the pick-and-roll. Nelson's biggest failing remains his inability to take care of the ball, as he ranked 60th out of 78 qualified PGs in turnover ratio, but he did pass more willingly (31.1 assist ratio), and that's probably a tradeoff Orlando is willing to make. Veteran journeymen Anthony Johnson and Mike Wilks were brought in to replace Arroyo/Dooling as Nelson's backups. Johnson's an old hand who can run an offense and defend bigger PGs, and Wilks has the quickness to keep up with smaller assignments, but the Magic would be in real trouble if Nelson missed more than his customary 10 games next season.
Grade: C+
Shooting Guard: This is a position in upheaval for Orlando with Dooling & Maurice Evans gone, Mickael Pietrus & rookie Courtney Lee entering the picture, and incumbent starter Keith Bogans expected to see fewer minutes. Magic GM Otis Smith inked Pietrus to a 4-year deal based more on his potential than his track record, though at age 26 he still has time to improve. Pietrus was miscast as a scorer during Mike Montgomery's tenure in Golden State, but he flourished in a reduced offensive role under Don Nelson, culminating with last year's 111.2 ORtg. Pietrus has some ballhandling issues, so his transformation from a slasher into a catch-and-shoot guy was actually the right move (his increased efficiency was due in large part to a dramatic drop in turnover ratio). On defense, Pietrus has the tools to be very good but hasn't really put them to use yet; maybe moving from Nelson's 23rd-ranked defense to Van Gundy's 6th-best D will bring out the best in him. The majority of the minutes behind Pietrus will go to Bogans, who shared starting duties last season with the since-departed Evans. Like Pietrus, Bogans drastically slashed his turnovers a year ago by attacking the basket less frequently, resulting in what was easily the most efficient season of his career. The trouble is that Bogans' banner year was also fueled by an unrealistically high FG% on midrange jumpers, which means he's probably headed for an offensive decline in '09. Luckily for Bogans, teams aren't really paying him for his offense (beyond his ability to knock down 3s, which was decent last year -- he made 148 treys with a .363 3P%); he has a job mainly because he's a good defender who knows his role and stays within it. Which means that even with Pietrus around, Bogans will get his share of minutes as the backup. His competition, Courtney Lee, is old for a rookie (23) and spent 4 years at Western Kentucky -- so you know he's not expected to be a star -- but he can shoot the ball (.397 3P%) and had solid SB/40 numbers in college, suggesting that he's essentially a younger version of Bogans. His year-to-year improvement in college (to the point that he posted a 117 ORtg on 30.5 %Poss as a senior) was an encouraging sign as well, showing that even at 23 he might be capable of a bit more growth before peaking. Finally, there's J.J. Redick, who can still shoot the rock (56.9 TS%) but does little else... just like the scouts warned before he was drafted 11th overall in 2006. Despite the shooting efficiency, Redick hasn't really earned many minutes, partly due to back problems but mostly because Stan Van Gundy preaches D, and Redick is unathletic with poor defensive instincts. Going into the final guaranteed year of his contract, Redick will have to make major strides to stick around with Orlando. But in all honesty, it'd probably be best for him if he went to another club, one without so many other 3-point shooting options.
Grade: C+
Small Forward: Following an off year in 2006-07, Hedo Turkoglu returned to (and in many ways surpassed) his 05-06 form a year ago, setting a career high in P/40 en route to winning the league's Most Improved Player award. Some questioned how he would mesh with big-money signee Rashard Lewis since they play a similar style and the same position (until Tony Battie's injury shifted Lewis to the 4, that is), but instead Turkoglu was energized by the presence of another offensively-skilled 3-point threat, using his synergy with Lewis to post his best season ever. He shot .400 on 3s, and with defenses no longer able to collapse on his drives, he was a much better finisher inside than he had been in '07. It all added up to 111.1 ORtg on 25 %Poss -- borderline superstar offensive numbers. Despite the improvements, Turkoglu still commits too many turnovers, doesn't rebound enough, and is a poor defender, but Orlando can accept those flaws if he continues to score like he did in '08. Also seeing time at the 3 will be some combination of Brian Cook, Jeremy Richardson, Lee, and even Lewis or Redick. Cook was acquired from the Lakers in last year's Trevor Ariza trade and was expected to give the Magic yet another 3-point bomber, but he never managed to get untracked in Orlando, shooting a tepid .394 from the field with a weak 96.3 ORtg (though he did hit 39% of his 3s). Since shooting is Cook's only appreciable skill, he's going to have to bounce back to his Laker days of 110-ish ORtgs if he wants a bigger share of the minutes here, especially given Orlando's logjam at forward. Richardson, on the other hand, makes a living off the 10-day contract, having played for 4 teams in 2 NBA seasons while never suiting up for more than 19 games with any of them. He's been a big-time (if inefficient) scorer in the D-League, but odds are he doesn't stick here for much longer than he did in Atlanta, Portland, San Antonio, or Memphis. Finally, in a big lineup with Tony Battie at the 4, Lewis can play here and Turkoglu could theoretically slide to the 2, although Van Gundy will probably use that particular lineup sparingly if Pietrus proves to be the team's solution at SG.
Grade: B
Power Forward: When Battie went down with a torn rotator cuff before the season, Rashard Lewis left his natural small forward position and stepped in admirably at the 4, despite losing the size and strength matchup there virtually every night. Now that Battie is back, Lewis still figures to start at PF, but Van Gundy also has the option of playing him at the 3 when they want to go big. Lewis gives them that flexibility because of his versatility; while he prefers to play an outside game (one which most opposing 4s can't effectively defend against), he can also post up smaller defenders if necessary, by virtue of his 6'10" frame. But, oddly enough for a player shifting from the 3 to the 4, Lewis' game was more perimeter-oriented than ever -- his FTA/FGA rate was greatly reduced from '07 (from .313 to .229), and he took a greater % of his FGAs from the outside as well (from 38.5% to 48.7%). That was by design, of course -- Van Gundy's strategy was to surround Dwight Howard with shooters and let them fire away (32.1% of Orlando's FGAs were 3s, easily the best mark in the NBA); he also frequently exploited Lewis' ability to create mismatches against slower PFs away from the paint. The result was a lessened offensive burden for Lewis (he went from using 23% of Seattle's possessions to 20% in Orlando), but another season with an ORtg of 115+ (his 4th straight). Defensively, Lewis can be physically overpowered by stronger PFs and he doesn't give the greatest effort on the boards... but last year his defense was actually better than it had been in Seattle, and surprisingly the Magic were 2 points better per possession on D with Lewis in the game (although Dwight Howard probably had something to do with that). As was previously alluded to, Tony Battie missed all of last season but is back in Van Gundy's rotation down low. Battie is a big man who can theoretically still defend and rebound, but I can't imagine him being the player he was before the rotator cuff injury -- his athleticism was already on the wane, he's 2 years older, he hasn't played since the spring of 2007, etc. -- and that player was a limited one at best anyway. The sooner the Magic discover this, the sooner it could open up playing time for Dwayne Jones, who's basically what Battie used to be: a defense-and-rebounding type who isn't a big offensive factor but makes the most of what few chances he gets at that end (117.3 ORtg for Cleveland last year).
Grade: B-
Center: At age 22, Dwight Howard had a serious breakout season in 2007-08, setting career highs in virtually every per-minute category, winning the Slam Dunk Contest with his Superman routine, earning 1st-team All-NBA honors, and leading the Magic to the 2nd round of the playoffs for the first time since 1996. Howard is maybe the game's ultimate physical specimen, a freakish combination of size (6'11"), strength, and athleticism, making him a matchup nightmare for opposing big men. In the post, he overwhelms them more with raw power than technique, as he led the NBA in dunks and FTAs by a pretty sizable margin. He also led the league in rebound rate and got a lot of his scoring off putbacks from the offensive glass. As he improves his post-up fundamentals (including passing out of double-teams) and cuts down on his turnovers (many of which came on charges), Howard will only improve on last year's stellar 113.1/24.3 offensive line. On defense, Howard is improving from being a mere rebounds-and-blocks machine to a dominating, complete big man, having ranked 13th among centers in defensive APM last season. His size, athleticism, and improving D allowed Van Gundy and the Magic to install Lewis at PF and still rank 6th in defensive efficiency. But the scariest part about Howard's game is the fact that he's just 23 years old, and will only get better as he adds polish to his raw tools... Look for another MVP-type season in 2008-09. Backing up Howard at the 5 will be Marcin Gortat and Adonal Foyle. Gortat is the wild card; the 7-footer didn't play much last season and was wildly inconsistent when he did suit up, but he actually had his moments during the playoffs and figures to see a lot more playing time this season. Foyle is the steadier option -- he brings solid defense and rebounding to the Magic's frontline -- but he's not much of an offensive factor (12.8 usage rate in '08) and his efficiency slipped from 109.5 in '07 to 98.8 last year.
Grade: A
Outlook: After one of the most successful seasons in franchise history, the only question facing the Magic is: where do they go from here? Howard is only going to be more dominant as he matures, and that's a considerable source of upside for the Magic. The jury's still out on Pietrus, but he has the potential to be a valuable 2-way performer if he straightens out his consistency at the defensive end. And the Lewis/Turkoglu duo on the wings is certain to drill their share of 3-pointers in Van Gundy's offense. But is Orlando's current roster really capable of expanding on what the team accomplished last season? I mean, sure, the Magic compare favorably to the Sixers and Raptors of the world, but does anyone honestly think they can unseat the Celtics, Pistons, or even the Cavaliers and become an elite Eastern Conference team? There's something to be said for being the strongest of the East's many middle-class teams, of course, but at some point Orlando is going to have to put up a credible fight against one of the conference's big guns -- and I'm not sure they're any more prepared to do that in 2K9 than they were during last year's 5-game defeat at the hands of Detroit. Make no mistake, winning the Southeast will be a cakewalk for this team... but until they prove they can consistently tangle with the East's best, there's little reason to think that '09 will prove any more satisfying for Orlando than '08 was.
Burning Question: Doesn't bringing everyone back just mean more of the same for the Wiz?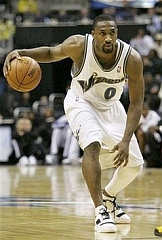 Point Guard: In spite of a knee injury that limited Gilbert Arenas to just 13 games last year (and will cause him to miss the first month of the 08-09 season as well), the Wizards re-signed Agent Zero to a 6-year, $111 million contract extension over the summer, making him one of the most well-compensated athletes in the NBA. When healthy, there's little doubt that Arenas is worth every penny: one of the game's top offensive talents, The Hibachi is capable of maintaining great efficiency numbers despite taking on huge workloads (witness his 115 ORtg on 31 %Poss in 2007). He's also not as bad a defender as he's made out to be, as Washington has been much better defensively with Arenas on the floor over the past two seasons. But unfortunately for the Wizards, Arenas' health is still a major concern. The torn ligament that sidelined him for most of '08 continues to plague him entering the 2008-09 season, and its status will basically determine whether history views Washington's big offseason investment as a stirring success or an infamous blunder. At least the Wiz have a decent fallback at the point in Antonio Daniels, who's entering his 4th season with the club. Daniels is a unique player in that he's exceptionally efficient on offense, but he isn't a big 3-point shooter (in volume or percentage); instead, he uses a nice midrange game and mixes in quick dribble-drives, where he's very adept at drawing fouls. It may not be flashy, but when packaged with Daniels' above-average defense, it makes for a very useful guard off the bench. However, Daniels will be 33 this season, and there were signs of deterioration in his game last year: his turnovers were up, his free throw rate was down, and he had his lowest TS% since 2002, despite taking on a career-low share of the offense when on the floor. If Daniels continues to decline, former Illinois star Dee Brown could get another NBA shot after spending 07-08 in Turkey. Brown was horrid as a rookie for Utah two years ago, but he has improved and even made the European All-Star game last season.
Grade: B+
Shooting Guard: At age 26, DeShawn Stevenson enjoyed the finest season of his NBA career last year, continuing his development into a pretty decent 3-point-shooting and defensive specialist. He definitely could stand to keep his mouth shut with regard to LeBron James (lest this happen again), but for the most part Stevenson has transformed himself from an inefficient wannabe scorer to a nice role player who does his job at both ends of the court. But like I said, he is a role player, so he probably needs to tone down the bravado a little bit. Behind Stevenson, Juan Dixon and Nick Young will battle for minutes. After a 3-year sojourn that took him to Portland, Toronto, and Detroit, Dixon is back in D.C. and ready to give the Wiz some (one-dimensional) scoring punch off the bench. Of course, to do so he'll have to be more efficient than he was last season, when he posted his lowest ORtg (95) since his rookie season. Dixon has always been a high-volume/low-efficiency type of player, but if you're going to play with that style, there's still a certain threshold of efficiency you have to meet to be valuable. From 2005-07, Dixon was above that threshold; last year, he was well below it. Having signed for only 1 year at the veteran's minimum, whether or not Dixon meets that standard this year will go a long way towards determining his NBA future. Young, on the other hand, is just starting his NBA career... but he's well on his way to becoming the new Dixon. Like his older teammate, he can create shots by the bucketfull, but his ORtg was a meager 98 because of rampant turnovers (he lost the rock on 18.4% of his possessions), shockingly few assists, and a below-average FG% (.439). Since both Dixon and Young are rail-thin guys who can't guard a soul, the battle for backup minutes here is really just going to come down to who can make more midrange jumpers -- the veteran or the youngster?
Grade: C-
Small Forward: Like Arenas, Caron Butler has All-Star-caliber talent, but there are questions regarding his ability to stay injury-free for an extended period of time. When healthy, Butler is an outstanding scorer and a terrific all-around player who's equally comfortable playing a secondary role (like he did in 06-07) or carrying Washington's offensive load, as he was forced to do last season when Arenas was absent. But Butler has missed 43 games due to injuries over the past two seasons, and his presence on the court is vital to Washington's chances of escaping the first round of the playoffs. Without their best two-way player for big chunks of the regular season, Washington continues to find unfavorable playoff seedings that leave them facing (and losing to) LeBron James & the Cleveland Cavaliers, a recurring nightmare of a matchup that you have to think wouldn't keep happening if Butler & Arenas played a full season together. Behind Butler are Dominic McGuire and Oleksiy Pecherov, a couple of 22-year-olds coming off of terrible rookie seasons. McGuire was particularly awful last year, ranking 68th out of 68 qualified SFs in P/40, TS% & turnover ratio, and 67th in usage rate; he was also the 6th-worst defensive SF in basketball by DAPM. He's athletic, so he can rebound and block shots pretty well, but it was really sad to see how overmatched he was at the NBA level last year. "Stewie" Pecherov wasn't quite as bad as McGuire during his rookie year, but a 45.1 TS%, a 93.1 ORtg, and a +9.0 raw defensive on/off aren't exactly numbers to be proud of. Whichever one develops quicker will get the nod, but I'm not optimistic that either one can become a legit NBA player.
Grade: B
Power Forward: The Wizards' other sizable offseason investment was to give Antawn Jamison a 4-year, $50 million extension, effectively keeping Washington's core "Big Three" together for the foreseeable future. Of the Arenas/Butler/Jamison trio, Jamison is easily the most dependable, having missed just 3.6 games per year on average since 2001. Jamison is also a great offensive player whose instincts and versatility make him difficult to shut down -- last year, he posted a 112.0 ORtg on 24.7 %Poss, and ranked in the top half of PFs in virtually every offensive category, including 6th in P/40 & 1st in turnover ratio. Defensively, Jamison has issues, but he was much better last season than in years past, and it showed up in the numbers: he posted a career-best Stl%, the Wizards' D was 3.3 efficiency points better with him in the game, he ranked 20th among PFs in rebound rate, and he ranked 15th in DAPM. He's still undersized and can be physically dominated down low, but he really has taken steps to become a better all-around player in recent seasons. Jamison's backups at the 4 will be Andray Blatche and rookie JaVale McGee, in that order. Blatche is already going into his 4th NBA season, but he's still just 22 and he's coming off a year in which his game made major strides. First, Blatche upped his ORtg from 97 to 103 while simultaneously taking on a bigger share of the offensive load, a sure sign of his growth as a player. He also continued to attack the basket more frequently, which resulted in more trips to the line. Defensively, Blatche set career highs in blocks and steals per opponent possession, and is learning to use his length better inside. He still needs to take better care of the ball on offense, and his defensive instincts need work, but it seems like Blatche is finally starting to cash in on his potential after a shaky start 3 years ago. McGee is another interesting player in terms of potential: he's a true 7-footer who put up 20.5 P/40 (on 53% shooting), 10.6 R/40, and 4.0 B/40 as a sophomore at Nevada -- so he's more than just your run-of-the-mill "project" big man. His all-around game obviously still needs a lot of improvement, and he probably won't get many NBA minutes in 2008-09, but he could eventually be a very solid low-post player for Washington in the future. Also, Darius Songaila could very well be right in the mix here at backup PF if Etan Thomas is his old self again.
Grade: B+
Center: After a pair of down seasons, Brendan Haywood found his game again last year, dramatically increasing his scoring rate while also shooting with more efficiency (58.2 TS%) and slicing his turnovers. A lot of Haywood's improvement came from a career-best performance on the offensive glass, which freed him up for easier scoring chances and gave him more opportunities from the line, where he shattered his previous career high by shooting 73.5%. On defense, Haywood cut down on his fouls while continuing to block a lot of shots, and his raw defensive on/off was a solid -1.5... but that just means he was the anchor of the 7th-worst defense in the league. By DAPM, Haywood was below-average, and he still doesn't bring the a very consistent level of effort to that end of the floor. With the return of Eddie Jordan favorite Etan Thomas, who spent all of last season recovering from open-heart surgery, Haywood will have to step up his intensity or he'll find himself in a timeshare at the 5 again. Of course, that assumes that Thomas will be back to his old self upon returning. When he was healthy in 2006-07, he was one of those high-efficiency energy big men that successful teams often employ off the bench: he wasn't much of a factor offensively, but he rebounded and blocked shots, and (more importantly) offered more resistance on defense than Haywood. Now he's 30 years old, coming off major surgery, and hasn't played in a year and a half, so it will be interesting to see how much of his previous form he can reclaim. Whatever happens with Thomas, Darius Songaila will also figure into the Wizards' rotation down low. Songaila's offensive efficiency can fluctuate wildly from year to year because of his jumper-reliant game, but the end result is always a below-average -- but above the replacement-level -- player who can help you space the floor and give you passable production off the bench.
Grade: C
Outlook: Okay, so Washington re-upped both Arenas and Jamison this summer, keeping intact the core that's averaged nearly 43 wins a season since 2004-05. Good for them. Trouble is, 43 wins isn't really that much, even by the East's standards, and it's not like they've had playoff success to augment it. Exactly what kind of return do the Wizards expect to get on their continued investment in this roster? Another early postseason exit against Cleveland? I mean, sure, when the Wizards are healthy, they can definitely score points -- they ranked 4th in offensive efficiency in 2006-07, when their big 3 were all relatively healthy... But how healthy will they be going forward? They're already going to miss at least a full month of Arenas, and you know the odds of Butler playing the full 82 are low. Besides, no matter how durable their offensive stars are, this Wizards team (as currently constructed) still won't go deep into the playoffs because their defense is so porous. With Jamison (a true 3) posing as an undersized 4, and the defensive intensity of Arenas and Haywood fluctuating on a nightly basis, it's no wonder Washington has escaped the bottom 8 in defensive efficiency just once since the core of this roster came together. Four consecutive playoff appearances are nice, but isn't the real point of playing this game to make a serious bid at a championship? By keeping the Arenas/Butler/Jamison triad together at least through 2011, the Wizards have certainly spent a lot of money to maintain the status quo. The question is, why would you do that when the status quo involves barely making the playoffs and then losing to the Cavaliers in the first round every year?
Burning Question: Will the addition of rookie Michael Beasley and full seasons from Dwyane Wade & Shawn Marion be enough to turn Miami around in 2008-09?
Point Guard: Other than when they briefly used Dwyane Wade at the point, this position has been a weakness for the Heat practically since Tim Hardaway retired. The Jason Williams experiment had potential, but he was constantly injured, and the team gave up on him this summer after his play slipped last season. Now they're turning to some combination of Marcus Banks, Chris Quinn, and rookie Mario Chalmers to help run an offense that ranked dead last in the NBA in 07-08. Banks came over from Phoenix in the Shaquille O'Neal-Shawn Marion trade, and he'll get the first shot at starting here since he has (by far) the most experience of any current Heat PG. Banks never really fit in with the Suns' style of play, but he played much better in 12 games after arriving in Miami, scoring 18.0 P/40 on a 63.1 TS%, to go along with an unexpectedly solid 25.5 assist ratio. If he plays like that this year, there's no way he loses the starting job, although I have my doubts that he can keep up that sky-high shooting %. Even so, Banks can still score and plays decent defense, though his turnover ratio is on the high side. If Banks falters, Quinn will get another chance to be Miami's solution at PG. He started 25 games for Miami last year and posted good efficiency numbers (112.7 ORtg, 55.9 TS%, 12.9 turnover ratio), but he didn't exactly put a lot of pressure on the defense with his playmaking, and his defense left a lot to be desired. That could leave the door open for Chalmers, a rookie who has already experienced plenty of highs (drilling a clutch game-tying 3 with 2.1 seconds left in the NCAA Championship Game) and lows (getting kicked out of the NBA's rookie orientation for a marijuana-related incident) this year. Chalmers is more a like a SG trapped in a PG's 6'1" frame (he wasn't the greatest distributor at Kansas), but the rest of his résumé indicates he'll eventually be a solid combo guard who shoots and defends well in the pros. In addition, ex-Clipper Shaun Livingston is trying to make his comeback in Miami. At age 21 in 06-07, Livingston was finally showing some promise for the Clips until his career was derailed by an horrific knee injury. It's hard to predict how well (or even if) he'll recover, but he still has that great size at PG, and before the injury he basically needed to do two things (add a consistent jumper, cut his turnovers) to become a good contributor. If he's taken the time off to make those improvements, he could still have a career; if not, his NBA days are probably over, since it's a good bet that his athleticism is shot now.
Grade: D+
Shooting Guard: If the Olympics served notice to the rest of the world that USA Basketball was back, then as a side effect they let the NBA know that Dwyane Wade's game had risen from the dead as well. Ever since leading the Heat to a stunning upset win in the 2006 NBA Finals, Wade has been plagued by one injury after another, presumably the byproducts of the aggressive, hard-driving style with which he plays the game. After he missed 31 games for the second straight season in 2007-08, many questioned whether or not the Dwyane Wade we saw torch Dallas in June 2006 would ever be back -- his game was predicated on explosiveness, after all, and that's precisely what chronic injuries rob you of. But then came the Beijing Games... Check out Wade's stat line from the Olympics:

Against the rest of the world, Wade was even better than he had been vs. the Mavs in '06, pacing Team USA in scoring and capping off the tournament with a 27-point outburst in the gold medal game against Spain. Vintage Wade was a force of nature, an unstoppable penetrator who gave you no choice but to foul when he got a step on you -- and judging from the Olympics, D-Wade as we knew him is definitely back. So with his explosiveness no longer in doubt, the only question facing Wade now is whether or not he'll be able to stay in the lineup all season... And while that's still a question very much up in the air, if you're an NBA fan, you have to be rooting for a healthy Wade after witnessing his performances this summer. The battle for minutes behind Wade will be between Dorell Wright & Daequan Cook, a pair of holdovers from last year's Heat squad. Wright is a solid midrange shooter who can't really create shots for himself off the dribble but can post good efficiency numbers (110.5 ORtg, 9.3 turnover ratio) when the jumper's falling and he doesn't try to do too much with the ball. Wright is also a good rebounder (10th among SFs in rebound rate) and defender by virtue of his 6'8" frame. Cook was billed as a talented (if streaky) outside shooter, but he had a rough rookie season in which he shot just .381 from the field and posted a mere 48.7 TS%. The good news is that Cook showed he could create plenty of shots without turning the ball over, so once he gets the shooting thing down he could be a pretty effective offensive player.
Grade: A-
Small Forward: Acquired from the Suns in the O'Neal trade, Shawn Marion arrived in Miami to find a Heat team in shambles -- Dwyane Wade was a shadow of his former self & would be permanently shut down less than a month later, while the rest of the roster resembled a glorified NBDL team. And in fact, Marion himself wouldn't last much longer than Wade, as injuries ended his year with a solid month left in the season. But in his 16 games with the Heat, Marion did manage to offer up some evidence that his big-time production in Phoenix was owed in no small part to the Suns' system and the stars around him, particularly Steve Nash. Before the trade, Marion's numbers were essentially the same as they had been the previous 3 seasons (high ORtg, moderate %Poss, small turnover rate, etc.)... But after landing in Miami, Marion was forced to take a much more assertive approach on offense, and the results weren't exactly pretty: his ORtg fell from 119.0 to 99.3, his TS% dropped from 59.4 to 50.3 (including a 9-point dip in 3-point %), and his turnover ratio ballooned from 8.4 to 15.5. That's not to say Marion was totally "made" by Phoenix's system; he still managed plenty of steals & blocks in Miami, and his rebounding numbers were actually better with the Heat. Also, to be fair, he never got a chance to develop a rapport with Wade -- so a full season playing alongside The Flash (and rookie Michael Beasley) should at least somewhat improve Marion's production. But the plain truth is that Marion was so efficient in Phoenix partly because he was assisted on 85% of his FGs, and when he was forced to create more offense for himself in Miami (only 69% of his FGs were assisted after the trade), he struggled. In other words, Miami still has a nice player on their hands, but probably not as nice as the one they thought they were getting when they made the trade. Meanwhile, 3-point ace James Jones was signed over the summer to be Marion's backup. Strictly a catch-and-shoot guy, Jones doesn't create a lot of offense for himself, but his ORtg was a stellar 125.8 with Portland last year (thanks largely to a .444 3P%). Those numbers scream "fluke", however, because prior to 07-08 Jones had neither shot better than 40% from deep nor posted an ORtg over 111.5 in a season. He still figures to be an efficient shooter this season, of course, but probably not that efficient. Yakhouba Diawara will also fit into Miami's SF situation after leaving Denver via free agency. Diawara is a defense-first role player, but he also greatly improved his offensive efficiency last year by shooting 7 percentage points higher from the floor (though it should be noted that his .318 3P% was still woefully inadequate for a guy who took half of his shots from out there).
Grade: B+
Power Forward: Miami's embarrassing season in 2007-08 will still probably be remembered fondly by their fans, as the Heat's ineptitude led to the 2nd overall pick in the draft and their selection of dominant Kansas State freshman Michael Beasley. Beasley is coming off of one of the greatest frosh campaigns in NCAA history, having posted an ORtg of 119.8 on 33.5 %Poss (for a frame of reference, compare that to Kevin Durant's 116.5/31.6 in 2006-07), and he's a potential superstar who can score at will & dominate the battle for boards underneath. There were questions about his height (is he really 6'10"?), work ethic, and maturity before the draft, but there's little doubt that Beasley can eventually become one of the NBA's best players if he applies himself. Veteran Mark Blount and fellow rookie David Padgett will give support to Beasley off the bench. Blount can score some in the post without turning it over and he makes a living on short-to-medium range jumpers, but he doesn't really compete hard on defense or the glass. The fact that he started 46 games for the Heat last year (many at C) is really more an indictment of just how bad Miami was than an endorsement of Blount's game... Once the top high school center in the country, Padgett hails from Louisville and signed on as an undrafted free agent with the Heat this summer. Injuries marred his collegiate career and remain a concern, but he has an intriguing blend of size, skill, and smarts.
Grade: B
Center: With the addition of Beasley at the 4, longtime Miami PF Udonis Haslem will shift over to center despite a serious lack of size (he's 6'8"). Haslem was a key cog on Miami's 59-win 2005 squad and their championship team in 2006 because he rebounded well, played solid D, and was highly efficient with what few possessions he ended up using -- which is basically the definition of a great role-player big man. But as Miami's health, depth, and overall talent level started to erode in 2007, Haslem no longer had the luxury of picking his spots on offense; rather than taking less than 15% of the Heat's FGAs when on the floor, he found himself having to shoot on 18% (or more) of Miami's possessions, and his efficiency took a nosedive as a result. Having to force more midrange jumpers, he drew fewer fouls and his offensive rebounding was down as well. Even worse, his defense declined because he was expending more energy than ever at the offensive end. By last season, all of these factors had taken Haslem from being one of the game's best role players and made him something else: a mediocre, jump-shooting PF who doesn't really do anything particularly well. However, the good news is that Miami isn't as god-awful as they've been during Haslem's decline; playing with Wade, Beasley, & Marion for a full season should once again allow Haslem to slide back into the role he's most comfortable with, that which he played on two really good Heat teams in '05 and '06. Journeyman Jamaal Magloire was acquired to give Miami minutes off the bench at C, but you have to wonder how much he can add after four consecutive terrible seasons, each one more brutal than the one before. His only assets at this point are his size and ability to draw fouls inside, but he has completely lost the ability to shoot a basketball -- he shot just .327 from the floor last year, and his FT% has declined to an embarrassing .455 clip -- or handle one, as his epic turnover ratio will attest to. In short, no matter what kind of playing time they give Magloire, I expect him to be one of the least productive players in the NBA this season. The Heat would do well to employ Joel Anthony instead; while his rookie year wasn't exactly impressive (7.0 P/40? Really?), he was efficient enough on his few possessions (52.1 TS%) and blocked a ton of shots. Finally, there's Alonzo Mourning, who missed all but 25 games last year after multiple injuries to his right leg. Zo is 38 and won't be available until January 2009 at the earliest, but if healthy he's still a tough defender and one of the best big men on Miami's roster.
Grade: D+
Outlook: The Heat are in a unique position where they're essentially adding 3 above-average -- and possibly All-Star-caliber -- players to their roster for (hopefully) a full season. Kevin Durant proved last year that stunning NCAA numbers as a freshman don't necessarily translate to immediate NBA dominance, but I'd be surprised if Beasley isn't a force at some point during this season. Marion won't be quite as productive as he was playing wingman to Nash in Phoenix, but you have to think he'll be better than he was in his initial stint with the Heat simply by virtue of improved health and an offseason's worth of time to develop chemistry with his new teammates. Finally, there's the return of Wade, one of the most electrifying talents in the game when healthy. Those three played a combined 67 games for Miami last year, so if the Heat get anything close to a full slate out of each, there's a very good chance that this team doubles its win total and possibly even returns to the playoffs after just one rebuilding season. Yes, Pat Riley is gone and Erik Spoelstra is an untested young coach, but this was a team that ranked in the top 10 in defense as recently as 2007 and could easily crack the top 15 in offense if their new "Big Three" stay injury-free. In fact, better team health in general could add a handful of wins to the Heat, as this was a team absolutely decimated by injuries in '08. No, they won't replicate 2006 even if Wade plays at his Olympic level all season, but by the same token, Miami's not going to be an easy "W" for their opponents anymore in 2008-09.
Burning Question: Which were the real Hawks -- the regular-season team with only 37 wins, or the playoff version that pushed the champs to 7 games?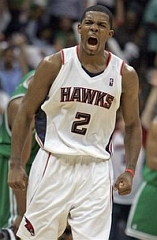 Point Guard: Ever since Mookie Blaylock left town in 1999, this has been a problem position for the Hawks. Bimbo Coles was a stopgap at best; Jason Terry was too much of a combo guard to be a long-term solution at PG; Dan Dickau was, well, Dan Dickau; Tyronn Lue did an admirable job but was/is a limited player; Joe Johnson doesn't have the handle to be a full-time PG; Speedy Claxton has been constantly injured; and Acie Law was flat-out bad as a rookie last season. All the while, the Hawks have had high draft picks and passed on PGs like Chris Paul and Deron Williams in 2005. Now they hope Mike Bibby, acquired from Sacramento at last year's trade deadline, is the answer to their woes at the 1. Bibby's game has been on the decline since 2005-06, but he was markedly better after the trade to Atlanta, raising his ORtg from 99.6 to 106.3 by ratcheting up the assists and reclaiming his midrange J. Bibby's 30 years old this season, but there's no reason he can't continue to play roughly like he did after joining the Hawks last year. Of course, that makes him a good-but-not-great PG... but Atlanta will gladly take it at this point. The backups will be Acie Law and Speedy Claxton, both of whom have serious flaws. With good scoring (21.3 P/40) and efficiency (.500 FG%, .458 3P%) numbers, Law looked like a solid player at Texas A&M, and as a 23-year-old rookie, the Hawks expected him to contribute immediately. Instead, Law was neither a scorer (11.4 P/40, 8th-worst among qualified PGs) nor efficient (45.5 TS%, 6th-worst), and was a defensive liability to boot. There's still time for him to make good on the promise he showed in college, but it was a very inauspicious debut for yet another Hawks PG. Claxton, on the other hand, has been hampered by an injury to his left knee for two years, and hasn't played an NBA game since March 3, 2007. Halfway through their 4-year, $25 million investment, Atlanta has gotten exactly 42 mediocre games out of Claxton, so he's going to try to make a comeback this season and save his career. But at age 30 -- and robbed of most of his quickness -- I still wouldn't expect much out of him this year.
Grade: C+
Shooting Guard: After 3 years of toiling in the relative hoops anonymity of Atlanta, Joe Johnson emerged on the national stage when he took over late in Game 4 of the Hawks' surprising playoff series with Boston, scoring 20 points in the 4th quarter & leading them to an upset win. Johnson's breakout performance highlighted the fact that he has quietly transformed himself from a 3-point shooting role player on the Suns into the Hawks' leading scorer/alpha dog, and he's done it all without losing much efficiency. He's no mega-star, mind you, but he is an All-Star-caliber player in his prime who's dependable and consistent -- he's played all 82 games in 5 of the past 6 seasons, and since arriving in Atlanta, he's posted an ORtg of 109 every single year. Johnson's primary skill is his scoring ability (21.6 P/40), of course, but he also possesses a wide range of other skills, including a solid pure shooting stroke and nice court vision. He's also a plus defender with the size, strength, and quickness to be a stopper on the wing when he wants to. Johnson won't take your breath away in any one area, but the total package adds up to be one of the better all-around guards in basketball. The primary backup here is journeyman Ronald "Flip" Murray, who can also play PG in a pinch. Murray has a scorer's mentality and can create shots with ease, but they're not always the highest-percentage looks (career TS% of 48.0), and he'll often turn the ball over in the process as well. In addition, aside from the (inefficient) scoring Murray doesn't really give you much of anything at either end of the floor, making him one of the game's most one-dimensional players. Thomas Gardner is on the Hawks' SG depth chart as well, having snagged a roster spot thanks to a solid summer league showing. Gardner has put up decent scoring numbers all over the globe since leaving Missouri two years ago, but he'd never caught on permanently with an NBA team because the non-scoring aspects of his game are very weak, and he's not an impressive pure shooter either. Hometown favorite Mario West remains unsigned, but there's a decent chance the hustling, defensive-minded guard could return to the Hawks at some point.
Grade: B-
Small Forward: While it appears that Marvin Williams will never live up to the expectations of his #2 overall selection in the 2005 NBA Draft, he did make strides toward being a solid offensive player last year, increasing his scoring rate by nearly 2 P/40 while simultaneously raising his TS% and cutting his turnover rate. He did it with a solid midrange game and great instincts for drawing fouls (he shot .822 from the line), though it also helped that Williams realized he couldn't make 3s and just stopped taking them. Defensively, Williams is quick but he's still often overmatched physically, and as a result was one of the worst defensive SFs in the league last year by DAPM. All told, though, Williams should continue to improve (he's still just 22 years old) and become a good, if not exactly great, player. At backup, it looked like the Hawks would be hampered by the loss of the super-efficient Josh Childress after J-Chill flatly rejected Atlanta's $3.5 million/year qualifying offer, instead accepting the 3-year, $20 million offer made by Greece's Olympiakos... However, new GM Rick Sund quickly mitigated the loss by signing free agent Maurice Evans to a 2-year, $7 million contract. Evans did a passable Childress impression after landing in Orlando via trade last season, putting up a 118.5/16.0/108.4 line for the Magic (by contrast, Childress had 126.5/15.9/110.4 for the Hawks in '08). Evans isn't as efficient a scorer as Childress, but he's a better 3-point shooter and far less turnover-prone, so the drop-off shouldn't be too steep for Atlanta.
Grade: C+
Power Forward: Josh Smith will be back in Atlanta for at least 5 more seasons, but keeping him in a Hawks uniform was a far bigger ordeal than it should have been. After the Childress disaster, you'd think the Hawks would make sure to wrap up Smith as quickly and painlessly as possible... Instead, they invited drama by lowballing Smith (who already has a beef with ATL coach Mike Woodson) with a $9 million/year offer, and eventually had to match the Memphis Grizzlies' 5-year, $58 million offer sheet to retain his services. Not that Smith isn't worth the cash -- the high-flying 23-year-old is one of the NBA's best athletes, a slashing dunk machine who also ranks among the league's top defensive players. Smith's only weaknesses are his shooting touch (he shot an abysmal .307 eFG% on jumpers) and his turnovers, but the Hawks are expecting those to improve in time, given that he's made strides on offense every season he's been in the NBA. The Hawks have depth issues at forward, so D-League types like Solomon Jones and Othello Hunter could actually get more than just cursory looks at the NBA level. Jones is a long shot-blocking type and Hunter has some offensive upside, but neither is strong enough at this point to win the physical battles inside.
Grade: B-
Center: Taken 3rd overall in 2007, Al Horford was a rare draft-day success for former GM Billy Knight. As a rookie the University of Florida product was forced to play undersized at the 5, but he proved up to the task, finishing second behind Kevin Durant in RoY voting. His scoring efficiency (53.9 TS%) wasn't quite as high as anticipated after a 63.6 mark as an NCAA junior, but other than that, Horford gave the Hawks exactly what they expected in 07-08 -- a solid interior presence who rebounds well and plays with energy at both ends. I would also expect him to improve as a scorer in his second year, as he cuts his turnovers and learns to use his combination of size and midrange shooting more effectively. Former starter Zaza Pachulia will come off the bench again after a nightmarish, injury-marred season in which his numbers went down across the board. Pachulia used to be able to score in the paint, but the jury's still out on whether that's true anymore; either way, he at least provides rebounding, although he is perennially confused at the defensive end. Former high school star Randolph Morris has at least some chance of passing Pachulia on the depth chart if the latter has another down year. Morris has been truly horrible in 225 career NBA minutes, but his college numbers at Kentucky were very good (112.5 ORtg on 27.0 %Poss in 06-07, his final NCAA season), so he could still possibly cash in on his potential if given consistent playing time.
Grade: B-
Outlook: The Hawks had a bit of a breakthrough last season, making the playoffs for the first time since the lockout-shortened 1998-99 season and pushing the eventual World Champion Celtics to the full 7 games in their 1st round series. But in true Atlanta Hawks form, they wasted whatever momentum they had achieved with their surprising postseason by botching free agent negotiations with Josh Childress -- allowing him to become the biggest name ever to turn down guaranteed NBA money to play in Europe -- and almost doing the same with their biggest young star, Josh Smith. By the time the dust settled on Atlanta's offseason, they were essentially no better (and perhaps slightly worse) than they had been in 07-08, when they were a feel-good playoff story but also the 11th-worst team in the league by the SRS, which takes into account both point differential and strength of schedule (two vital factors that cast the Hawks in an especially poor light). Yes, it was a much-needed positive season for Atlanta last year, but a lot of that progress was actually just an illusion, and the Hawks stalled out over the summer while the rest of the East improved. As a result, it would be somewhat surprising if they were to make a return trip to the postseason in 2009.
Burning Question: Can Larry Brown work another one of his miracles for the Bobcats?
Point Guard: A great passer and ballhandler, Raymond Felton is a fantastic playmaker from the point guard position -- he's cat-quick, excelling at penetrating into the lane, drawing defenders, and dishing off to open teammates for easy baskets. In addition, Felton is a good defensive player who compensates for his lack of height with superior quickness. However, Felton's jump shot continues to be shaky at best and his finishing skills are suspect, which keeps him from being a big-time scoring point guard. Brown has a history of getting the most out of his young guards, though (see Chauncey Billups, Allen Iverson, etc.), so don't be surprised if Felton's weaknesses aren't quite as glaring this season. Rookie D.J. Augustin will be Felton's backup after being drafted 9th overall out of Texas. Augustin is also very quick, he can distribute the ball (6.2 A/40), and he's got a nice shooting stroke (NCAA career .402 3P%), so Brown should be intrigued right away. The downside is that he's small and his peripheral numbers (FG%, rebounds, steals, blocks) were low, so he's certain to be a defensive liability and could in fact struggle to adapt to the pro game at first. Ex-Wizard Donell Taylor is also on the roster; they're hoping he's improved on his shooting (career 43.7 TS%) since he last played an NBA game in 2007.
Grade: B-
Shooting Guard: Acquired in a trade with Golden State before 07-08, Jason Richardson thrived during his first season with Charlotte. First and foremost, Richardson is a top-flight scorer who can knock down jumpers from all over the court, particularly from downtown (when he made 243 3-pointers last year, it was the 4th-highest total ever). He's settling for more jumpers than ever before, which is weird for an ex-slam dunk champ, but you can't argue with the results (22.9 P/40 on 55.4 TS%). Defensively, Richardson is not particularly effective on the perimeter -- a situation made worse by his recent knee injuries -- but he's above-average at steals, blocks, and defensive rebounds. The bottom line: Richardson should once again be one of the most dangerous scorers in basketball in 2008-09. Like J-Rich, backup Matt Carroll can flat-out shoot the 3, having drilled at least 39% of his attempts from downtown in each of the past 3 seasons. Unlike Richardson, though, Carroll's nice shooting stroke is just about his only asset these days. He used to be adept at drawing fouls and making steals, but those numbers have declined in recent seasons, and the rest of his game is lacking because he lacks NBA-caliber quickness/athleticism. He's basically a one-dimensional player at this point. Shannon Brown, formerly of Cleveland and Chicago, is also on the roster after being signed for the minimum this offseason; he wants desperately to score, but he's horribly inefficient and it doesn't look like that's going to change anytime soon.
Grade: B+
Small Forward: Though he spent much of last season at the 4, the underrated Gerald Wallace will at least start the year at the 3, his more natural position. Wallace is long and athletic, which gives him a real edge at the defensive end & in the open court, and he's a terrific slasher whose combination of size and athleticism makes him a tough assignment for SFs & PFs alike. However, jump-shooting isn't exactly Wallace's biggest strength: he only posted a .354 FG% on 2-point J's last year, he hit only 32% of his threes for the second straight campaign, and on top of that, he's also a poor foul shooter. Still, the end product is a versatile, productive player who can play strong defense at 3 positions. Backup Adam Morrison followed up an abysmal rookie season in '07 with a torn ACL that caused him to miss all of last season. Morrison theoretically has a solid set of basketball skills, but he simply isn't an NBA-caliber athlete, and that really hampers his ability to put them to good use. He can shoot, but he can't really create high-percentage looks... He can handle the rock, but he doesn't have the burst or quickness to beat anybody off the dribble... He has decent size, but he can't rebound or block shots... He's generally an intelligent player, but he can't guard a soul... You get the idea. Basically, the knee injury was just another setback for a guy who could scarcely afford one. Despite Morrison's high draft position two years ago, Charlotte would do well to give his minutes to Jared Dudley, a tweener who makes up for physical shortcomings with hustle & smarts. Dudley isn't a star by any means, but he's a versatile player who isn't particularly bad at any one skill, and he brings a lot of energy to the Bobcats when he's on the court.
Grade: B
Power Forward: The initial plan is to start Emeka Okafor here until Sean May proves he's 100% healthy following microfracture surgery. The Bobcats are lucky that Okafor can shift between power forward and center so seamlessly; he's just an outstanding inside defender and rebounder despite his lack of a typical center's height. Okafor will never be mistaken for an offensive-minded post player, though -- his footwork is lacking, he can't create high-percentage post-up opportunities, and he definitely can't step out and knock down jumpers. Basically, his only offensive value comes when he scores off of putbacks and other garbage chances around the basket. On the other hand, offense is where May comes into play, with his nice combination of size, midrange shooting, and finishing skills in the immediate basket area. Conditioning has always been a question for May, however, and his injury only exacerbates that problem. Moreover, the track record for microfracture recoveries is hit-or-miss, so there's a good chance May is a shell of his former self. Rounding out the depth chart is Jermareo Davidson, a second-round pick in 2007 who shot (and missed) too many jumpers for a 6-10 PF and he got lit up defensively. He plays with energy -- he can block shots and rebound a little -- but he's too thin for the post at either end and his shot needs work. Some NBDL action would help.
Grade: C-
Center: If May is healthy, Okafor will start alongside him at the pivot. However, the more probable starting lineup for Charlotte (at least in the early going) will consist of Okafor at the 4 and Nazr Mohammed at center. Mohammed wasn't blessed with great size or athleticism, but he can rebound with anybody, especially on the offensive glass. He's also not the worst finisher in the world, and he has a half-decent short-to-medium range jumper. Mohammed will never be considered a big scoring option, however, because his hands are legendarily bad (as his high turnover rates will attest to) and he doesn't run the floor especially well. Defensively, Mohammed is a liability because of his lack of height and quickness, though he can block shots. Backup duties will be fought for between 3rd-year 7-footer Ryan Hollins and rookie Alexis Ajinca. Hollins is an athletic pure shot-blocker, but he lacks strength, a credible post-up game, or any sort of jump shot. Ajinca is even taller than Hollins (7'1"), but he's extremely raw and will likely spend a significant amount of time in the D-League this season.
Grade: B
Outlook: Last year, the Bobcats had the second-most wins in franchise history (32), though they finished next-to-last in the Southeast Division for the 4th consecutive season. The majority of their 2007-08 roster is back under new coach Larry Brown, plus Charlotte hopes to get full seasons out of Gerald Wallace (who missed 20 games in '08) and Sean May (who missed the entire year). Before his ill-fated year with the Knicks in 2005-06, Brown's reputation for turning teams around in a very short period of time had been legendary -- he won an NBA title in his 1st season in Detroit; took the 76ers to the playoffs in his 2nd year there (and to the Finals in year 4); piloted the Pacers to their first 50-win season ever in his 2nd year; turned the Clippers into an actual .500 team in his 1½ seasons in L.A.; pushed the Spurs to just their 3rd 50-win season ever by his 2nd year in San Antonio; led the Nets to the first two 40+ win campaigns in franchise history during his 2 years there; and he transformed the mediocre Denver Nuggets into a 60+ win ABA powerhouse in just one year. What can Brown do for the Bobcats, then? Well, Charlotte certainly has the pieces to rise from the Southeast's basement in '08... But you can say that about Miami, too. And while it looks like Atlanta will decline from last season, their total talent level doesn't project any lower than the Bobcats'. That means unless Brown can coax improvement out of Raymond Felton and develop some kind of offensive post-up game, the Bobcats will probably be looking up at the rest of this division despite a roster that isn't exactly terrible.
Note: Player Rankings are based on projected productivity this season. This not only takes into account a player's talent level, but also his durability, his expected playing time, and his role on the team.
2008-09 NBA Scouting Reports Series
2008-09 NBA Scouting Reports: Atlantic

2008-09 NBA Scouting Reports: Central

2008-09 NBA Scouting Reports: Southeast

2008-09 NBA Scouting Reports: Northwest

2008-09 NBA Scouting Reports: Southwest