The Final Four is set, and now every possession counts.  Florida is looking to repeat, read on to see if they can finish it off.
Final Four:
3 Pittsburgh vs 1 Florida
My Pick: Florida- The Gators are just too good, and are in the zone for the young Aaron Gray. Florida is looking for a two-peat, and I believe that with this team, they will. Gators win.
Panthers over Gators 81-79
http://whatifsports.com/ncaab/boxscore.asp?GameID=111506&nomenu=1
WOW!!! There goes the 2007 rematch, whew. The Gators fail to get the two-peat (unlike the actual outcome), the number 3 Panthers shock the Gators, and beat the number 1 team, and will now compete for the Championship in Atlanta against the winner of the Texas/OSU game which is coming up. Oh, the excitement:)
4 Texas vs 1 Ohio State
My Pick: OSU- I will stick with the number 1 team (...AGAIN!!!). I don't think another number 1 team will go down, which didn't happen in the actual Tourney in '07. OSU wins with Oden livin' it big in the paint.
Buckeyes over Longhorns 69-64
http://whatifsports.com/ncaab/boxscore.asp?GameID=111553&nomenu=1
And, it's over, the Longhorns streak will end, as OSU will move on after a very unusual low-scoring affair took place in Atlanta. The Buckeyes won the game by 5, scoring just 69 points (14 of which came from Center, Greg Oden). Oden added 14 rebounds to the total, and from the bench, Othello Hunter grabbed 10 rebounds, and added 4 more points. Now, the Buckeyes from Ohio State will play the number 3 Panthers from Pittsburgh for the 2007 NCAA Championship in Atlanta.
NCAA Championship:
3 Pittsburgh vs 1 Ohio State
My Pick: OSU- Greg Oden dominated the Longhorns, letting Durant score just 11 points, and 8 rebounds. I think Oden will once again dominate, and come out as the Tourney's MVP.
Buckeyes over Panthers 89-90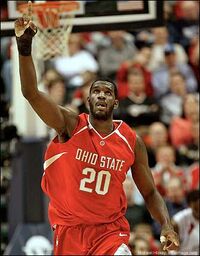 http://whatifsports.com/ncaab/boxscore.asp?GameID=111657&nomenu=1
OHIO STATE ARE CHAMPIONS!!!!! The Ohio State Buckeyes just defeated the Pittsburgh Panthers by 9 points to take home the title. Buckeye Center, Greg Oden will take home the most outstanding player award. Oden went for 17 points, and 7 rebounds in the Final, and helped the Buckeyes easily edge the Panthers. The actual outcome of the Tourney brought a Championship Trophy home for the Florida Gators, but thanks to Whatifsports.com, the Buckeyes get to bring home the trophy. THis was fun guys, and maybe when WIS posts this year's teams, I'll re-do the '08 tourney for ya. See you guys later:)