The Sweet Sixteen is finally here!!!  And, this time I've included my pick, and a short paragraph describing the game.  Enjoy:)
Sweet Sixteen:
Midwest:
1 Florida vs 4 Maryland
My Pick: Florida- MD just doesn't have enough talent to knock off the number 1, and defending champ Florida Gators. I think Joakim Noah will dominate the paint, and the Gators will easily advance to the Elite 8.
Gators over Terps 81-64
http://whatifsports.com/ncaab/boxscore.asp?GameID=110267&nomenu=1
Al Horford dominated the paint, instead of Noah. Horford goes for a double-double with 14 points, and 11 rebounds, Noah scores 14, with 8 boards. Florida dominated MD in just about every category, with 81 points, 37 rebounds, 8 blocks, 10 steals, and as a team shot 52.5% from the floor. Florida cruises to an Elite 8 appearance, like I said.
10 Georgia Tech vs 3 Oregon
My Pick: Oregon- I love seeing upsets in College Basketball, especially this late in the Tourney, but I don't think there'll be any upsets in this game. Aaron Brooks, possibly the best SG in the Pac-10, will break out for 20+, and the Ducks win this game.
Yellow Jackets over Ducks 82-66
http://whatifsports.com/ncaab/boxscore.asp?GameID=110271&nomenu=1
Well, looks like I was wrong this time, Brooks scored 18, and the Yellow Jackets won by 16. GT outrebounded Oregon 41-26, and had a lot more help off the bench. Both teams turned the ball over 15 times, but the Yellow Jackets took advantage of turnovers better, and got more fastbreak points. Georgia Tech just played and all-around better game, and came away with the first upset of the Sweet Sixteen.
West:
13 Holy Cross vs 8 Kentucky
My Pick: Holy Cross- Just to make it interesting, I am going to go with the upset, Holy Cross. HC has as much a chance against Kentucky as anyone, and has already knocked off SIU, and VT, so don't be surprised if they win this game.
Wildcats over Crusaders 72-63
http://whatifsports.com/ncaab/boxscore.asp?GameID=110274&nomenu=1
Ah, looks like the Crusaders streak will end at two. But, I really didn't expect this 13 seed to get by number 4 SIU in the first round. They played hard, but the Wildcats are just a better team, hands down.
7 Indiana vs 3 Pittsburgh
My Pick: Pittsburgh- Last time I went for the upset, and it didn't happen, so this time I'll go for the reasonable pick, and go for the third seeded Pittsburgh Panthers. I would love to see Pittsburgh win it all, but I think UNC, OSU, Memphis, and countless others teams are thinking otherwise. But, I think they can manage to get past the Hoosiers this round.
Panthers over Hoosiers 78-66
http://whatifsports.com/ncaab/boxscore.asp?GameID=110275&nomenu=1
I am now at an even 2-2 on picks so far. I think Pittsburgh's 76 FT% is what propelled them to a win, plus Aaron Gray's 14 point, 8 rebound performance. Pittsburgh will take on the Kentucky Wildcats in the Elite 8.
East:
4 Texas vs 1 North Carolina
My Pick: UNC- I usually go for the number 1 teams, because, they are obviously the best ones. UNC's young PF, Tyler Hansbrough, will help lead the Tar Heels past the fourth ranked Longhorns. I don't think Carolina will have any trouble at all against the young Longhorns from Texas.
Longhorns over Tar Heels 83-78
http://whatifsports.com/ncaab/boxscore.asp?GameID=110279&nomenu=1
I have really been struggling with these picks, which is a good thing, 'cause that means 'anything can happen'. The Longhorns shock UNC, and me. Hansbrough did have a monster night in the paint, though, racking in 14 boards, but DJ Augustine went for 23 points, and Texas wins, despite Durant scoring just 10 points, and 8 rebounds.
14 Oral Roberts vs 2 Georgetown
My Pick: G'Town- This will be an interesting game, but am going to have to go with the favorite in this one, sorry OR, but your streak may come to an abrupt end tonight.
Hoyas over Golden Eagles 75-69
http://whatifsports.com/ncaab/boxscore.asp?GameID=110281&nomenu=1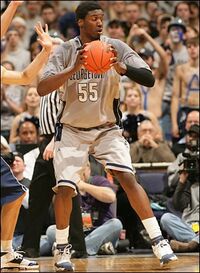 And, unfortunately, I was right this time, the Hoyas go on to win the game, endind the Golden Eagles hopes at a Final Four appearance. Six Hoyas go for double-digits in points, and Hibbert goes for a double-double (11 points, 10 rebounds). The Hoyas go on to face the Longhorns for a chance at a Final Four appearance.
South:
5 Tennessee vs 1 Ohio State
My Pick: OSU- Again, I will go with the number 1 team, doubting that the Vols will be able to beat out the dominate force at Center for the Buckeyes, Greg Oden. Conley Jr is a real outside threat, too. Ohio State is an all-around dominate team, which at times, cannot be stopped at all.
Buckeyes over Volunteers 94-85
http://whatifsports.com/ncaab/boxscore.asp?GameID=110284&nomenu=1
Oden leads the Buckeyes with 21 points, and 7 rebounds, and helps the Buckeyes beat Tennessee by 9 points, despite Tennessee having two players score 20+ points, and out-shoot OSU as a team. The Buckeyes rebounded better, and had less TO's, and fouls. Which gave OSU the win, and the chance at a Final Four appearance.
6 Louisville vs 2 Memphis
My Pick: Memphis- I've been doing good lately in NOT picking the underdog, so why stop there??? Memphis has the better team, and is hungrier than the Cardinals, Memphis dominates.
Tigers over Cardinals 84-67
http://whatifsports.com/ncaab/boxscore.asp?GameID=110294&nomenu=1
Like I said, Memphis dominated Louisville, beating them by 17 points. Memphis straightup outrebounding the Cardinals, and didn't turn the ball over quite as much as Louisville did. Plus better shooting=W. Number 2 Memphis will take on the number 1 team of Ohio State in the Elite 8, sounds like a good game to me.
Elite 8 Matchups:
Midwest:
10 Georgia Tech vs 1 Florida
West:
8 Kentucky vs 3 Pittsburgh
East:
4 Texas vs 2 Georgetown
South:
2 Memphis vs 1 Ohio State
Elite 8 coming possibly later tonight, or tomorrow, so stay tuned!!
Community content is available under
CC-BY-SA
unless otherwise noted.