Results for the 2007 ArmchairGM Sports Awards are in!
You may wonder why I'm posting this as an article, and not a lockerroom. My reasons are simple:
I thought it would be more accessible here
There is some opinion at the bottom
I wanted to see what the "About the Author" said about me
Anyway, 2007 was a year where Americans voted almost exclusively for American players, teams and colleges. Here is a run down of the "medal winners" from each category.
Team of the Year
It started off as a race between the Sox and the Pats, but eventually the Sox forged a big lead, and even Boise State overtook the Pats.
Rookie of the Year
This was by far the closest event. Whilst being disappointed that Lewis Hamilton, runner-up in the Drivers' World Championship in 2007 was strangely absent (he finished 6th), Pedroia and Peterson were tied 32-32 going into Corey's vote. He put Peterson ahead of Pedroia, and it won Peterson the award. That's probably fair, since Pedroia played 31 games in 2006...
Coach of the Year
This was the most varied voting of all of the awards. Dungy came from nowhere to end up third, whilst Belichick stumbled towards the end on his way to winning.
"We'll Miss You" Award
Only 4 votes for this one. It was a tie between the top 2 players on the list, but Rizzuto won on the tiebreak, i.e. he was in 1st place on more ballots.
Template:Flagicon Phil Rizzuto 10 (2 Wins)
Template:Flagicon Craig Biggio 10 (0 Wins)
Underdog of the Year
Another supremely close award, there were up to 4 winners possible going into the final ballot. There was a tie for first place and third place, but the tiebreakers adequately settled the top 3.
Comeback Player of the Year
This was close, and it looked like there may have been a British winner. But alas, it was taken away by the final voter. At least it was a non-American player!
Sports Personality of the Year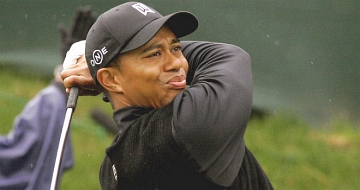 The biggest award had the biggest variety in selections. The Woods v Federer again went to the final ballot. Woods astonishingly scored 0 on one ballot, but still went on to win.
Friday Fryer of the Year
Like the main award, this was always going to be a "two horse race" (or maybe "two dog race" is more appropriate?). It was Vick v Bonds all the way, but one voter, presumably a Giants fan, blissfully ignored him, leaving Vick a clear run to the award.

The US won 7 gold, 7 silver and 5 bronze. They were comfortably out ahead. I was a bit disappointed with the lack of international opinion, but that's no fault of your own.
Pay attention to sport in 2008 so that you can vote for these next year! I will strip away those with the fewest votes (i.e. Comeback, Underdog and "We'll Miss You"). I may also change the voting format to let you have only 1 vote, so that more people are encouraged to vote.
Also, I'd like you to do it so that you represent your state when you vote. Then take a total (e.g.) for Texas, New York, California etc. and then add them all up in the 5, 4, 3, 2, 1 style. "Overseas" would become the 51st state for the purposes of this. That system will make it much more awkward for me to tally it, and make the whole thing more complicated than it needs to be. :) It would function fairly simply, you'd just need to say which state you come from when you vote.
Thankyou to those that voted in 2007.
Community content is available under
CC-BY-SA
unless otherwise noted.