After seeing SSR's new series, in which he uses Whatifsports.com to simulate the entire 2007 season over again. It got me the idea to simulate the 2005 playoffs over again, just to be sure the Steelers deserved the Super Bowl ring (even though I already KNOW that we deserved, and EARNED it). This is for all those Seahawks fans that think the game was fixed. It's amazing that both the Steelers, and Seahawks went back to the Super Bowl in the WIS simulations. Here is the scores of the first three rounds of the Playoffs. Home team in BOLD, (actual outcome in parenthesis).
Wild Card Weekend:
AFC:
4 PATRIOTS over 5 Jaguars 17-6 (NE 28-3)
6 Steelers over 3 BENGALS 23-6 (PITT 31-17)
NFC:
6 Redskins over 3 BUCCANEERS 10-6 (WAS 17-10)
5 Panthers over 4 GIANTS 17-9 (CAR 23-0)
Divisional Weekend:
AFC:
Steelers over 1 COLTS 22-3 (PIT 21-18)
PATRIOTS over 2 Broncos 30-24 (DEN 27-13)
NFC:
1 SEAHAWKS over Redskins 17-0 (SEA 20-10)
Panthers over 2 BEARS 6-3 (CAR 29-21)
Conference Championships:
AFC:
Steelers over PATRIOTS 24-0 (PIT over DEN 34-17)
NFC:
SEAHAWKS over Panthers 24-16 (SEA over CAR 34-14)
SUPER BOWL XL (Sunday February 5th, 2006):
Jerome Bettis returns to his hometown to play the final game of his career in what is the biggest game of his career.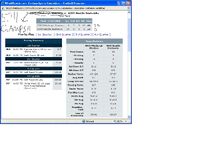 First Half:
Seattle wins the toss, and elects to receive, and returns the opening kickoff to their own 35-yard line. Seattle's first 5 plays from scrimmage were running plays, Shaun Alexander picks up a first on third and 3, and Maurice Morris, the second-string RB, carries the ball on two consecutive plays, setting up a third and 3. Matt Hasselbeck hit TE Jerramy Stevens (who actually CAUGHT the ball), and picks up the first after picking up 12 yards. After another Alexander losses a yard, Hasselbeck throws a 14-yard pass to reliable Bobby Engram, and one play later Mo Morris runs for a 19-yard TD. Josh Brown's extra point sailed through the uprights to give Seattle a 7-0 lead early in the first quarter. Pittsburgh's first possession starts on their own 22, and lasts just 3 plays. Jerome Bettis gained 2-yards on first and 10 on a pitch. On second and 8, Bettis gains another yard. For some odd reason Pittsburgh decides to keep the ball out of the second-year QB, Ben Roethlisberger's hands, and decides to run the ball on 3rd and 7, and gives the ball to fast Willie Parker, who is tackled in the backfield for a loss of two.
Chris Gardocki punts the ball all the way to the SEA 39, where Hasselbeck & Co. get right to work. Fullback Mack Strong takes a pitch 3-yards, to start the drive off, which by the way, lasted 4:02. A few plays later, Hasselbeck shows that he can not only pass, but run, too, and takes off for a 17-yard gain. Seattle picks up one more first down on a 10-yard pass to Joe Jurevicius, before the drive stalls, and Josh Brown sets up for a 35-yard FG. Brown boots the ball through the uprights, for a 10-0 Seattle lead. Pittsburgh gains 16 yards on 3 plays before the first QTR comes to a close. SEA 10 PIT 0
In the second QTR, Pittsburgh gains 23 more yards, and on 3rd and 9, Verron Haynes loses a yard. So, Jeff Reed sets up for a 43-yard FG attempt, which sails wide left, no good. Seattle takes over at their own 33. Seattle goes three and out, and has to punt to Pittsburgh, who goes three and out, as well. So, Seattle got the ball back, but ended up going for another three and out. The Steelers take over deep inside their own territory, and drives down the field. Their drive went for 85 yards, on 11 plays and took 4:44 off the clock. The scoring drive was capped with a 7-yard run by Willie Parker, and Reed's XP attempt was good. Seattle failed to score, ending the first half. SEA 10 PITT 7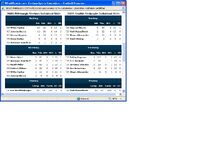 Second Half:
Pittsburgh received the opening kickoff of the second half, and Big Ben ran out looking for a TD (or at least a FG), to get back in the game. But, Roethlisberger, and his offense went three and out on their first drive. But, got the ball back quickly after a Seattle three and out. Which is when Roethlisberger led the Steelers on a 12-play, 60-yard scoring drive which took 6:51 to complete, and ended with a 30-yard FG try for Reed (who missed a 43-yarder earlier). The FG was good, and the game was tied at 10. The Seahawks second, and final possession of the 3rd quarter was a three and out, which means Pittsburgh gets the ball back. The third quarter ended up being the fastest of the four QTR's. SEA 10 PIT 10
The Steelers continued their drive in the fourth QTR, and just 6 plays into the QTR, the Steelers took their first lead of the game. Reed set-up for his 3rd FG try of the night, and it sailed through from 23-yards out. It seemed as though Seattle was going somewhere with their next drive, but it ended up stalling after a few incomplete passes. Pittsburgh must have wanted this game more than Seattle, because Pittsburgh marched 83 yards on 7 plays, and put the game out of reach with a 22-yard TD pas from Roethlisberger to the games MVP, Hines Ward. Seattle's last attempt to come bacl failed after an incomplete pass intended for Jurevicius.
Final:
MVP: Hines Ward
Sorry SS, but I had to post this:)
Community content is available under
CC-BY-SA
unless otherwise noted.