Note: I actually did this earlier today, and I don't have time to simulate 14 games and write one in the NFL. So I'll settle for one NBA game tonight. :)
The 1980s featured the greatest era of basketball according to most people. In college basketball, Cinderella stories in NC State, Kansas and in Villanova, were the key examples of the greatness of March Madness. The NBA saw Magic and Bird, Michael Jordan, scoreboards broken, fun basketball.
The 1981-82 Denver Nuggets had provided some run and shoot basketball that dazzled many. They scored 100 points or more in all 82 regular season games, and in their 3 playoff games. Defense was not the key. Using whatifsports.com's NBA simulator, I put them up against the 2004-05 Phoenix Suns team (they have the rosters from 06-07, I just wanted to use 04-05), which also had a run and gun style of play, with no defense involved.
1st Half
The Nuggets started red hot, and halfway through the 1st quarter, they had stormed to a 19-4 lead. But the Suns immediately stormed back with a 22-7 run of their own. Up 31-26, Glenn Gondrezick nailed an 11 foot jumper as time expired to give the Nuggets a 33-26 lead.
The start of the 2nd, and Casey Jacobsen hit a three pointer just 8 seconds in! 33-29 Nuggets. At 36-33 Denver, the Nuggets hit 5 shots in a row, _while holding Phoenix to just a jumper from Steve Nash) with 2 from David Thompson, 1 from Kenny Higgs, a dunk by T.R. Dunn, and a baseline layup from Cedric Hordges. It's 46-35 Nuggets with 8:02 left in the 2nd quarter. The teams traded baskets and heading into the final 2 minutes of the half, with Denver up 60-55, it seemed as though momentum was heading towards the Suns.
Joe Johnson knocked down a trey on his 2nd attempt after missing his first try, but Amare Stoudemire came up with the board to give him another shot. But quickly at the other end was Alex English on a reverse layup to make it 62-58 Nuggets. At the other end, Joe Johnson was the assist man as he found Amare Stoudemire, who calmly sank the open jumper. Just 9 seconds later, Kiki Vandeweghe brought one back for Denver on a long jumper to make it 64-60. With 23 seconds left, Johnson nailed his long range 22 foot shot to cut the lead to 64-62. With one second left, after Vandeweghe hit two free throws, the Suns inbounded the ball from half court, and Steven Hunter ended the half with a layup. 66-64 Nuggets at the half.
2nd Half
Phoenix started the 2nd half with a stunning 17-6 surge to give them the lead 81-72 midway through the 3rd. With 4:55 left, as the Nuggets continued to fight down 88-82, Amare Stoudemire converts on the layup and the foul....but Dan Issel (player) was not happy with the call, his 4th foul of the game, and....technical foul. Nash converted the technical free throw, and Amare finished off the three point play. It's 92-82 Suns in a wacky game. At the end of 3 after both teams were hitting everything, it was Suns 108 Nuggets 102.
With 6:27 left in the final quarter, the Suns were cruising 124-117, and it looked like another high scoring victory. But the Nuggets went on an 9-4 run, and with 4:17, Kenny Higgs tied the game at 128-128. Steve Nash then carried the ball, and Dan Issel scored on the other end. How about that? 130-128 Nuggets with less than 4:00 to play.
Back and forth they went, Phoenix went on a 6-0 tear to take a 134-130 lead with 2:29 left. The final 58 seconds were wild as the Suns were clinging to a 140-139 lead. Nash for three.....NO GOOD!! Rebound Joe Johnson! Stoudemire for two!!!! NO GOOD WITH :32!!! REBOUND STOUDEMIRE!!! Stoudemire with :17 on the bank shot.....MISSED AGAIN!!! ANOTHER REBOUND BY PHOENIX!!! Quentin Richardson gave Phoenix their 3rd offensive rebound in 45 seconds, and Dan Issel was forced to foul with :13 left. Issel then fouled Stoudemire again to send them to the line with the 2nd team foul in the last 2 minutes. Issel fouled out of the game because of that, but finished with 24 points on 10-16 shooting. So with :09 left, Stoudemire calmly sank both free throws. But Kiki Vandweghe went right back...but hit a two pointer with :05 left. Now Denver had to hurry down 142-141, they had to foul. Stoudemire was fouled by Cedric Hordges with :03 left, and again he made both free throws. 144-141 Suns.
Now the game is on the line, ball inbounded from half court after a Nuggets timeout....STOLEN BY STOUDEMIRE!!!! GAME OVER!!!!! SUNS WIN!!!!!
Phoenix Suns 144 Denver Nuggets 141....Not a typo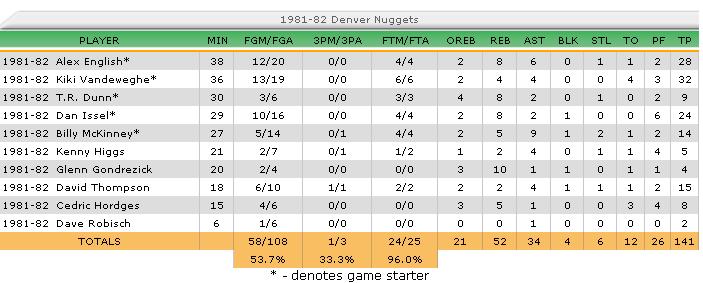 Community content is available under
CC-BY-SA
unless otherwise noted.