Beat this idea punks! You guys keep comparing the best teams against the Patriots....I decided to match the two worst teams in the history of the NFL. The winless 1976 Tampa Bay Buccaneers and the 1 very lucky win 2007 Miami Dolphins. The game was played in Monster Park Candlestick 3Com Pac Bell Park of Stadiums in San Francisco, with temperatures in the 60s and moderate rain. Cleo Lemon started the game for the Dolphins, and Jesse Chatman started as running back. Both teams had a balanced playbook. Chris Chambers, who was traded to San Diego, makes an appearance in this game.
1st Half
Same old same old as the Bucs went three and out on their opening possession of the ball game. The Dolphins marched right down the field with power running by Jesse Chatman, and an 18 yard pass from Lemon to Ted Ginn Jr. But, as the real season went for Miami, they stalled at the goal line. Jay Feely just made the chip shot FG, 3-0 Dolphins.
Tampa finally got going on offense, but it had the share of mistakes. At the Miami 29, QB Steve Spurrier (yes, him), was called for an intentional grounding penalty. But on a 2nd and 20, Spurrier redeemed himself by finding TE Bob Moore for 38 yards to the 1 yard line. Spurrier connected with Moore again, 7-3 Bucs.
So at the start of the 2nd quarter, Miami went.....and punted it back to Tampa, who were determined not to be 0-15. RB Louis Carter had a key 24 yard run to send them to the Miami 31. A few plays later, Spurrier threw another TD pass, this time to Morris Owens. 14-3 Bucs.
Both teams exchanged punts after a scoring explosion by their standards, at halftime it was....
Tampa Bay 14 Miami 3
2nd Half
The Dolphins had a brilliant start to the 2nd half as Cleo Lemon went 6-6 on the drive for 79 yards, including an 11 yard TD catch to Chris Chambers, 14-10 Bucs. Tampa Bay midway through the 3rd had a gift. With Miami driving, Lemon threw an interception to Curtis Jordan, stopping the potential go ahead score. Of course, the Bucs couldn't capitalize, they missed a field goal.
A wild 4th quarter was set off as Miami's Trent Green was put into the game...for reasons unknown. He promptly fumbled the ball in Tampa territory, Buccaneers ball, another good drive aborted. And then Tampa gave it right back when Essex Johnson was stripped of the ball after a 10 yard run, Dolphins. Lemon was immediately put right back, and in a few plays, found Greg Camarillo for the go ahead score. 17-14 Dolphins.
After several more minutes of boredom, Tampa drove to the Miami 17 with a chance to force overtime. Kicker David Green missed his 2nd FG try, as it hit the upright with 1 minute left. For reasons I can't imagine, Miami threw the ball again instead of running the clock out, as Tampa only had 2 timeouts. Lemon was picked by Curtis Jordan again, setting up Green's game tying FG with :05 left in the game. 17-17, OT BABY!
Overtime
The teams traded punts to start OT, and then Steve Spurrier, with the game of his life, had Essex Carter for a 34 yard gain to the Miami 12. They went for the kill this time, no FG. Ed Williams won the game with a 12 yard touchdown grab.
Bucs WIN!!!! 23-17!!!! THEY ARE NO LONGER WINLESS!!!
Final stats shown below.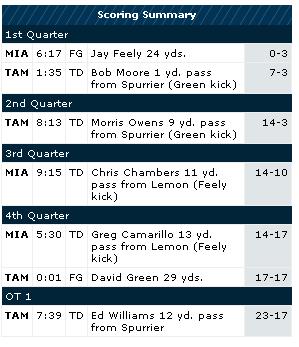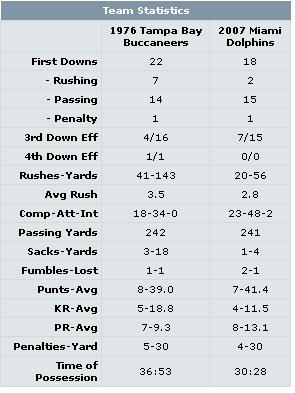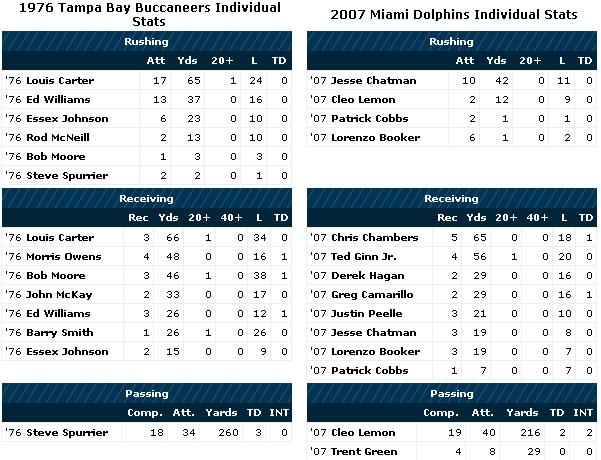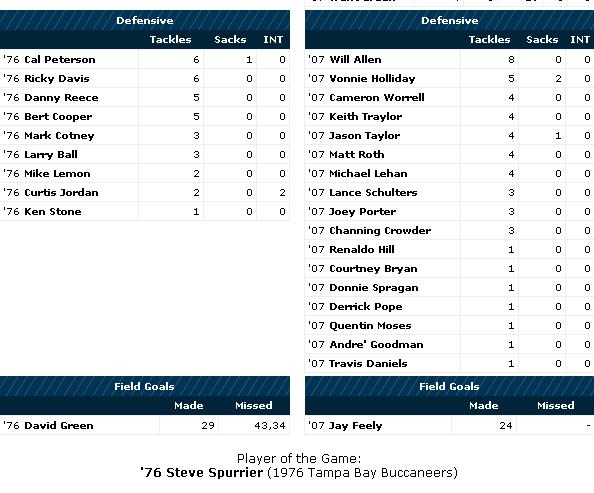 Crap, this is fun stuff.
Community content is available under
CC-BY-SA
unless otherwise noted.