From: http://afraidofedhochuli.blogspot.com
The Pats won. That is great. It is one of the most difficult things to do in sports, and I give them credit. But I have a few thoughts on it.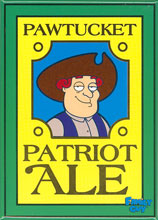 1. They have looked beatable over the last few weeks.
- The blueprint has been drawn up, leaving it wide open for anyone with the personnel to come in and give them 'what-for'. Remember, their opponents record is 101-95 (112-129 if you count the Jets, Bills and Dolphins twice) and they have only played 7 games against teams over .500. To top it off, their division is one of the bottom in the league (Again they play the Jets, Bills and Dolphins twice). Tom Brady and Randy Moss are great, but they will have some tough competition coming up.
2. 16-0 is amazing and it helps to shut up the '72 Dolphins, but it means nothing without hoisting the Lombardi Trophy.
- It is wonderful to see a team pull something off that hasn't happened in 35 years, but really if they don't win it all the "perfect" season will be overshadowed by their collapse.  
3. Their toughest opponent in the playoffs will be Jacksonville.
- The way it is shaping up right now, the Pats will face either the Titans or the Jaguars in the second round of the playoffs. If they draw the Jags, they better watch out. We have seen elite backs run on them this year and the one-two punch of Taylor and Jones-Drew may be too much for them.

I know this is biased, but hey, who isn't? I appreciate their win, and I appreciate their prowess as the best team in the history of the NFL, but I won't sing their praises until they go 19-0.  
Until that happens, then they are just another #1 seed.
Community content is available under
CC-BY-SA
unless otherwise noted.