While the NBA is headed down the same road as boxing, I'm actually excited for one of the most intriguing playoffs this decade. There are so many subplots this year, you can't help but watch or at least watch the Sportscenter highlights. Here's my Top 10...
10. Is KG really fine- KG is 31 years old, by most standards he has about 3 more good years and about 4 more "he's Kevin freaking Garnett" how can you not want him on your team years. However, he has 1000+ games under his belt and he has that long coveted ring so is it lack of hunger or he simply can't do it anymore. I have long said(and was absolutely correct) when I said that Paul Pierce determines whether the C's succeed and fail but throughout the playoffs all eyes will be on KG especially if...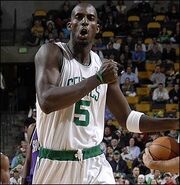 9.Dwight Howard finally gets Orlando over the hump- Okay quick game...The last time the Orlando Magic won a SECOND round playoff series
1)MTV actually played music videos
2)OJ was ready to live life as a free man
3)Stupid was as stupid does
4)The East Coast West Coast beef was purely entertainment
5)The Internet used to tie up the phone lines across America
Feel free to add on in the comments...anyway, Dwight Howard has taken his foot off the gas lately but will that rollover into the playoffs.
8.Draft Lottery- Imagine a Wizards team with a healthy Gilbert Arenas, Caron Butler, Antawn Jamison he'll probably get axed and Blake Griffin. Tell me that isn't a force to be reckoned with. How about the Bobcats slowly building themselves a Portland-type roster. Oh the hell with you guys, I think the draft lottery is exciting
7.T-Mac Burn-Congrats T-Mac you finally got out the first round...oh wait you're not even playing. It would be a perfect chapter to add to his T! True Hardwood Story...maybe I should start doing those again...anyway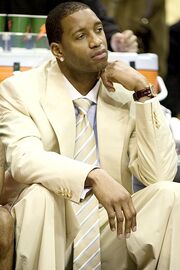 6.LeBron's revenge-Oh remember those days when the mighty Pistons always stood in LeBron's way...now locked in a 1st round battle, it will definitely be sweet to watch LeBron pick apart his once formidable foes.
5.Hello, Melo- LeBron is en route his 1st MVP and possible title, D-Wade already has his ring, hell even Darko Milicic has a ring, yet the second brightest star from that celebrated class of 2003 who wants to be considered in the same breath as the other stars is 0-5 in playoff series. Hopefully they should make light work of the Mavs but if they don't it'll all be on Melo. Once considered one of the most clutch players in NCAA history can't even get it done in the preliminary round of the NBA Playoffs. Its going to be interesting to see what Melo does this year.
4.Brandon Roy's playoff debut-I always look out for playoff debuts, and Brandon Roy shall be no different. The Spurs are known for hitting young stars with their first reality check so it should be interesting to watch. However Tim Duncan is looking like a shell of his former self, Ginobili is gone and so the Blazers have a chance to kick them while their down...but it will be the Lakers that they really have to worry about
But of course the 3 main stories revolve around the top 3 players in the league this year
3.Can D-Wade do it alone-Granted he has already did it, but that was with a bunch of hungry vets. This year he has a very young team to work with and while expectations isn't high for a #5 seed, if he manages to win another title he propels himself into a completely different class than even Kobe and Lebron. Another quiet storyline would be Michael Beasley vs Derrick Rose in round one, but this year has been all about Wade, and a possible head to head with Lebron in the semis.
2.LeBron's pursuit- He's been there before, but as excited as I was to see it, I just knew it wasn't time sort of like when AI went against the Lakers in 2001(wow the second time in 2 posts, maybe I'm not over it). This time, all eyes are on King James. The Cavs lost 1 game at home all season, now a team will have to steal one if they hope to knock off the Cavs. This is why Cavs owners had premade LeBron jerseys at Secaucus 6 years ago, this is why people are so anxious about summer 2010, this is why the man had 9 figures before he even stepped on an NBA court, people expect greatness out of Lebron and the MVP won't mean nothing unless he's holding a trophy in June. He has a hell of a path too, he has his old foes in the Pistons, then possibly Dwyane Wade and the Heat, Paul Pierce and the Celtics and then Kobe and the Lakers(barring any upsets of course). But even with all that the other most compelling story is...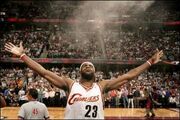 1.Kobe- He has 3 rings, 2 All Star MVPs, and another MVP on his mantle but he still has doubters. Last year, his Lakers were dominating the Celtics in Game 4 of the finals and looked ready to even up a tough series. Then came the epic collapse, they go down 3-1 and the rest is history. More crushing than the 2004 Pistons, more bittersweet than watching Shaq win #4 without him, winning his first MVP meant nothing, he had complained all season about wanting to leave and getting the help he deserved and with it he didn't bring home the title. Now he 's right back in the same position, this time he doesn't even have the no Andrew Bynum excuse, 1st in the West, 3rd overall its practically a do-over. The Celtics don't look as mighty as they did the previous year but he may have a bigger obstacle in the Cavs, or even getting out the West period. If they go, this would be Kobe's 6th NBA Finals where he started 3-0 but has since gone 0-2. While some may argue this is supposed to be LeBron's year, I disagree LeBron has years to win, I think the pressure gets on him in 2010, when he gets his ridiculous contract wherever he ends up. Until then its all on Kobe and finally getting out of Shaq's shadow.
Community content is available under
CC-BY-SA
unless otherwise noted.