With all the rumors flying around, and the Giants still waiting to make their first move the of the 2009-'10 offseason, I wanted to go ahead and take a wild guess at what the Giants 25-man roster could look like come opening day 2010 in Houston.
Signings:
LF Kelly Johnson (2-year, $8.5 million + team option for 3rd year at $5.5 million)
RF Xavier Nady (1-year, $8 million + mutual option for $9 million)
1B [[Adam LaRoche (3-year, $28.5 million)
C Rod Barajas (1-year, $3 million)
UT Jerry Hairston Jr. (1-year, $2 million), P Russ Springer (1-year, $750K)
Lineup:
1. LF Kelly Johnson (Will return to pre-2009 form and hit .280+ with .800+ OPS)
2. 2B Freddy Sanchez (Full, healthy year should yield .300+ average, 40+ doubles)
3. 1B Adam LaRoche (Should be Giants #1 target for 1st base; .275, 25 HR, 85 RBI)
4. 3B Pablo Sandoval (If the Giants can protect him, Panda should go .320, 30, 100)
5. RF Xavier Nady (Really started coming into own, then got injured last year)
6. CF Aaron Rowand (He'll improve if the Giants lineup does)
7. C Rod Barajas (Veteran would provide offense, seat-warmer for Buster Posey)
8. SS Edgar Renteria (Giants need a utility guy to keep him fresh)
Bench:
C Eli Whiteside (Giants could look at other catchers to invite to spring training)
UT Jerry Hairston Jr. (Solid utility guy who plays anywhere besides C and 1B)
OF Nate Schierholtz (would spell Nady/Dye? In right and become teams top pinch hitter)
UT Eugenio Velez (Is becoming a valuable asset as a utility guy, but not a starter)
OF Fred Lewis (I'd work him in center field during spring to up his value to both SF and potential suitors)

Starting Rotation:
RHP Tim Lincecum (3rd straight Cy Young will be tough, but still top-3 in NL)
RHP Matt Cain (Stepped up a level in '09 and became an all-star, keeps improving)
LHP Jonathan Sanchez (Thrived after no-no, I think 2010 will be huge for him)
LHP Barry Zito (Coming off best year in SF, hopefully will keep improving)
RHP Joe Martinez (This will be Madison Bumgarner's spot before too long)
Bullpen:
CL: Brian Wilson (Quietly becoming one of the best stoppers in the game)
LH: Jeremy Affeldt (Filthy in '09 and should be signed to an extension)
RH: Sergio Romo (Had a rough stretch in '09, but finished the year in solid fashion)
RH: Russ Springer (Could take on Howry's role as bullpen vet, but better)
LH: Dan Runzler (Youngster; looked a lot like Jeremy Affeldt in his brief stint in '09)
RH: Brandon Medders (Had a nice 2009 season, and will be back in mid-relief)
RH Merkin Valdez (If he can get healthy, he can be dominant)
Now, in order for the Giants to actually pull this roster off, they'd have to increase payroll by about 7.5 million, but if these guys stay available into January, you'd have to think their prices will drop and the Giants will be in a good position to get a few guys. Chances are that
Brian Sabean
won't sign 6 guys like I suggested; he'll probably sign 3 or 4. However, the roster I proposed is a very realistic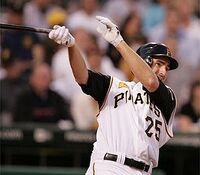 possibility if the Giants wanted to make it happen. The good thing about signing some offensive players like Nady and LaRoche (or maybe even Jermaine Dye if his price drops) is that they wouldn't have to deal any of their pitching away. I think Sabean should target two solid bats that he can hit 3 and 5, and quite possibly a leadoff guy. I'm really hoping those two bats end up being LaRoche and Xavier Nady, but I'm thinking it will likely be Jermaine Dye and either LaRoche or
Mark DeRosa
. And please Sabean, no Mark DeRosa. As far as leadoff guys go, they've been linked to
Johnny Damon
, but with Kelly Johnson now available for 1/4 of the price and identical production, I think he'd make a lot of sense in a Giants uni. If the Giants don't add Johnson, as I think a leadoff guy and outfielders seem to be too high on Sabean's priority list this off-season. I just wish he'd remember the last time the Giants had a legit leadoff guy (
Kenny Lofton
in 2002) and go out and get one.
I think the Giants are going to roll with what they have as far as their starting rotation goes, and I think they'll be just fine. They may add a 5th starter, but I'd rather see that money spent on offense and see them use and in-house candidate for that slot like Joe Martinez or Kevin Pucetas (until Bumgarner's ready). I'd say the roster I've posted would probably make the Giants division favorites, as they'd finally have some offense to match that pitching. Give them 3 solid hitters (2 middle order guys and 1 for the top) and I believe they that if they can get a few bats and put something like this together, they may win 95+ ballgames. Matt Cain, Jonathan Sanchez and Tim Lincecum are all still getting better, which is scary, and Barry Zito seems to be figuring out the NL, finally. The Giants really aren't that far off from being a very good ballclub.
Trevor Cole The Giants Baseball Blog
Community content is available under
CC-BY-SA
unless otherwise noted.