Welcome to the first of many quick team breakdowns. There is still much time before the baseball season begins, but as time ticks down to Spring Training 2009 thoughts and opinions are still constantly flying around. Plus there is no better sport in the world than baseball, so why not talk about it all year round?
Tampa Bay
Projected Line-up: (i.e.: guessing and jack involved)
1 A Iwamura
2 C Crawford
3 E Longoria
4 C Pena
5 B.J. Upton
6 P Burrell
7 D Navarro
8 M Joyce
9 J Bartlett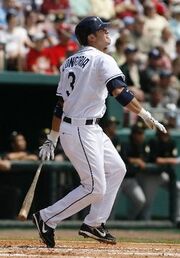 Solid line-up top to bottom.  They will be hard to handle, especially if Upton has a huge year as expected.  Burrell is a nice touch to the line-up considering he will be the DH. Longoria will anchor this line-up once again. Navarro could have a breakout type season.  Bartlett is a good guy to have hitting in that nine spot...
Infield
Carlos Pena is an MVP candidate over at first base. He is a solid player who can put up big numbers when healthy. Across the diamond, Evan Longoria will show everyone why he is ahead of his years by carrying this offense, locking down on defense, and leading this young team. Willy Aybar will be the utility fielder. He can fill in at almost any position and do just about anything he needs to with a bat. One of the better bench players in the league. In front of him are Iwamura and Bartlett; solid up the middle. Offensively, they are not much to write home about, but they are key reasons to why the Rays were the best defensive team last season. That unbelievable defense will take the field again this season with one more year experience under their belts...
Outfield
Carl Crawford is one of the most underrated players in the league. With all the tools, this guy got off to such a hot start as a professional ballplayer most forget that he is only 27 despite having seven seasons of major league experience. B.J. Upton could have a huge season. With all the tools and a position that finally suits him, Upton can focus on cutting down on the strikeouts and putting the ball in play more. With his speed, infield grounders can easily turn into infield hits. Last season he learned how to take a pitch and it showed (97 walks). His .273 average was a little lower than expected but his on-base percentage was a remarkable .383. Matt Joyce is a solid young player with some pop. He had 12 home runs in only 242 at bats; pretty good for a rookie. Joyce will platoon with veteran Gabe Kapler; an experienced bench/role player. Kapler was a great find this off-season for the Rays...
Catcher
Dioner Navarro and Shawn Riggans will anchor this strong pitching staff. Navarro had a solid season offensively in 2008. He hit .295 while handling a young pitching staff. His continued development will only help the defending American League Champions. Riggans is a guy who has always shown skills, but has yet to change those skills into talent. Maybe '09 is his year...
Starting Pitching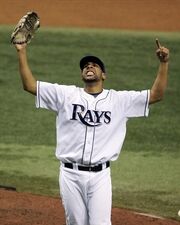 Defense and pitching win championships, and that is how the Rays made it to the World Series last season. The pitching has become stronger due to the addition of the experience factor.
Big Game James
will anchor this staff. Shields has the poise to go up against the big names and not back down.
Scott Kazmir
is one of the best pitchers in the league when healthy. He has the stuff to be a true ace. 
Matt Garza
paid off last season for the Rays, a first with the team. He is a young hurler who is learning to "pitch" instead of "throw." Garza will only get better this upcoming year.
Andy Sonnanstine
is a solid young pitcher who has great command. Rounding out the rotation will most likely be
David Price
. With guys like
Mitch Talbot
,
Jeff Niemann
, and
Jason Hammel
vying for that last spot, Price will have to earn it. Let's be realistic here... it's basically his to lose. If you don't know who David Price is, then you need to get caught up with today's talent... and fast. Price has everything he needs to be one of the best pitchers of all-time. The journey starts here...
Bullpen
Troy Percival will be the closer once again in 2009. The veteran leads a solid staff who benefits from having great defense played behind them. Dan Wheeler, Grant Balfour, and James Howell are some names to look for in that middle relief role. Jason Hammel will likely end up in the pen as well, and he will be welcomed with open arms. This is one of the better pens in the majors, so look for this to be a strength Joe Maddon uses throughout the season...
Prospects
David Price is a considered a prospect and favorite to win Rookie of the Year. The Rays' system is full of young guns such as Wade Davis, Jeremy Hellickson, Jeff Niemann, Matt Moore, and Nick Barnese. That list doesn't include Jacob McGee, who is returning from Tommy John Surgery and will likely return to top prospect form. Davis will likely see the majors this season, as will Niemann. Hellickson is a step away from top form and Barnese is following in his footsteps. Moore is a lefty on the same page as Barnese. Tim Beckman, last June's first overall draft pick, will begin his first full season of professional ball at shortstop. He was drafted number one overall for a reason. Desmond Jennings (OF) and Jake Jefferies (CA) are solid players but don't offer much in the power category. The Rays system is stacked! It is the biggest asset to the organization. There is such an influx of talent, they will force each other to keep getting better. It is, "You better perform because there are guys waiting to take your spot." Best farm system in the league...
Conclusion
The Rays have a great team from top to bottom. It will be hard competing in the AL East against the Red Sox and Yankees. Last season, they were a surprise. Let's see what they can do when they are the team everyone is gunning for in the American League. A World Series revisit is not out of the question, but topping the Red Sox and Yankees a second season in a row is no easy task. If any team in the majors can do it, it would be the Rays...
Thanks to my ol' friend Jack for his help in screwing this preview upwards...
[[Category: B.J. Upton Opinions]
Community content is available under
CC-BY-SA
unless otherwise noted.