What with all the rainouts last night forcing doubleheaders today, there are a total of 20 MLB games being played today -- the most in one day since August of 1974. And I hope my Yankees lose both of their games to the Tampa Bay Rays, all the better to hurt the Boston Red Sox, who come into today trailing by only 2 games. Not that the Yankees need any more reasons to lose this season. Mike Mussina, after tying Cy Young for career strikeouts, gave up a 2-run single to the next batter, and Rays lead 2-0.
Derek Jeter is at that point in his career where almost every day he seems to be tying or passing one or another Yankee legend's record. The other day it was passing Babe Ruth in hits, and with his first hit today he is now within 8 hits of Lou Gehrig for most hits all time at Yankee Stadium. It seems only yesterday me and my dad were agreeing that this skinny kid with the #2 on his back has a chance to be something special.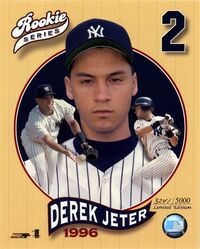 When the Anaheim Angels of Los Angeles 90210 clinched the AL West with a win over the Yanks in their series finale the other day, it marked the earliest a team had clinched a division title since they went to the divisional alignment for the 1969 season. Yanks, on the other hand, have the AL's 7th best record, and 12 other teams in MLB have better records, which helps to put their lost year in perspective.
More painful perspective: Yanks scored 2 runs or less 46 times this year, compared to 33 in all of 2007. I'm tempted to say after all the number crunching, maybe it all comes down to something as simple as not making up for the loss of Jorge Posada's 2007 production (.338, 20 HRs, 90 RBI), which if spread across a season would make right a lot of offensive woes. Whatever the conclusion, Yankee fans are gonna need a fall guy for the year, and the name Brian Cashman immediately springs to mind and will do just fine.
Now it's 7-0 Rays, and the word forfeit never sounded so reasonable. Forfeit the game, give up the season already. Nothing to play for over the last 10 games at Yankee Stadium. That's pitiful really. The other day Tyler Kepner, Yanks' beat writer for The Times, called the rest of the season a "theater of the hopeless." Can't argue with that. We all waited for the hot streak to come, hoped for the run that never came, but unlike even last year, this Yankees team didn't have the collective heart to will themselves to win day after day, and so the long playoff run ends not with a bang but with a whimpering wind through what will soon be not only an empty ballpark but an abandonded one.
The once mighty Yanks have only 3 hits today, all by Jeter, against Rays starter James Shields and we're already in the 6th inning. This is their 2008 season in a nutshell, the utter futility. Better the season ends this way, however, than another first-round knockout in the playoffs. That's somehow worse. Let's hit bottom, take stock, reload. All that's left for a Yankees fan this year is rooting agains the Red Sox and rooting against the Mets, and then hoping Jeter gets those 6 more hits for the record. That's what happens in losing seasons: the fans of the team start paying attention to individual records.
Community content is available under
CC-BY-SA
unless otherwise noted.