Been awhile but here we go...
By using a completely untested method that takes into account a team's performance in comparison with how that team's record panned out, I have attempted to find a method to grade the NFL and MLB's finest without simply looking at the win and loss records of the teams they oversee.

Not every roster is equal and this method takes into account the so-called Pythagorean records (Records the teams "statistically" should have had) and see how the team performed in contrast to them. Now many factors can be taken into account besides the individual who is put in charge of coaching the franchise itself but patterns over the years suggest otherwise.


I  DON'T consider this a method to grade who is the best, etc. It's simply one of many factors one could use to grade the performance of the Manager/Head Coach.

Here's what I found...


MLB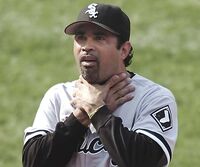 The Difference Makers

The "Other" Difference Makers

These are the guys who can make or break your team. With 162 games in a season, only a few can make the difference. It's fitting that three of the top five carry World Series rings while Gardenhire and Melvin always seem to find a way to get either a young or seemingly weaker team to post season contention.

Hurdle and Wedge were both considered for Manager of the Year but in past years teams with talent have under achieved under their watch (Ex. 2006 Cleveland Indians). Gibbons and Maddon seemingly aren't helping dethrone the Red Sox and Yankees.


Should Be Hired

... Maybe a Few Years Ago

Jerry Manuel won Manager of the year in 2000 and Ken Macha's departure has signified a rebuilding period for the Athletics. Felipe Alou and Frank Robinson both helped younger Expos squads reach winning records despite smaller payrolls, but it is very unlikely either would be hired again. The same applies to Jack McKeon (+ 0.77 wins per season). 


Not Quite Managing Material 

Even though Trammell overlooked some of the worst baseball franchises in recent memory, he certainly didn't help much. Grady Little, Phil Garner and Larry Bowa (Despite being one of my favorite managers in recent memory) consistently led their teams to underachieve whether in the playoffs or playoff races.


Won't Hurt You Either Way

Got a great roster, Brenly will have it play great. Got an awful roster, it'll play awful.

The Good

All respectable managers who deserve the posts they currently hold.


NFL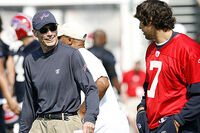 The Elite

Mixed amongst the list of big names is Dick Jauron who has led injury riddled Buffalo Bills rosters to respectable finishes. There's a reason he was hired despite having a losing record in Chicago. 


On The Rise

Surprisingly Nolan nears the top of this list. McCarthy should be a successful coach for many years to come even without John Madden's golden boy.


The Not So Elite

Sure Gruden has a ring but Dungy built the team that won it.


Deserve That Interview

Maybe a couple seasons ago...

Jim Mora Jr. has already been appointed successor to Holmgren while Fassel nearly received the Redskins opening instead of Jim Zorn. McGinnis never truly had much talent to work with but made the most of it. I'd personally love to see Haslett receive another post.


Forever Unemployed

I honestly can't see any of these hired again with the exception of maybe Billick.


Won't Hurt You Either Way


Belichick is hurt by his tenure with the Browns in which the impending move ultimately affected the team's performance. Fortunately for Coughlin's sake this system means absolutely nothing for playoff play as was seen this past season.


Coming soon... NBA Head Coaches...
Community content is available under
CC-BY-SA
unless otherwise noted.