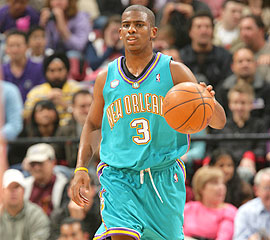 The halfway point of the '07-'08
NBA
season is coming up, and there are lots of players that have impressed me thus far this year. Most have gone unnoticed, giving them the title of being an
underrated
player. That is a good thing for those players because that gives them the edge over better teams, because other teams will sleep on that specific player. And before you know it, that player could go off on them in a game. Whether it's putting up 25 points with 15 assists, or putting up 30 points with 20 rebounds. Those are numbers that you could see from players like
Chris Paul
and
Tyson Chandler
, whom both play for the
New Orleans Hornets
. Their statistics have really gone unnoticed. As a matter of fact, the Hornets have a lot of players that have been under the radar this season.
Peja Stojakovic
,
David West
, hell even
Morris Peterson
. The whole team has gone unnoticed if you ask me.

Don't look now, but the New Orleans Hornets own the best record in the Western Conference. Yes, that means that they even have a better record than the defending champion San Antonio Spurs, whom they dominated on Saturday night, 102-78. They are in the middle of an eight game winning streak at the moment. When you think about surprising teams this season, you'll most likely think about Portland, Boston and Orlando. But many won't mention the 31-12 Hornets. Going unnoticed is a good thing for this team because they've been able to rise to the top of the NBA, quietly. All this time when you didn't hear a thing about them, look where they're at now. New Orleans is a very young team who doesn't have the same cockiness that other NBA teams have. I've loved watching New Orleans play this season, and their success this season has impressed me this season--more than teams like Boston.

Like I mentioned earlier, the players on this team have shown me what great basketball really is. They are equipped with sharpshooters like Peja Stojakovic, playmakers like Chris Paul, big, post threats like Tyson Chandler and multi-weapon players like David West. With players like these, I feel that this team has the chance to win an NBA Championship, THIS YEAR! They are better equipped than Western teams like San Antonio, Dallas, Portland and Utah. Everybody on the New Orleans team has made some sort of contribution to the team's success. There isn't a lot of "star-power" which gives them an advantage over other great teams. Why does this matter? Well, this gives them the mental edge over teams who do have "star-power". No specific player on this team gets all of the attention. Of course if you think about the New Orleans Hornets, the first player you're most likely to think of is Chris Paul. But he doesn't get much attention in the NBA, most likely because he's still young. The whole team doesn't receive much attention because they're all young.

So as I name the 2008 NBA Underrated Team, realize that this isn't your average team where I pick players from all over the league. This is a whole NBA Underrated Team. An underrated team that consists of underrated players.

Chris Paul- Paul is/will be a very dangerous player in this league. His statistics this season are similar to Steve Nash. Only Paul's statistics are looking to get better over the next several years. He has turned into the go-to guy on this team, and they look towards him to come up big at the end of games. Chris average's 20.6 points a game along with 10.5 assists and 2.6 steals a game. He's basically the centerpiece to this organization. This is a guy who sets up plays for his team, and he can spread the ball around to his teammates to get them open shots. Paul also has an array of weapons. He has no problem shooting the three pointers, he has the ability to take the ball to the basket, and if he's needed for him to come through in crunch time, he does. The plays that he makes are tremendous, and he is very underrated when it comes to being a team player.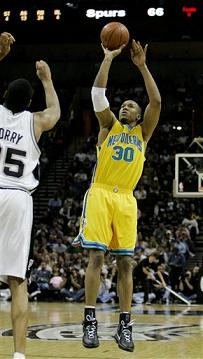 David West- Who is David West you ask? At 6'9" and 240 lbs, David West is a natural power forward. West is known for his explosive scoring capabilities with his strong midrange game and inside presence. This season, West has been putting up 19.7 points and 9.3 rebounds a game. He's probably the most underrated power forwards in the NBA, next to LaMarcus Aldridge. He is consistent on the defensive end, an above average ball handler for his size, he has shown clutch capabilities and he is also known for his posting ability, his ability to score off the pass and off the dribble, and convert with either hand. This is the total weapon for someone like Chris Paul to get the ball to.

Tyson Chandler- Chandler has made his fit in New Orleans since coming from Chicago last season. He is a dominant rebounder, averaging 12.3 rebounds a game. Chandler has struggled throughout his career with the Chicago Bulls, but he is having his best statistical season so far this year. He has progressed in his sixth year in the NBA and he's a quiet threat in this league. Chandler is exactly what the Hornets needed to become a dominant team. He is a terrific big man that many forget about when it comes to the paint. His 7'1 figure gives him the ability to out-rebound others, and he is a big target in the post, shooting at a 62% clip from the floor. The only thing that Chandler needs to improve is his defensive stats. Despite that, he does bring an intimidation factor on the defensive end of the floor. Being such a big guy, many will have trouble taking the ball to the basket on Chandler.

Peja Stojakovic- Stojakovic is the veteran on this young team, while he's in his ninth season. There is nothing like having a threat that can shoot 45% from behind the arch. He is the sharpshooter on this team, and that is what he's been known for throughout his whole career. Peja has thrived to his full potential in New Orleans, and he gives this team another great aspect. The three-ball is his specialty, and that is also a quality that the Hornets organization needed to become a great team. Give Stojakovic a lot of credit because he has endured a lot in his career, but in New Orleans, he has the opportunity to get the recognition that he deserves. He's played consistent basketball this season, and he really helps out the Hornets with his experience. This season, Peja has been putting up 15.1 points a game. That's less than his career, 18.2 points a game. But it doesn't make a difference because he's been doing his part without having the pressure to put up more points.

Morris Peterson- Mo Pete hasn't been having his best season, but he still is a major contributor to what this team has done so far. He only puts up 8.6 points a game, but he still does his job. He has had games this season when he's had to take over because his team was struggling. Peterson has had four, 20+ point games. He's still adjusting to New Orleans after coming from Toronto, but he has helped the young Chris Paul develop this season. Peterson will definitely turn it up come playoff time like always, but head coach Byron Scott just needs him to do his part on the team, by not doing too much.

Look at the numbers. They prove that the New Orleans Hornets are serious contenders. They have the depth to go far this year, and they've shown so far. With a bench equipped with Melvin Ely, Rasual Butler, Ryan Bowen and Bobby Jackson. If there are flaws in this team, there are very few. I feel that this team has the potential to develop into NBA Champions. If not this year, then it will be in the next couple of years. Don't sleep on them because they really are one of the best teams in the NBA. Don't think of it as a fluke either because this team has had to wait its turn. That is why the New Orleans Hornets get the honors of being the all NBA's Underrated 2008 Team.
Community content is available under
CC-BY-SA
unless otherwise noted.