Burning Question: How do they bounce back from their devastating Finals defeat?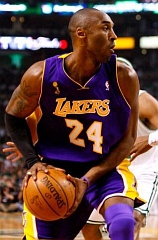 Point Guard: As it turns out, the Lakers actually missed Derek Fisher a lot more than they thought during his 3-year absence. In fact, it took them trying to make do with the likes of Chucky Atkins, Tierre Brown, and Smush Parker for L.A. to appreciate Fisher's leadership, shooting ability, and knowledge of the triangle offense. So it wasn't a coincidence that when Fisher returned last season, the Lakers posted their first 50-win season since he left town in 2004. Using roughly the same %Poss as Parker had the year before, Fisher's ORtg was nearly 14 points higher, which took some offensive pressure off of Bryant and boosted Los Angeles' offensive efficiency from 108.6 to 113.0. That said, Fisher is getting pretty long in the tooth; his performance declined in the season's 2nd half, his shot vanished in the Finals, and he's no longer the key defensive player he once was (witness his struggles with the quickness of Rajon Rondo in the Finals). Backup Jordan Farmar made huge offensive strides last season, posting a 56.3 TS% (including a .371 3P%) and dramatically slicing his turnovers despite an increase in usage rate. However, Farmar is not a traditional pass-first PG, and he'll have his share of defensive lapses as well (though he did rank 4th among PGs in DAPM last year).
Grade: B-
Shooting Guard: Well, it was nothing if not another season of Hollywood drama for Kobe Bryant in 2007-08. Before the season, Bryant demanded to be traded away from the Lakers, but quickly recanted—which, in the end, proved to be a pretty good decision for both parties. Despite suffering a finger injury in February, Kobe didn't miss a game all year, and after the Lakers captured the top seed in the West, Kobe was finally awarded his first NBA MVP Award. Then, in the playoffs, Bryant had his best postseason performance since he helped L.A. win the NBA championship in 2001. However, it was not enough to overcome the Boston Celtics' suffocating defense in the Finals, where Bryant was forced into dozens of low-percentage looks after it became clear his teammates weren't going to make (or even take) the open shots that Boston was conceding to them. I don't know if the Jordan comparisons ended right then and there—but then again, Mike had similar trouble with the Pistons' D in the late 80s/early 90s... Looking ahead to 2008-09, Bryant has elected to play through the finger injury again rather than undergo surgery, so you probably won't see another MVP season, but for the most part he should be Kobe as usual. Backup Sasha Vujacic is a one-dimensional pure shooter whose value is totally tied up in how well he knocks down the 3-pointer. Last year, he took advantage of open looks (until the Finals, that is) and drilled nearly 44% of his 3s en route to 19.1 P/40. But he'd better replicate that red-hot shooting performance if he wants to maintain his value, because he was the league's worst defensive player by DAPM and adds practically nothing if the shots aren't falling. Sun Yue and Coby Karl will battle for the 3rd-string job. Sun is a huge guard (6'9") who had a 57.4 TS% in the Olympics, but he scored just 9.7 P/40 and will struggle athletically in the NBA. Karl played really well as a 24-year-old in the NBDL, but it remains to be seen if he has the talent to stick at the NBA level.
Grade: A+
Small Forward: After spending most of last season at the 4, the versatile Lamar Odom will shift back to SF, where he has experience but maybe not the ideal playing style for the position anymore. During his Clippers days, Odom played the 3 a lot and wasn't particularly efficient, putting up ORtgs under 100 in 3 of his 4 years; one of the main reasons was that he's not a good outside shooter (career 3P%: .314), and playing SF forced him to take almost a quarter of his shots from out there while simultaneously cutting his FTA/FGA ratio. Now, Odom is a fine ballhandler/passer who has matured a great deal as a player since then, and he definitely won't have to take on as big a role in the offense as he did with the Clips, but he still has a skillset that is far better suited to "Point PF" than SF. Because of this, there's speculation that Odom could be traded this season, but it will all depend on how effective the League's Biggest Frontcourt™ proves to be. Behind Odom, incumbent Luke Walton will try to hold off Trevor Ariza for the backup spot. Walton is a consummate team player who loves to get his teammates involved in the action, but his numbers predictably declined last season and he now finds himself in a logjam at forward. Since he's turnover-prone, can't create off the dribble, and doesn't shoot or defend particularly well, there's a very good chance Walton eventually ends up being the odd man out here. Ariza, on the other hand, is highly talented but has never been given a fair shot, anywhere. He's athletic, can defend, and does a good job finishing inside; even though he can't shoot and doesn't score a whole lot, L.A. would do well to give Ariza a chance to earn more playing time this year.
Grade: B
Power Forward: With a healthy Bynum back in the fold, Pau Gasol will shift over to his natural PF position after playing C almost exclusively upon arriving in Los Angeles last season. Gasol torched the league after the trade, posting a ridiculous 128.0/21.1/105.5 line courtesy of shooting 59% from the floor with tons of fouls drawn and very few turnovers. It's doubtful that Gasol can maintain that insane level of production over the course of an entire 82-game season, but he should once again be one of the best PFs in the NBA in 2008-09, especially since he'll get his first chance to develop a frontcourt rapport with the gifted Bynum this year. Watch out for another career year if he stays healthy. Vladimir Radmanovic will come off the bench here and at SF, giving the Lakers a jump-shooting threat that can stretch defenses and open up operating space for Bryant & friends. Unfortunately for L.A., Radmanovic's career-best ORtg in '08 was fueled by the 2nd-highest 3-point % (.406) of his career—meaning he's unlikely to be quite as offensively productive this season, and that's not good news for the Lakers because he adds literally nothing beyond the shooting (he's bad defensively and ranked 61st out of 61 qualified PFs in rebound rate last year). Hard-working rebounding specialist Josh Powell is also on L.A.'s roster, though he'll be hard-pressed to find minutes if Bynum, Gasol, and Mihm stay healthy all year.
Grade: A-
Center: Andrew Bynum is being billed as the key to Los Angeles' entire season, and it's easy to see why: last year, at the tender age of 20, Bynum was enjoying a monster breakout year (a 127.0/17.9/101.5 line, leading the NBA in FG%) before a knee injury shut his season down permanently in January. If the knee is back to 100% this season, you have to think Bynum is going to keep improving... His low-post game was getting better all the time; he's got terrific hands, great size, and nice scoring instincts; he ranked 7th among centers in rebound rate; and he'll have the über-talented Gasol as a tag-team partner in the post, a pairing which very few teams can hope to slow down. Now, Bynum isn't a finished product yet—his size is just about his only defensive asset (he has a tendency to get lost at that end), and he was still somewhat soft last year (although he has added a lot of bulk over the summer) -- but that can be a good thing, too, as it means he has plenty of room left to grow as a player. Either way, it all depends on the status of his knee. Speaking of injuries, backup Chris Mihm is looking to be 100% going into a season for the first time since suffering an ankle injury in 2006 (one which also came complete with a Grant Hill-esque series of setbacks). Mihm is a big center who can rebound and give you some offense down low, but it remains to be seen how much of that skillset he's retained over the 2-year layoff (he was brutal in 24 combined regular-season & playoff games upon returning last season). Meanwhile, defensive-minded 7-footer D.J. Mbenga could wrangle some minutes for himself if the injuries to Bynum/Mihm aren't completely healed after all.
Grade: B+
Outlook: It was a storybook season for Kobe Bryant and the Lakers... until the Finals, that is. Against the Celtics, Bryant was stifled, often forced to take jumper after jumper under intense defensive scrutiny, and no one else on the Laker roster seemed willing or able to help him. The triangle offense, usually L.A.'s biggest strategic strength, played right into the hands of the Celtics' defense in the half-court when Boston "threw the whole kitchen sink" at Bryant, and his supporting cast couldn't make them pay for overplaying the Laker superstar. In the end, Bryant had averaged 25.7 points per game in the series, but he did it on just 40.5% shooting from the field. The good news for 2008-09 is that the Celtics are just about the only team in the league with the defensive chops to simultaneously suffocate Bryant and his teammates. And Bynum's presence would have certainly improved L.A.'s chances last June. But what happens if the Lakers find themselves tangling with Boston again? Or if another defensive juggernaut emerges out of the woodwork and faces L.A. in the playoffs? And what makes them think the return of Bynum -- who didn't exactly make the Celtics pay before his injury -- will be enough to change last year's outcome? They can field the big frontcourt and Kobe can be the MVP, but until the Lakers develop some inner toughness, and until Bryant's teammates show a willingness to make the opponent pay for ignoring them, there still won't be a Hollywood ending for this team anytime soon.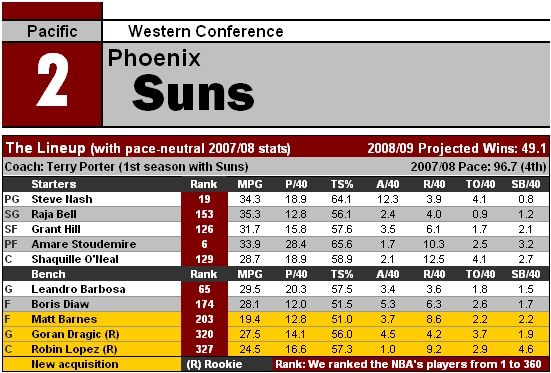 Burning Question: Exactly how sharp will the change in direction be?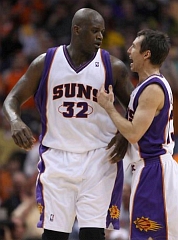 Point Guard: Amidst the chaos of the Suns' final season under Mike D'Antoni, Steve Nash started showing his age... if only slightly. Nash scored fewer P/40, created fewer shots, and got to the line less per-minute than he had in 2 years, and he took more outside shots than ever before. The good news, though, is that this shift in playing style actually made Nash more comparable with his MVP form of 2004-05. And his taking more jumpers wasn't exactly a bad thing—he was, after all, both the 3rd-best 3-point shooter and the 3rd-best midrange shooter in the NBA last year. Plus, Nash remained one of the game's best passers (his assist rate was 2nd only to Chris Paul's), whether he was feeding Shawn Marion on the break or setting up inside chances for Shaquille O'Neal. Simply put, Steve Nash of 2008-09 is still largely the Steve Nash of old—a great offensive player and a poor defender—we're just witnessing the gradual evolution of Nash's game as he enters the autumn years of his career. Nash's backups will be a pair of rookies, Goran Dragic and Sean Singletary. Dragic is banking more on potential than results at this point—he's a big guard who shot reasonably well (56.0 TS%) in Euroleague last year, but the rest of his numbers were ordinary at best, suggesting that he may not be as ready for NBA ball as the Suns are hoping. Singletary, on the other hand, had mighty impressive stats as a senior at Virginia (110.3 ORtg on 30.9 %Poss), but at 6'0" and without a lot of the peripheral (non-scoring) stats a senior PG should possess, he doesn't appear to have much of a ceiling at this level.
Grade: A-
Shooting Guard: Raja Bell and Leandro Barbosa comprise one of the better SG "platoons" in the NBA, and as such they were vital to the Suns' success under D'Antoni. Bell is the defensive wizard, having ranked 6th among SGs in DAPM; he is smart, hard-working, and (especially) physical at that end, and while some criticize him as "dirty," he's the kind of tough defender you want on your team. Offensively, Bell is a limited player, but he can really knock down open 3s—he takes more than half of his shots from deep, and has made over 40% of them in 5 of the past 6 seasons. Meanwhile, Barbosa is the offensive half of the equation, having taken roughly 25% of the Suns' shots when on the floor in each of the past 2 years. The 2007 NBA Sixth Man Award winner, he's a fine ballhandler and pure scorer capable of playing the 1 or the 2; last season, Barbosa ranked 7th among PGs in P/40 and turnover rate. But much of Barbosa's game is predicated on his blazing speed, and there are concerns about his ability to mesh with Phoenix's new, slower offensive pace. Barbosa's production declined after the acquisition of O'Neal slowed the Suns' offense, culminating in a miserable playoff series against San Antonio (.434 TS%). If he continues to sputter in new coach Terry Porter's scheme, there's a good possibility that Barbosa could be wearing another team's uniform before 08-09 is over.
Grade: B
Small Forward: Grant Hill rose from the ashes in Phoenix last year, playing in 70 games for the first time since 1999-2000 (the season before his infamous ankle injury) and enjoying one of his most productive seasons in a long time. On a team that afforded him a more relaxed offensive role, Hill shot 50.4% from the floor and ranked among the top half of small forwards in TS% (57.6), assist rate (13.1%), & turnover rate (12.1%). Hill also defended well, posting his highest SB/40 since 1999 and ranking 10th among SFs in DAPM. He's not the old Pistons-era Grant Hill by any means, but his versatile skillset still ranks him among the top 20 or so SFs in the NBA—plus, the Suns' apparent shift toward a new offensive strategy that isn't so dependent on the 3-pointer could be good for Hill, whose game has always been more about aggressive slashing and short-to-medium-range jumpers than deep bombs. That change not prove as fortuitous for the newly-acquired Matt Barnes, who fired away often from long range as a member of the Warriors over the past 2 seasons. Barnes is just a .324 career 3-point shooter, but almost half of his shots came from out there in Golden State, and the threat of the spot-up 3 opened up the rest of his game (he shot over 50% on twos in both of his Warriors seasons). Luckily for Barnes, he can also pass and rebound fairly well, so he certainly has a good opportunity to fit in with the Suns' assist-heavy style and fill their need for boards, regardless of whether his 3-point tendencies have to change. Wisconsin alum Alando Tucker looked great in the NBDL last year (28.8 P/40, 61.5 TS%, 123 ORtg), but he still has to answer questions about his size, age, and subpar NCAA non-scoring stats before being taken seriously as an NBA prospect.
Grade: C+
Power Forward: When a Diesel-sized answer to their interior problems arrived at center last year, Amare Stoudemire shifted over to his more natural PF position and began to dominate on offense. Here's the breakdown:



Shaq predictably took rebounds away from Stoudemire, but Amare offset that by scoring nearly 4 more P/40 and increasing his TS% while he was at it. As a result, Stoudemire finished the season with an ORtg of 124.3 (virtually unheard of for a non-3-point specialist) on 26.5 %Poss. To put that in perspective, here are the only seasons since 1970-71 which equal that accomplishment: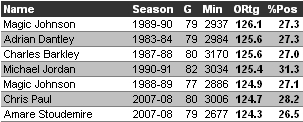 All told, it was an absolutely amazing offensive season by a guy who, at age 25, still has several seasons to go before reaching his peak. In other words, as long as Shaq is still busy commanding attention down low, the rest of the league's defenses need to be seriously scared out of their minds about this guy. Defensively, Stoudemire isn't anywhere near as frightening—he finished with one of the worst DAPM scores of any big man last season—but he should at least be better now that he doesn't have to check bigger centers in the post. Though he'll never be a good defender, his amazing offensive production more than offsets his leaky D. Versatile backup Boris Diaw lost a lot of his shine last season after his TS% dropped 5½ points and he pitched in a measly 12.0 P/40 for the second straight season. It's looking less & less likely that Diaw will ever replicate his breakout 2006 season (you know, taking more than 11.2 FGA/40 would help), but he's still a versatile player who can pass, rebound, and defend at an above-average rate. Just don't expect a lot of scoring, all right? Rebounding specialist Louis Amundson rounds out the depth chart, but he'll probably see next to no action again in 2008-09.
Grade: A
Center: We get it, okay: Shaquille O'Neal is a shadow of the player he once was, and it was a bizarre decision on the part of Suns GM Steve Kerr to bring the Big Plodder to an offense whose motto used to be "7 Seconds or Less." But like it or not, Shaq is in Phoenix to stay, and he definitely brought a much-needed inside presence to the Suns last season. O'Neal's scoring went down after the trade, but his efficiency went up and he hit the glass as hard as he has in his entire career. In addition, the defensive attention he demanded allowed Amare Stoudemire to put up amazing numbers (see above), and his personality helped ease what had been by some accounts a tense pre-trade locker room situation. Defensively, though, Shaq badly lacks mobility and the Spurs took advantage in a big way. If Porter is truly going to overhaul the Suns' D, then masking the big guy's shortcomings should be at the top of his "to do" list. Shaq's backup will be rookie Robin Lopez of Stanford. To be charitable, let's just say that Lopez was a reach at the 15th pick in the draft; through his sophomore season, his NCAA numbers were not even up the standards of a future NBA journeyman (by comparison, his brother Brook's numbers project him to be a future starter at the NBA level). Robin Lopez just isn't that good, and the Suns are going to learn that the hard way over the next several seasons.
Grade: B-
Outlook: 2007-08 was obviously the end of the Run-n-Gun Suns era for Phoenix. It started when Steve Kerr succeeded Bryan Colangelo/Mike D'Antoni as the team's GM, which clearly signaled a new direction for the franchise (and opened a rift between coach and front office). Then came the deal which sent Shawn Marion to Miami for Shaquille O'Neal, a move that effectively traded speed for power and (by necessity) slowed the Suns' trademark offense down. Finally, after Phoenix was dispatched from the playoffs on 4 straight losses to hated rival San Antonio, D'Antoni accepted the New York Knicks' head coaching offer, Terry Porter was hired as his replacement, and the Suns—once the lone purveyors of truly beautiful offensive basketball—had suddenly become just another collection of aging stars running a bland system indistinguishable from that of the league's other 29 teams. That said, where do the Suns go from here? Aside from 26-year-olds Amare Stoudemire, Leandro Barbosa, & Boris Diaw, every one of Phoenix's key players—Nash (34), Bell (32), Hill (36), O'Neal (36) -- are on the wrong side of 30. The Suns' window for a championship was already rapidly-closing before the Shaq trade, but now there's heavy pressure on Porter to win now, before his aging core implodes and Phoenix is lottery-bound. And who knows, maybe the slowed-down Suns will be able to age more gracefully without having to play at a breakneck pace. Maybe Shaq will be rejuvenated in the Valley of the Sun and revert to his old, dominant self. Maybe these changes will prove to be just what the Suns needed. But you can't help but question the wisdom of such a drastic change for a team that was already nearing its expiration date as a contender. If they couldn't win it all with a roster that was carefully-constructed to fit D'Antoni's scheme, what makes them think this hodgepodge of fast and slow players will coalesce under a rookie head coach and give them better results?
Burning Question: How much does Davis' departure & Ellis' injury hurt this team?
Point Guard: Although Baron Davis packed his bags and flew south to Los Angeles, the Warriors thought they could handle his departure by shifting rising star Monta Ellis over to the point full-time for his 4th NBA season. In fact, the team even signed Ellis to a whopping 6-year, $66 million contract extension to ensure that their PG of the future would stay in the Bay Area. But then Ellis had to go and pull a Jeff Kent, tearing the deltoid ligament in his left ankle when he was playing basketball riding his moped, an injury that will keep him out until December at the earliest. Plus, the Warriors suspended Ellis 30 games for violating the terms of his contract anyway, meaning he won't play until December 17 even if he recovers by then. It's a harsh blow to Golden State, because Ellis had a huge coming-out party in 2007-08, putting up an ORtg of 116.8 on 21.6 %Poss en route to a career-best 9.6 Win Shares. When healthy, Ellis has great quickness and a nice midrange game, which makes him very difficult to contain off the dribble (especially now that he's taking better care of the ball—he cut his turnover rate from 18.2 to 12.6, which really contributed to his breakout campaign). And since he realized the 3-pointer wasn't really working for him (.285 career 3P%), his scoring ability is now comprised of equal parts quality and quantity: he ranked 7th among PGs in TS% and 12th in P/40 in '08. Oh, and Ellis is also a solid defender and a surprisingly good rebounder for his size. So what's his weakness (I mean, besides riding mopeds in violation of his contract)? Well, with a career assist rate of 16.9, Ellis needs to be a more willing passer... but you have to think that skill will come as well, since he's going to spend all of his court time at the 1. Still, Ellis' maturation into a star PG is on hold for now, and it's going to be a challenge for the Warriors to weather his injury/suspension while Marcus Williams and C.J. Watson run the show instead. Williams looked like a really good prospect coming out of UConn in 2006, but he has been extraordinarily bad in 2 seasons with the Nets (career TS%: 48.3; career turnover rate: 19.8). If Williams improves in those areas, Ellis' injury could be an opportunity to jump-start his career... but if not, it may be the last chance he gets to run a team. Watson, on the other hand, isn't as talented as Williams, but judging from his D-League stats and his performance in 32 NBA games last year he's the steadier option of the two.
Grade: C-
Shooting Guard: Losing Davis to the Clippers may have hurt Golden State, but they got back at their in-state rivals by poaching Corey Maggette, one of the more underrated players in the entire league. A lifetime Clipper, Maggette has made the playoffs just once in his career, but it hasn't been for a lack of ability on his part—he has an impressive career line of 22.1 P/40, 57.6 TS%, 6.9 R/40, and a 110 ORtg. Maggette is still the fantastic athlete he was when he came out of Duke a decade ago, and at age 29 he's still in his prime, having posted essentially the same season (in terms of quality) in each of the past 4 years. With Ellis on the shelf for the first half of the season, Maggette automatically becomes the Warriors' alpha dog on offense, so expect a lot of scoring and maybe even some much-deserved recognition for his game. Word to the wise, though: Maggette is fairly injury-prone himself, so there's a good chance backups Marco Belinelli and Anthony Morrow will see some real playing time in 08-09. The apple of Don Nelson's eye going into last year's draft, Belinelli wasn't exactly impressive as a rookie (97.4 ORtg on 18 %Poss) -- but he wasn't downright horrible, either, and he played well over the summer. If he can find chances to uncork his nice outside shot, he could be an important player for Golden State. The same goes for Georgia Tech alum Morrow, who lives and dies by his sweet shooting stroke as well (he shot a sizzling .448 on 3s during his senior year at Tech). None of the Warriors' 3 shooting guards excel at defense, although Maggette seemed to show more interest in D than ever last season. Belinelli and Morrow are both thin and lack the quickness to keep up with their man on the perimeter, so if Golden State does end up improving on their 23rd-ranked defense, it probably won't have anything to do with them.
Grade: B
Small Forward: You probably never pegged Stephen Jackson as a locker-room leadership type, but Jackson has emerged to become just that in Golden State, thanks to a fresh start and a system that really suits his game. Jackson was a high-usage, low-efficiency gunner with the Hawks and Pacers, but "Nellie-Ball" has put his 3-point marksmanship to good use, using him to stretch opposing defenses and open up driving lanes for Ellis. Defensively, Jackson is also a force—he's athletic and can use his length to aggressively hassle opposing wing players and post men alike. One problem with Jackson's intensity is his propensity to pick up technical fouls; given his explosive reputation, the Warriors would probably be better off if Jackson just toned things down a few notches. Still, he's a valuable player to have around, and it's nice to see him finally find a home in the Bay Area. Kelenna Azubuike and rookie Anthony Randolph will do battle for backup minutes behind Jackson. Azubuike has had two nice seasons in a complimentary role, though it remains to be seen if he has the handle to make the transition from a catch-and-shoot guy to a more aggressive scorer. If not, he's still a solid role player who can knock down shots and defend. Randolph is, um, not exactly appreciated by the stats community after a super-inefficient freshman year, but he has great size and athleticism, so the "tremendous upside potential" is in effect here. Just don't expect immediate returns.
Grade: B-
Power Forward: After being picked up at midseason in 06-07, the versatile Al Harrington thrived in his first full season as a Warrior, scoring 18.8 P/40 with a career-best 54.7 TS%. Harrington fits Don Nelson's scheme very well because he has a nice mix of size, skill, and athleticism: at 6'9" he can handle 3 positions (including C if necessary), he has good touch from beyond the 3-point arc (.376 last year, .433 in '07), and he even throws in a little post-up game. Harrington struggled with efficiency when he was on the Hawks and Pacers, but that was because he was miscast as a go-to guy on offense; once he found a reduced role in Golden State, Harrington shot better, drastically cut his turnovers, and his ORtg went way up (his 112.7 mark last year was easily the best of his career). He doesn't defend or rebound as much as you'd like, but with the Warriors Harrington has finally become a solid offensive contributor. 2nd-year man Brandan Wright will come off the bench behind Harrington, and he showed dynamite efficiency in limited minutes as a rookie in '08. Wright is still raw, but he displayed a knack for rebounding, blocking shots, and finishing inside last season, so he could be a breakout candidate if he gets more playing time. 3rd-string rookie Richard Hendrix slipped to the 2nd round because doesn't have great size, but his college numbers at Alabama were really impressive -- we could be looking at the next Paul Millsap here, to be honest.
Grade: B
Center: In order to finish with one of the NBA's top 5 offenses again, the Warriors are counting on another ultra-high-efficiency campaign from Andris Biedrins, who led the league in field-goal percentage en route to an eye-popping 127.4/15.2/105.7 line. Biedrins is far from a polished offensive player, but he runs the floor very well, excels on the glass, and has good hands, so he frequently finds himself with great position under the basket for dunks, tip-ins, and putbacks (89% of his FGAs came from inside the lane). Defensively, Biedrins hits the boards hard but he's not a true center, and his lack of strength really hampers him against bigger foes in the post. Still, he's an active defender who will grab steals and block shots. The backup here is Ronny Turiaf, who spent the first 3 seasons of his career with the division-rival Lakers. Like Biedrins, Turiaf isn't a big-time scorer but he plays with energy and efficiency. He's undersized, but Nellie loves undersized centers, so the only question whether he can become a better rebounder to fill the Warriors' needs when Biedrins takes a breather. Whatever happens, Nelson is notorious for playing Frankenstein with his lineups, so Harrington will also see time here on the occasion.
Grade: B-
Outlook: Golden State was tracking to be a playoff team until Ellis got hurt; now they'll be scraping for the final spot and will likely be on the outside looking in when it's all said and done. Their roster is probably the most unique in basketball, and it's always fun to see Don Nelson work his magic on offense—but there's no way Maggette fixes their myriad defensive issues, and the Williams/Watson duo simply cannot replace either Davis or Ellis at the point. Freakish smallball lineups will give opposing defenses trouble, for sure, but they also hold the Warriors back on D, something that Nellie's never quite understood. This is a fun team, a young team, an exciting team, but they just don't have the pieces or the philosophy in place to make noise in the West... and that was before Ellis was going to miss nearly half the season. Sorry, Warrior fans, but this roller coaster is headed downhill in 08-09.
Burning Question: What do they do about their re-"Brand"-ing problem?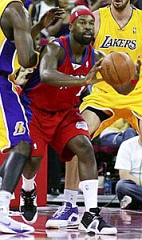 Point Guard: In a major coup, the Clips snatched brilliant PG Baron Davis away from their division rivals in the Bay Area this offseason, luring the Bearded One to L.A. with a 5-year, $65 million contract... and the promise of playing with one Elton Brand. Whoops. With Brand flying the coop to Philly, Davis goes from being the go-to guy in Golden State to even more of a go-to guy on the Clippers. That's not a huge issue for Davis' game—after all, he's been The Man for virtually every team he's ever been on—but the question is whether or not his body can hold up under the pressure. Davis played 82 games last year, but that's akin to seeing the Pinta Island tortoise in the wild (hint: it's rare). And if the multi-talented B-Diddy does go down with an injury, it's up to Jason Hart and/or Mike Taylor to bail L.A. out (veteran Jason Williams had supposedly signed a one-year deal with the Clips as well, but he abruptly retired in late September). Hart was brutal with the Jazz in '08, but he can be valuable if his shots are falling (he actually posted a 61.7 TS% in 2007) because he can defend and run an offense. Taylor doesn't have much upside (he's old for a rookie, he's short, his D-League stats were unimpressive because of an insane number of turnovers, etc.), but the Clippers need warm bodies after Williams' sudden retirement, and Taylor fits that description.
Grade: B
Shooting Guard: For the 3rd straight season, Cuttino Mobley is the Clippers' starting 2-guard, but his reign of inefficiency could be nearing its end after the team drafted Eric Gordon this summer. Mobley is 33, can't shoot (but doesn't have a conscience about taking bad shots), doesn't do anything aside from scoring, and is slipping defensively... but, hey, maybe they'll be able to use his contract as trade bait next year, right? Gordon isn't bulletproof, either—he has a considerable amount of upside, but he's a tweener in terms of size and he didn't shine much in the non-scoring categories in college, meaning there's a good chance he's going to play like a younger version of Mobley, except without as much defensive ability. So, yeah, the fact that swingman Ricky Davis could eventually be Los Angeles' starter here kinda says it all, doesn't it?
Grade: C-
Small Forward: With Corey Maggette moving to the Warriors, the starting SF job is Al Thornton's to lose. Thornton scored well as a rookie, but his efficiency (97.4 ORtg) left something to be desired, mainly because of subpar shooting (50.4 TS%) and ballhandling (0.77 assist-to-turnover ratio). He's athletic, though, and he has the potential to be a nice two-way forward who can score inside & out and defend. But needless to say, he's got a long way to go before he reaches that potential, so expect incremental improvement rather than a big leap forward in his second season. The well-traveled Ricky Davis will be Thornton's backup after being signed away from the Heat as a free agent. Davis was pretty inefficient in Miami last year as he showed less ability to get to the rack than ever, but he can still score points in transition and he's an above-average rebounder for a guard. Since L.A. won't ask him to do as much as the Heat did, there's a decent chance that his efficiency returns to an acceptable level this year. The Clippers' designated shooter is Steve Novak, who takes more than 2/3 of his shots from beyond the arc and made nearly 50% of them last year for Houston. That's just about all he can do, though, so zone-busting will probably be his job description again. Versatile Tim Thomas can also play here, though they prefer to utilize him at the 4.
Grade: C+
Power Forward: Another coup for the Clippers was to pick up perennial Defensive Player of the Year candidate Marcus Camby from the Nuggets at basically no cost. Camby's offense has deteriorated greatly in recent years, culminating in an anemic 9.7 P/40 last season, but let's face it, he's not on the floor for scoring purposes. Defensively, Camby is a stud who swats a massive amount of shots and can really dominate a game from the help side with his blocks and outstanding defensive rebounding. When Camby needs a rest or shifts over to center, Tim Thomas will bring versatility and scoring (albeit with low efficiency) to the PF for Los Angeles. Thomas was so overrated early in his career that he's actually become a bit underappreciated in the "veteran journeyman" stage of his career—he's actually a good shooter who can stretch opposing defenses and create mismatches on the perimeter. Then again, he's also legendary for his inconsistent effort level and defensive lapses, so it's probably best that he's now confined to a reserve role rather than starting based on his "potential". Michigan St. alum Paul Davis has good size and rebounds hard, but he takes (and misses) too many jumpers to ever be a rotation regular.
Grade: B+
Center: You probably didn't notice it as the Clippers limped their way to a last-place finish, but Chris Kaman had a pretty decent season in 2007-08, setting career highs in P/40, R/40, and SB/40. The "German" center is never going to be an overly efficient offensive player because he turns the ball over too much, but you have to like his size, he runs the floor well, and he owns better scoring skills down low than your typical 7-footer. He's also a valuable defender who had a huge defensive rebound rate of 30.0%, posted 3.6 SB/40, and ranked in the top half of centers in DAPM. Unfortunately, he missed 26 games late in the season and seemed to slow down in the second half even before the injuries. The Clippers are hoping that a healthy Kaman stays consistent throughout the season, because they can't afford for him to miss another big chunk of time in 08-09. That's not just because Kaman is decent, but also because Brian Skinner is the primary backup. Skinner used to be semi-valuable because he had some offensive talent, but now that it has evaporated, he's a 6'9" center who grabs the occasional board but can't score or defend. So look for Camby to play some minutes here as well, especially if Kaman is hurt again, and keep an eye out for rookie DeAndre Jordan, who had good college numbers and could be a D-League call-up at some point in '09.
Grade: C+
Outlook: What can you say, the Clippers are the Clippers, and this offseason was business as usual. They were poised to make a splash in the crazy-deep West when it appeared that Brand and Davis were going to form one of the NBA's top PG/big man combos... but as we all know, that scenario fell flat when Brand abruptly went East. Now they've got some stars (and quasi-stars) like any other team hovering around 35 wins, but they don't appear to have the total talent level to contend for the final playoff spot in this stacked conference. You like some of their athletes, and I think they're going to be surprisingly good defensively with the addition of Camby, but when it's all said and done, it appears they're going to fall short of any postseason success in 2008-09.
Burning Question: How bad are the Kings, exactly, at the dawn of the post-Artest era?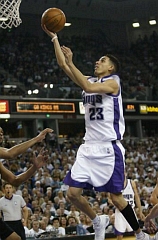 Point Guard: For years, this position was the sole province of Mike Bibby, who had seen the Kings emerge from a flashy, fun squad at the turn of the millennium to a serious threat to the Shaq/Kobe Lakers in the early 2000s. But Bibby is gone now, shipped to Atlanta in a deadline deal last February, and with him went the last vestiges of that almost-great Kings team. Now the PG job belongs to Beno Udrih, a decent offensive player but one who doesn't really seem cut out for starting in the NBA. Yes, Udrih had a nice bounce-back campaign in '08, recovering the shooting stroke that had abandoned him the year before in San Antonio, but that comeback season only amounted to a 105.0/20.2/112.6 line—basically the stuff of a very borderline starter—and his assist & turnover rates still leave a lot to be desired for a PG. Plus, he's not physical despite decent size and doesn't bring anything to the table defensively. But apparently the Kings are confident in Udrih's ability to run this team, because the only backups are quickly-fading Bobby Jackson (who, at age 35, is on his second tour of duty with Sacto) and rookie Bobby Brown, who wasn't drafted in '07 and spent 2008 in the German league. Last year, Jackson proved he could still score, putting up 18.7 P/40 after being acquired at midseason by Houston, but he's finding it increasingly difficult to get shots off, especially the high-percentage inside looks he used to get by driving the lane. Jackson can still defend and his 3-point stroke is what it's always been, but there's a lot of doubt regarding how much B-Jack has left in the tank. Like Udrih and Jackson, Brown is a combo guard, too, so you have to think there won't be a whole lot of distribution coming from Sacramento's point guards this season.
Grade: C-
Shooting Guard: Likely one of the lone bright spots for the Kings in 08-09, the lanky Kevin Martin has really developed into a dynamic offensive player in recent seasons, culminating with an impressive 121.1 ORtg on 24.9 %Poss last season. Martin has an amazingly well-rounded offensive game—he can drive inside and finish or draw fouls (witness his super-high .632 FTA/FGA ratio), but he'll scorch you on jumpers as well (.402 3P%). He's not a big iso guy because he doesn't quite have the dribbling or playmaking ability to go one-on-one with the opponent's wing stopper, but it didn't seem to hurt, as he scored an amazing 25.4 P/40 on a 61.8 TS%. Martin is also a solid rebounder for a SG, but he get abused defensively because of his thin frame. Still, the total package Martin brings to Sacramento makes him one of the best (and most underrated) offensive performers in the game today. Backup Quincy Douby has been a big disappointment so far in two NBA seasons, mainly because he can't make his jumpers and struggles with ballhandling. Douby can shoot—he made 34.4% of his threes and 92.3% of his free throws last year—but his shot selection on midrange Js is horrible and he can't really finish on those rare occasions he attacks the basket. Defensively, he holds his own, but size (6'3") is a big issue for him at the 2.
Grade: B
Small Forward: Good old reliable John Salmons will get the starts here now that Artest is gone, though he's really a guard in a forward's body. Salmons is a durable and versatile wing capable of playing "point forward," and he's at his best when he attacks the rim and forces the D to either foul him or let him slash in for a basket. When he's away from the basket, though, he's of limited use because his jumper isn't the greatest; plus, he'll have his share of turnovers on his forays into the painted area. Still, Salmons is a good all-around player who rebounds well for a perimeter player and can defend PGs, SGs, and SFs. He'd be a nice glue guy on a good team, but instead he'll have to settle for being a starter and one of the primary scoring options for the Kings. Backup Francisco Garcia is another solid, underrated offensive player, having put up an ORtg of 108.4 on 20.0 %Poss last season. In many ways, he's a poor man's Martin—he's rail-thin, he can score on drives and jumpers, he's not a big playmaker off the dribble, etc. Theoretically, his length makes him a passable defender, but Garcia's DAPM was a poor -3.8 last year. Rookie Donte Greene from Syracuse rounds out the Kings' SF rotation; he's raw but he has really great size (6'11") and put up good numbers as a freshman last year.
Grade: B-
Power Forward: Shockingly, Mikki Moore's breakout with New Jersey in 2007 wasn't exactly a fluke, as Moore followed it up with similar offensive efficiency numbers last year, despite being shipped to Sacramento and torn away from those high-percentage Jason Kidd feeds. Now, Moore isn't exactly Kevin Garnett or anything on offense, but he makes the most of his chances from the field, having shot .593 over the last two years. Turnovers are a concern, and he's not going to have plays called for him anytime soon, but you can't scoff at a high-energy big man who posts an ORtg over 115 in each of the past 2 seasons. Unfortunately, Moore isn't a great rebounder and his lack of strength kills him on defense, so he's essentially just a placeholder at PF until Jason Thompson is ready for prime time. If he's ever ready, that is—Thompson's raw numbers at Rider look impressive, but they become less so when you take into account the fact that they came at Rider, against a bunch of nobodies... Even so, he could become a decent rebounder and shot-blocker (in essence, the anti-Mikki Moore) someday. Vet Kenny Thomas is still technically on the roster, but he's a mere shadow if his former self, and his former self wasn't really all that great to begin with.
Grade: C-
Center: Just when you thought Brad Miller was toast by the ripe old age of 30, he hits you with a vintage Miller season at age 31: 15.0 P/40, 55.8 TS%, 10.6 R/40, and 2.2 SB/40. Okay, so it wasn't quite vintage Miller—his passing/ballhandling was down (that 1.6 assist-to-turnover ratio was pretty low by his standards) -- but he wasn't playing in Rick Adelman's patented high-post pass-fest, either. Besides, Miller's contributions seem to go beyond the box score, anyway; he ranked as the league's 13th-best player by APM last season, and aside from a down 2006-07, he hasn't posted a statistical +/- mark under +3.2 since 2000-01. Just don't be surprised if Miller (and his big contract) is traded within the next two seasons—possibly this year, in fact, while his value is still relatively high. Youngsters Spencer Hawes and Shelden Williams will fight for backup minutes behind Miller. Hawes was better than we thought he'd be as a 19-year-old rookie, showing good scoring potential (albeit as a jump shooter) and some shot-blocking acumen. So, yeah, shockingly he may not end up a total stiff after all... Williams, picked up from the ATL in the Bibby trade, wasn't exactly worthy of his draft position (5th overall) two years ago, but he's a tough guy who will mix it up inside on defense and fight hard on the glass.
Grade: B-
Outlook: What's there to say? With Martin, Miller, and friends, the Kings can score relatively efficiently, barring injuries. But even with Artest a year ago, the Kings were a poor defensive team (25th in defensive efficiency), and there's no telling how bad they'll be at that end in 08-09. Hawes and Thompson offer potential for the future down low, but they probably won't fully cash in on that promise this year, which is what the Kings would need to make a splash in one of the most difficult conferences in NBA history. As it stands, the Kings are a decent collection of talent (but a below-average team) caught in the numbers game, both within the conference and their division. They could very well make progress this season, but it probably won't matter—the competition is just too tough for them to make a difference in the playoff picture at this point.

Note: Player Rankings are based on projected productivity this season. This not only takes into account a player's talent level, but also his durability, his expected playing time, and his role on the team.
2008-09 NBA Scouting Reports Series
2008-09 NBA Scouting Reports: Atlantic

2008-09 NBA Scouting Reports: Central

2008-09 NBA Scouting Reports: Southeast

2008-09 NBA Scouting Reports: Northwest

2008-09 NBA Scouting Reports: Pacific

2008-09 NBA Scouting Reports: Southwest