Template:World Series Rating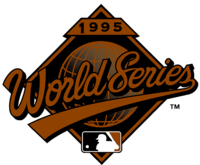 The 1995 World Series matched the Atlanta Braves against the Cleveland Indians, with the Braves winning in six games to capture their first championship since moving to Atlanta in 1966. The Series was also Cleveland's first Series appearance in 41 years and marked the resumption of the Fall Classic after the previous year's Series was cancelled due to a players' strike.
Managers: Mike Hargrove (Cleveland), Bobby Cox (Atlanta)
Umpires: Harry Wendelstedt (NL), Joe Brinkman (AL), Bruce Froemming (NL), Jim McKean (AL), Frank Pulli (NL), John Hirschbeck (AL)
Series MVP: Tom Glavine (Atlanta)
Television: ABC (Al Michaels, Jim Palmer, and Tim McCarver announcing games 1, 4, and 5) and NBC (Bob Costas, Joe Morgan, and Bob Uecker announcing games 2, 3, and 6)

Summary
The 1995 World Series provided the only world championship of the 1990s to the decade's most dominant team - the Atlanta Braves. After heartbreaking defeats to Minnesota and Toronto, the Braves were trying for the third time in five years to capture a title. The series presented an entertaining matchup between the vaunted Atlanta pitching staff and the fierce Cleveland Indians lineup.
Atlanta ace Greg Maddux pitched a complete game 3-2 victory in his first World Series appearance. In Game 2, Tom Glavine got the win, aided by a sixth-inning home run by catcher Javy Lopez. With the Series moving to Cleveland, the Indians got their first win (7-6) in extra-innings in Game 3, despite home runs by Fred McGriff and Ryan Klesko. It should also be noted that a Series record eighteen pitchers were used between each team in the second and third games.
Beleaguered Atlanta pitcher Steve Avery got the start in Game 4, and was able to deliver six effective innings. Reliever Pedro Borbon, Jr. saved the 5-2 win after Mark Wohlers ran into trouble, and the Braves were one victory away from a title. It seemed the perfect situation for Atlanta with Maddux pitching Game 5, but Albert Belle slugged a two-run homer in the first inning, and the Braves lineup was held in check by Cleveland veteran Orel Hershiser, sending the Series back to Atlanta.
Controversy struck when the morning of Game 6, Atlanta newspapers printed stories that Braves right fielder David Justice had ripped the city's fans for not matching their motivation of past seasons. Justice, who had been struggling in the postseason, was vilified before the game, but when his sixth inning home run broke a 0-0 tie, he became a hero. Glavine pitched eight innings of one-hit ball to help earn him the Series MVP. Closer Mark Wohlers pitched the ninth inning, preserving the 1-0 shutout and Atlanta's coveted title when Carlos Baerga's flyball landed in centerfielder Marquis Grissom's glove.
Game 1
October 21, 1995 at Atlanta-Fulton County Stadium (Atlanta Braves)
Team
1
2
3
4
5
6
7
8
9
R
H
E
Cleveland
1
0
0
0
0
0
0
0
1
2
2
0
Atlanta
0
1
0
0
0
0
2
0
X
3
3
2
W: Greg Maddux (1-0)   L: Orel Hershiser (0-1)  
HR: ATL –

Fred McGriff

(1)
Game 2
October 22, 1995 at Atlanta-Fulton County Stadium (Atlanta Braves)
Team
1
2
3
4
5
6
7
8
9
R
H
E
Cleveland
0
2
0
0
0
0
1
0
0
3
6
2
Atlanta
0
0
2
0
0
2
0
0
X
4
8
2
W: Tom Glavine (1-0)   L:

Dennis Martínez

(0-1)  S:

Mark Wohlers

(1)
homerun: CLE – Eddie Murray (1)  ATL – Javy Lopez (1)
Game 3
October 24, 1995 at Jacobs Field (Cleveland Indians)
Team
1
2
3
4
5
6
7
8
9
10
11
R
H
E
Atlanta
1
0
0
0
0
1
1
3
0
0
0
6
12
1
Cleveland
2
0
2
0
0
0
1
1
0
0
1
7
12
2
W:

José Mesa

(1-0)   L:

Alejandro Peña

(0-1)  
HR: ATL –

Fred McGriff

(2), Ryan Klesko (1)
Game 4
October 25, 1995 at Jacobs Field (Cleveland Indians)
Team
1
2
3
4
5
6
7
8
9
R
H
E
Atlanta
0
0
0
0
0
1
3
0
1
5
11
1
Cleveland
0
0
0
0
0
1
0
0
1
2
6
0
W:

Steve Avery

(1-0)   L:

Ken Hill

(0-1)  S:

Pedro Borbon

(1)
HR: ATL – Ryan Klesko (2)  CLE –

Albert Belle

(1), Manny Ramírez (1)
Game 5
October 26, 1995 at Jacobs Field (Cleveland Indians)
Team
1
2
3
4
5
6
7
8
9
R
H
E
Atlanta
0
0
0
1
1
0
0
0
2
4
7
0
Cleveland
2
0
0
0
0
2
0
1
X
5
8
1
W: Orel Hershiser (1-1)   L: Greg Maddux (1-1)  S:

José Mesa

(1)
HR: ATL –

Luis Polonia

(1), Ryan Klesko (3)  CLE –

Albert Belle

(2), Jim Thome (1)
Game 6
October 28, 1995 at Atlanta-Fulton County Stadium (Atlanta Braves)
Team
1
2
3
4
5
6
7
8
9
R
H
E
Cleveland
0
0
0
0
0
0
0
0
0
0
1
1
Atlanta
0
0
0
0
0
1
0
0
X
1
6
0
W: Tom Glavine (2-0)   L:

Jim Poole

(0-1)  S:

Mark Wohlers

(2)
HR: ATL – David Justice (1)
Quote of the Series
"The team of the '90s has its World Championship!" - NBC Sports announcer Bob Costas calling the final out in Game 6.
Trivia
The 1995 World Series was a landmark in the sense that it was televised by two different

television networks

in the United States. Games 1, 4 and 5 were televised by

ABC

(with

Al Michaels

, Jim Palmer, and

Tim McCarver

serving as the commentators) while

NBC

televised Games 2, 3 and 6 (with

Bob Costas

, Joe Morgan, and

Bob Uecker

commentating). This arrangement was made as a compromise after both networks announced that they would bail out of a six year revenue sharing deal with Major League Baseball called

The Baseball Network

. If it wasn't for the

strike

that cancelled the 1994 World Series, then ABC would have televised that event and NBC would have broadcast the '95 Series exclusively.
Kenny Lofton's six stolen bases during the 1995 World Series set a new Fall Classic record for steals during a six-game series.
During the second inning of Game 1,

Fred McGriff

of the Atlanta Braves hit a home run in his first World Series at-bat becoming only the seventh National League player to accomplish the feat.
The Braves won their first championship since 1957 and became the first franchise to win three crowns in three different cities (

Boston

,

Milwaukee

,

Atlanta

).
Just prior to hitting a pivotal home run for the Braves in the clinching Game 6, David Justice publicly criticized the Atlanta fans for not being passionate enough.
Although still technically the "acting commissioner", this was the first World Series in which

Bud Selig

presented the

World Series Trophy

. In the previous two World Series, the trophy was presented by American League president

Dr. Bobby Brown

.
Prior to Game 3, Indians slugger

Albert Belle

unleashed a

profanity

-laced tirade at reporter

Hannah Storm

of NBC. On the same day, Belle snapped at a photographer near the first base line during batting practice. Belle was ultimately fined $50,000 for his behavior towards Storm.
This World Series is remembered for baseball television history being made three times—two of them by Hannah Storm. Prior to Game 2, she became the first female sportscaster to host a World Series game, and after Game 6 she would be the first female sportscaster to preside over the presentation of the

Commissioner's Trophy

to the World Series champions. But she was not the first female sportscaster to cover the World Series. That honor fell to then-

ABC Sports

reporter

Lesley Visser

, who served as a sideline reporter during Game 1, as she would in Games 4 and 5. Ironically, both Storm and Visser are now with

CBS

--Storm as co-anchor of

The Early Show

and Visser has returned to

CBS Sports

as a reporter.
Greg Maddux's performance in Game 1 was just the 15th two-hitter in World Series history. In that game, he allowed only two outfield outs, a new Series record.
In Game 1,

Luis Polonia

drove in the go-ahead run in the 7th with a grounder to short; however, shortstop Omar Vizquel juggled the ball and went to apply the tag to the base to get

Mike Devereaux

out. When he did, he lost the ball but umpire

Bruce Froemming

called Devereaux out saying Vizquel was in the act of throwing. Replays appeared to show that Vizquel never had control of the ball.
When Eddie Murray homered off Tom Glavine in the 2nd inning, he became the third-oldest man ever to hit a World Series home run. Prior to hitting it, he had never homered off Glavine in 54 National League at-bats.
On the 1995 World Series film prior to Game 2, a fan said he "guaranteed a three-hitter from Glavine tonight." Glavine indeed gave up three hits in six innings of work.
Tom Glavine's performance in Game 6 was the 5th one-hitter in World Series history.

Tony Peña

recorded the only hit off Glavine with a blooper to shallow centerfield.
If Glavine hadn't pitched a one-hitter to get the MVP award, Ryan Klesko or

Luis Polonia

might have won the award. Klesko hit three home runs and drove in four runs. Polonia hit many crucial hits to get the go-ahead run in many of the games the Braves won and hit a surprising home run in Game 5.
In 1995, the Cleveland Indians batted .291 as a team, led the league in runs scored, hits, and stolen bases, and had eight .300 hitters in their starting lineup. However, the Tribe was held to a pathetic .179 batting average in this Series.
In Game 5, Jose Mesa entered the game in the 9th to finish it and had only allowed one earned run in

Jacobs Field

that year. With one on, two outs, a 5-2 lead and two strikes against Ryan Klesko, Ryan blasted a home run to make it a one-run game.
The last time Cleveland has won a World Series was 1948 when they defeated the then-Boston Braves.

Carlos Baerga

was responsible for making the last out in three of the four Cleveland losses; Games 1, 2 and 6.
Ryan Klesko became the first person ever to homer in three consecutive road games, by belting homers in Games 3, 4, and 5 of the 1995 World Series.
External links